Why I Left NYC to Live Off-Grid in a Tiny Camper
Apparently, living sustainably in the woods really is all it's cracked up to be.
Presented By

Photo courtesy of Lee Kalpakis, Design by Grace Han for Thrillist
Photo courtesy of Lee Kalpakis, Design by Grace Han for Thrillist
Professional chef, musician, and dog mom Lee Kalpakis spent Summer 2020 relocating from her Brooklyn apartment to the Hudson Valley. Furloughed from work due to the pandemic with a soon-to-expire lease, Lee and her partner, Sean, raced to relocate on a tight timeline and even tighter budget. By September, they'd purchased a plot of land in the woods, where they plan to build a house, and a 1976 Fleetwood Prowler camper, where they are currently living full-time. Follow their camper renovation journey on Instagram. As told to Keller Powell.
I'm an Upstate New York girl, originally. My parents are from Montreal. They traveled around Canada and the states in a van for a while before settling down in the Hudson Valley to open a restaurant and have kids. I think maybe that's why I've always been drawn to this kind of lifestyle.
I love New York City. I was there for 14 years total. My favorite thing to do was just walk around for hours by myself—I think because it made me feel like I was in a movie. We didn't leave the city because we were sick of it. We always knew we wanted to buy land and build a house upstate, but our dream was to keep our apartment in Brooklyn and have a house up here. Letting that dream go was so hard for me. But there wasn't another option.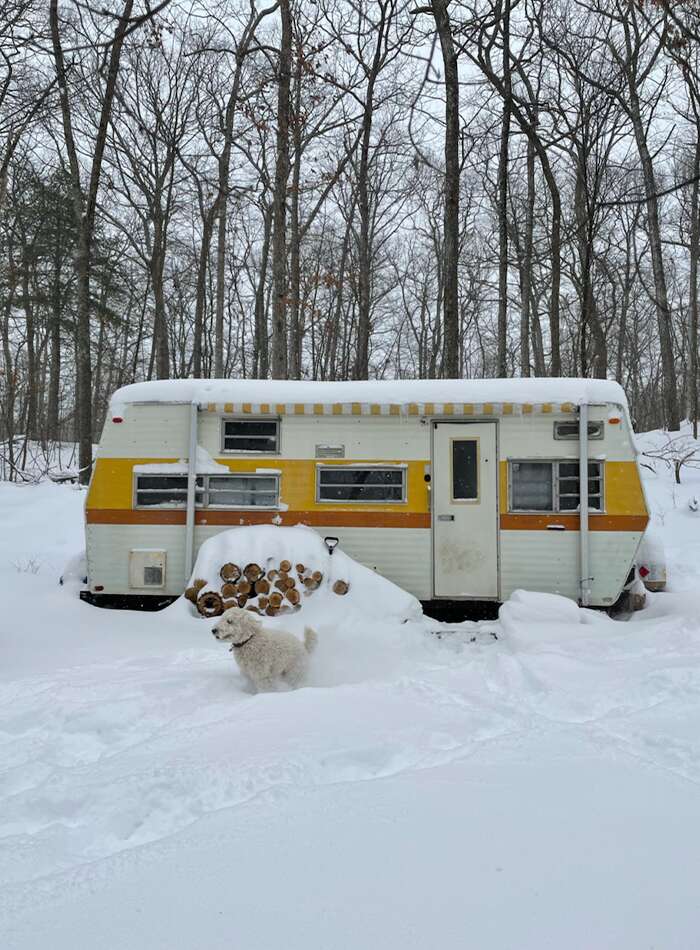 When the pandemic hit, I was working freelance as a recipe developer and assistant food stylist (the person who helps cook all the food for a photo shoot) at places like Bon Appétit, Epicurious, Delish, and Jewish Food Society. I was also working as a private chef and really, really loved it. My boyfriend Sean is a carpenter, and was building sets for Showtime and HBO and fun things like that.
When things got serious in the city, all our gigs were put on pause. We were hoping things would just… go back to normal. Two weeks turned into two months, and our jobs didn't come back. Before we knew it our lease was up on our beautiful loft in Bushwick and we couldn't afford to keep it.
So we pushed forward to figure out our next move. We're both from the Hudson Valley, and real estate started blowing up here, so buying land as soon as possible was our best and only option. In May, we found a secluded plot we could afford. In July, we found a 1976 Fleetwood camper and completely gutted it to make a simple, low-impact home.
We let go of a lot of norms in 2020: like shaking hands, wearing pants, and (most importantly) working in an office. You're no longer tied to a commute — so why should you be tied to one place? Enter: Landing, the startup that's reinventing apartment living. Thanks to its network of fully furnished (and unfurnished) apartments across the country, you can have the freedom to live (and work) practically anywhere. With perks like a 24/7 online member support, fast and easy lease transfers, and waived security deposits, you'll have more flexibility than ever before, too.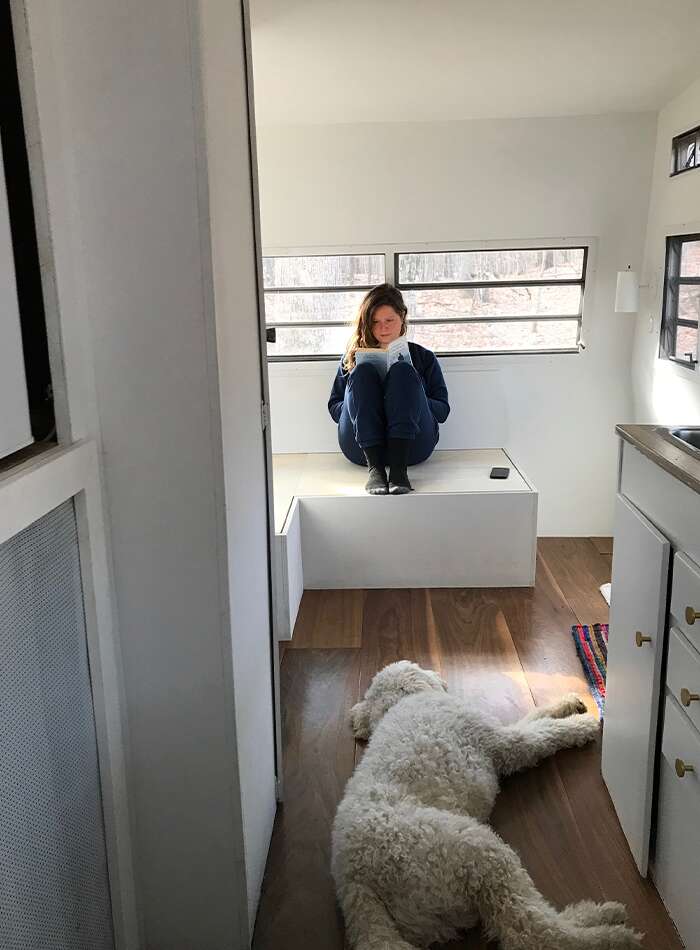 I wish I could say the transition was super easy, but it was a serious adjustment to go from a 700-square-foot loft to a tiny camper in the middle of the woods. Especially sleeping at night, when I was so used to city noises—out here, you hear nothing. Except we have several barred owls on the property, and when they mate they sound like women screaming, so you can imagine how that went over at 3am.
Of course I felt lonely, but who hasn't in the past year? You spend enough time somewhere and get used to it. As much as we both loved the city, we were tired of constantly working without being able to save. We wanted to spend more time doing things we love, like climbing, surfing, hiking, swimming, fishing, snowboarding, and cycling. We wanted to build our own house so we didn't have to pay rent or a mortgage. We envisioned a life for ourselves that was simple, surrounded by nature, and close to family.
Downsizing has been invigorating. I love getting rid of unnecessary things and working toward the goal of only owning things you truly love and use. I'm addicted to Facebook marketplace; I buy things, but the real adrenaline rush comes from selling. I got rid of so much stuff over the summer and it felt so good to see those things turn into money to put towards the camper build.
We are doing all the renovations ourselves; when we're done, we'll move on to building our house. Sean is a professional builder with over 10 years of experience, which allows us to save dramatically on construction costs. To be honest, if we'd needed to hire professionals, we couldn't have done it. Throughout this whole process, we've been short on money, but not short on time.
We're very much inspired by Dick Proenneke and have watched Alone In The Wilderness a bunch. It's a must for anyone who fantasizes about living off-grid. But the most valuable resources were friends and family who had experience in real estate and building. We have a friend who built an off-grid home years ago, so being able to see his setup and bounce ideas off him was huge. Find someone who's done it before—that's the best advice I can give.
If you're the kind of person who has a meltdown when a bee flies by, this isn't for you. You have to be comfortable in nature—you also have to be willing to work constantly to maintain your comfort levels. Every week we get our propane tanks filled at the hardware store, and haul all our water in. We have a composting toilet and a big shaggy dog who loves to play in the mud. It's a lot of moving parts that keep you on your toes.
But there's something I really love about all these responsibilities. When things are running smoothly, you feel proud. I've never lived in such a low-impact space, and it feels exhilarating to live so efficiently. We keep things simple because there's no other way. We've embraced a day-to-day that is low waste and above all, conscious. You have your finger on the pulse of the entire operation of living; it feels really good.
In a tiny kitchen, everything is accounted for. Nothing is forgotten in the back of the fridge. As someone who cooks professionally, camper cooking has been a fun challenge. Pantry items like rice, pasta, olive oil, and vinegars are bought in bulk and kept in storage. Meat and produce we get at our local farm and are purchased much more frequently. We love an outdoor cooking project, even in the winter. So meat and larger quantities of vegetables are usually done out on the grill, any kind of soup or stew is done in my Le Creuset Dutch oven, and we do eggs and pancakes in my stainless steel sauté pan from Pot Luck. And surprisingly, the original oven in the camper works great.
Above all else, it's the sense of freedom that's so staggering. We own something, and don't have to pay rent or a mortgage. There was a time in my life when that was unfathomable. It's made everything worth it.