<a href="http://www.shutterstock.com/gallery-56934p1.html?cr=00&amp;pl=edit-00">Tupungato</a> / <a href="http://www.shutterstock.com/editorial?cr=00&amp;pl=edit-00">Shutterstock.com</a>
No one ever comes back from the Land of the Rising Sun saying, "I went to Japan for the culture, I stayed for the 7-Elevens," but the Japanese convenience store experience definitely leaves an indelible mark on the Far East experience. Removed from the stigma of the semi-trashy, strip-malled American version of the chain, Japan's 7-Elevens embrace the tenets that make its country's culture so attractive -- efficiency, innovation, cleanliness, and, of course, innate weirdness.
On a recent trip to the island nation, a quick food stop turned into days of snack-infused anthropologic study that yielded one resounding conclusion: Japanese 7-Elevens are pretty damn awesome. With stimulation at every turn, the experience can be overwhelming, but here's a little quick-and-dirty guide to the Japanese snack world. Kan pai!
Japanese 7-Elevens are clean...
Like, really, really clean. Unlike their American counterparts, where touching any wayward piece of counter feels like it could spell serious health disaster, Japanese convenience stores have a code of sanitation that borders on antiseptic. Fluorescent light, packaged food, and desk clerks rocking hospital masks, germs don't stand a chance in this snack paradise. Chemical cleaner carcinogens on the other hand… well, can't win them all, right?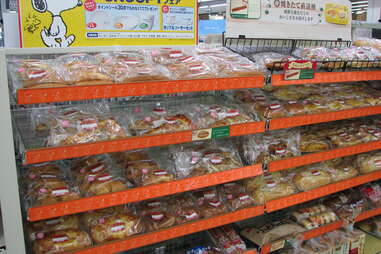 About that packaged food...
In Japan, you can get just about any food your short-term palette desires -- but expect it to come wrapped in plastic. For whatever reason, the Land of the Rising Sun is all about the packaged food scene and 'the Sev' serves up some of its weirdest. Ever eaten packaged pancakes complete with butter and maple syrup? Now's your chance. Embrace the weird and be absolutely certain that no sketchy employee has ever touched your food.
Then there's the mystery bun...
Not to be confused with the man bun, this convenience store delicacy is essentially a Snacker's Roulette. Located by the front counter near the roller meat (yes, that still exists overseas), these steamed hot pockets have a variety of different fillings, ranging from pepperoni pizza, to red bean paste, to fish… stuff, and are all but indistinguishable to the foreign eye. The same goes for the popular seaweed-covered rice triangles -- just total toss-ups. They cost about $.50, so a mistake won't ruin your day, but be forewarned that there could be a surprise -- either pleasant or not so -- lurking within.
Zima still exists!
Remember those clear alco-pops you used to steal from your mom's "special cabinet" when you were in high school? Well, they didn't die off after all, they were just banished to the coolers of a Japanese 7-Eleven. You can buy the malt beverage along with its stronger alternative, fittingly dubbed Strong Zero, and catch a solid buzz for only a couple bucks. If your taste buds have matured beyond the age of 15 (clearly, mine still haven't), Japanese sake and whiskey (which is often considered a better Scotch than even the Scots can produce) is readily available, keeping the party going well after hours.
Hentai is a (strange) thing
If Zima isn't scandalous enough for you, Japanese 7-Eleven's have extensive collections of naughty cartoon magazines sure to up the risqué factor. Known as hentai, these Japanimation porn publications are the kind of awkward that makes you laugh and shudder at the same time, but it's hard to ignore when they're right next to the packaged pancakes (see above). Japan is big on its sexual fetishes, and that culture seems to have trickled all the way down to its convenience stores.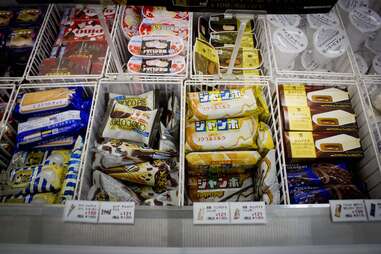 Japan screams for ice cream
You might not find the green tea mochi ball you were looking for, but the 7-Eleven ice cream game will quickly have you saying, "Mochi who?" Sweets are a great lens into a different culture, and if the ice cream freezer is any indication, the Japanese take their desserts seriously. Futuristic King Cones, an array of sours that'll have your face puckered for the rest of the day, and a buttery ice-cream and chocolate-filled waffle are just a few of the frozen delicacies unique to the Asian convenience store circuit, and all are worth a try. Where the North American 7-Eleven experience is all about the Slurpee, Japan's munchies heart is vacuum-sealed in the freezer aisle.
Sign up here for our daily Thrillist email, and get your fix of the best in food/drink/fun.
Kade Krichko is a freelance journalist and self-appointed late-night food critic in search of the perfect burrito. Follow him on ​Twitter and Instagram: @caskade88.