Denise Lett/Shutterstock
Denise Lett/Shutterstock
Unless you live in Dallas or Little Rock or Tulsa, Oklahoma, the first place that comes to mind when you think beach vacation is probably not Texas. But it should be. The Texas Gulf Coast, or America's Third Coast as it's affectionately referred, is 367 miles of warm water, seaside cantinas, and quirky beach towns unlike any you'll encounter on the the Eastern and Western Seaboards. Here's what makes this stretch of sand so damn charming.

It's not all fancy-schmancy
Don't get me wrong; there are plenty of multimillion-dollar homes at which to gawk, but a lot of the small seaside towns are filled with people just like you and me [read: not owners of multimillion-dollar homes], which is kind of refreshing. In places like Port Aransas, many of the businesses and restaurants are no-frills, and the residents are friendly sun worshippers who wear shell jewelry, drive Jeeps, and listen to Jimmy Buffett.
The water is so warm you won't want to get out. Ever.
The Texas Gulf feels like a Jacuzzi, plain and simple. If you're one of those people who enjoys frozen toes and shrunken appendages (I was in the pool!!!), you're in the wrong place. In the summer months, the Texas Gulf typically reaches the mid-80s, which means you'll probably never want to leave the water. Make sure to bring your koozie necklace.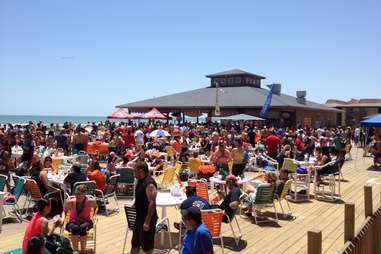 Unless you want to drink at The Biggest Beach Bar in Texas
That would be Clayton's, aka one of the best beach bars in the world, and a joint that can hold 5,000 people!!! It regularly hosts top-name concerts (Ludacris, Nelly, Kesha!) and rocks over 100 tables and a huge deck for an afternoon of lazy beachside imbibing.
Or watch baby turtles hatch at sunrise
On North Padre Island from June through August, the public can watch the wee-est of baby sea turtles hatch on the beach and take their sweet-ass time (20-45 minutes) making their way to ocean freedom. Although, to be honest, it can take up to four days for the babies to burst forth from their eggs, and it typically occurs in the early morning; so... best to call the Hatchling Hotline (361-949-7163) for updates on when to see them. And yes, we just gave you the telephone number for a baby turtle hatchling hotline.

Two words: Galveston Schlitterbahn
The most glorious indoor-outdoor water park ever opened, Schlitterbahn offers 1970s-era fun and the chance to swim even when it's 50 degrees and rainy out (it's open on select days every month of the year). Plus, there are two locations outside of Galveston in South Padre and Corpus Christi, so you have options.
Padre Island is one of the country's top spring break playgrounds
Thrillist didn't pick South Padre Island (yes, the other side of the island from the turtles) as the fourth-best spring break spot for nothing -- this place gets insane. Although beware of the drones!

We do po-boys even better than the Big Easy
Sure, they originated next door in Louisiana, but we're all shrimping in the same waters, right? Let's just say you're gonna want to hit Irie's Island Food in Port Aransas (HUGE po-boys) and Shrimp 'N Stuff in Galveston, where you can kick back on the deck. You won't be disappointed.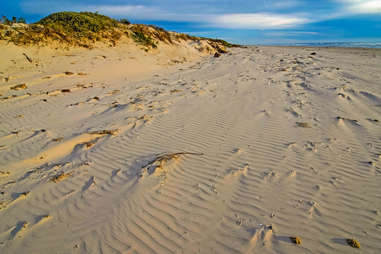 There's no better beach camping in America
Sure, camping is allowed on plenty of beaches across the country, but there is something romantic about lying on the Texas sand amongst beautiful dunes and enjoying the sounds of waves and birds, all while being comfortably tucked in by a warm blanket of humidity. Check out Mustang Island, with proximity to 20 miles of paddling trails, and Padre Island National Seashore, which offers several camping areas such as Bird Island Basin (kayaking! Birdwatching! Windsurfing!) and Yarborough Pass (fishing! Dunes!)
You don't need to hit the ATM that often
Unlike a lot of fancy-ass seaside towns, hotels and restaurants are pretty cheap -- so you won't need to pawn that shell jewelry collection to enjoy the aforementioned shrimp po-boy and a beer. It's also pretty common to score a hotel or condo for around $50-$100 per person, assuming you plan ahead. Or, if you're super frugal, again, camping -- you can pitch a tent on the beach for as little as a couple of bucks a night!

The ghost of Townes Van Zandt plays the Old Quarter Acoustic Cafe
Opened in Galveston in 1996 by former Townes Van Zandt and Lucinda Williams bassist, Rex (Wrecks) Bell, the Old Quarter Acoustic Café is the go-to spot for non-Kesha live music in the Texas Gulf. And what makes this dive so cool? Well, one of the reasons: Bell and friends host an annual Townes Van Zandt wake on New Year's Day where musicians far and wide come to play/pay homage to Texas' hard-drinking country boy. It's a must for lovers of bygone TX.
We're not afraid of sharks. And we don't need to be.
Bull sharks are common in the Gulf, but you're way more likely to get bit by a shark in Florida, the most common state for shark attacks (oh, Florida). The last time someone was killed by a shark in Texas was 1962, and before that, 1937 and 1911. That's it. Since 1900, fewer than 100 attacks have occurred in the Texas Gulf; in other words, you have nothing to worry about. Now, the Gulf also has alligators, but unless you mock one, you'll probably be OK.

Sign up here for our daily Thrillist email, and get your fix of the best in food/drink/fun.
Lauren Modrey is an Austin-based freelance writer. Follow her on Twitter: @Hipstercrite.