Why Everyone Should Travel Solo
Enjoy your own company on the vacation of a lifetime.
Earlier this year, I took myself out for a leisurely meal in Bologna, Italy. I'd spent the afternoon antiquing before riding a rented electric bike to Trattoria Anna Maria, whose bolognese is said to be the best in the city (my take: it's true). I asked for a charming table in the corner of the restaurant. I had lasagna with bolognese and a glass of wine. There were no dining companions to request that I eat quickly or give up a bite of my food, so I lingered. I ordered a fruit tart studded with wild strawberries and mascarpone, practiced my Italian with the waiters. I took my time. The secret to such bliss? I was traveling alone—and man, did it feel good.
I believe that everyone should take a trip alone, at least once. Hear me out: I travel quite a bit. I've soaked up sun on the Greek islands, explored the beautiful chaos of Rajasthan, and glamped under the Moroccan night sky. And while I love good company when I travel, I've learned the most about myself on the trips I've taken solo. Traveling alone allows you to learn how to enjoy your own company—hard to achieve in our busy day-to-days—and find a renewed sense of discovery, adventure, and self confidence.
In our daily lives, it's easy to pour so much time into our relationships, our jobs, and our outside responsibilities. In the process, it's easy to overlook our most important relationship—the one with ourselves. A solo vacation gives you a chance to get to know yourself better—to sit with yourself, to do exactly what you want when you want it, and to rely on yourself to handle all the tasks and problems that tend to pop up during any trip. It's empowering, deeply satisfying, and just plain fun—and you get these benefits whether you're on a quick weekend jaunt or a longer trip abroad.
Not convinced yet? Here are five reasons why you should definitely try traveling alone.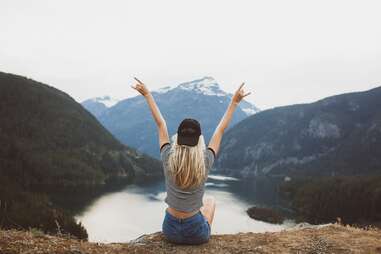 It's a chance to step outside your comfort zone
Perhaps one of the biggest reasons why I travel is to get "uncomfortable." No, I'm not suggesting you luxury travelers out there trade in your fancy hotels for a campsite (though you might find the experience worth your while). What I'm talking about is simply shaking things up and getting away from your usual routines, walking routes, and anything you usually choose to do. When you're traveling alone, far away from your familiar surroundings and companions, it becomes much simpler to bid farewell to monotony, complacency, and mindless ease. Go ahead and try a new activity, order something unfamiliar at a restaurant, or just see what it feels like to take an afternoon off for a change and just relax with a book. You'll learn a lot about yourself, and chances are, you may not feel too uncomfortable after all.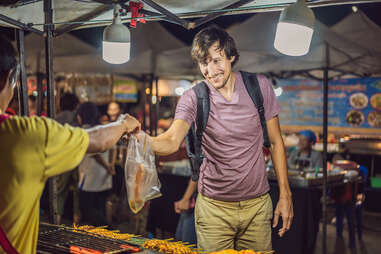 Connecting with strangers is a joy
When I travel alone, I'm always reminded of how kind people can truly be. I've had strangers extend more generosity to me than some of the closest people in my life, and with no expectation of something in return. Of course, you'll always want to use your judgement about whether it's safe to trust an individual, but I've found strangers on my travels who are willing to do something as simple as offering directions to the nearest local beach, or as over-the-top as speeding me through New Delhi traffic in a tuk tuk to get me to the nearest dentist for an emergency procedure. Strangers can act as companions or tour guides during the good times, or help you out in a pinch when things don't go smoothly. It's a great reminder that people are mostly good, and an encouragement to pay it forward some day.
You'll learn to trust your instincts
It's easy to second guess yourself, ask friends or family for their opinions, and endlessly weigh your options, but what do you do when you're far away from your usual sounding boards? Decision paralysis isn't an option when faced with a situation alone in a foreign country. What happens is that you quickly learn to trust your own intuition. I've found that while traveling, especially alone, it's crucial to learn to pay attention to that gut feeling. It's helped me avoid potentially dangerous situations, as well as allowing me to take calculated risks that have resulted in meeting great people. And it doesn't stop when you go home, either; the conviction and confidence I've gained in my own decision making through solo travel has helped me in all areas of my life, both professionally and personally.
You can be truly present in the moment
Behold the era of social media: When we're alone, we're probably on our phones. But don't get too caught up in posting that Insta-worthy shot, because there's something to be said for remaining totally present throughout your travels. This is especially true if you're traveling solo, because you're able to really see your world without the distraction of your travel buddy. On a recent trip to India, I would have missed so much if I hadn't allowed myself the opportunity to soak it all in and just be. That trip was the turning point for how I approach travel, even as an influencer. On my latest trips, I've made a conscious effort to focus on being present in the moment and leave uploading to social media for after hours. Capture the moment if you'd like, but consider uploading it at the end of day, or even after your vacation. In the meantime, you're free to do cool activities, make friends with the people you encounter, or relax and enjoy your surroundings without any interruptions.
You'll discover a new version of yourself
One of my fondest memories of traveling is from my time in Petra, Jordan. I veered away from my guided tour and stumbled into a tent, where I struck up a three-hour conversation with a local man over mint tea. He strung beads together as we chatted about a variety of life topics, and despite our different homelands and ways of life, it turned out we had an incredible amount in common. The conversation made me realize how important it is to practice curiosity and understanding, and to really immerse yourself in the places you visit. After all, isn't that the point of travel? As you engage with new experiences and friendships, you just might find you'll get to know yourself better in the process. Solo travel inherently gives you a chance to discover who you are when you're outside of your comfort zone, and to bring what you've learned back to your daily life.