Distilleries Are Turning Into Mini-Theme Parks With Booze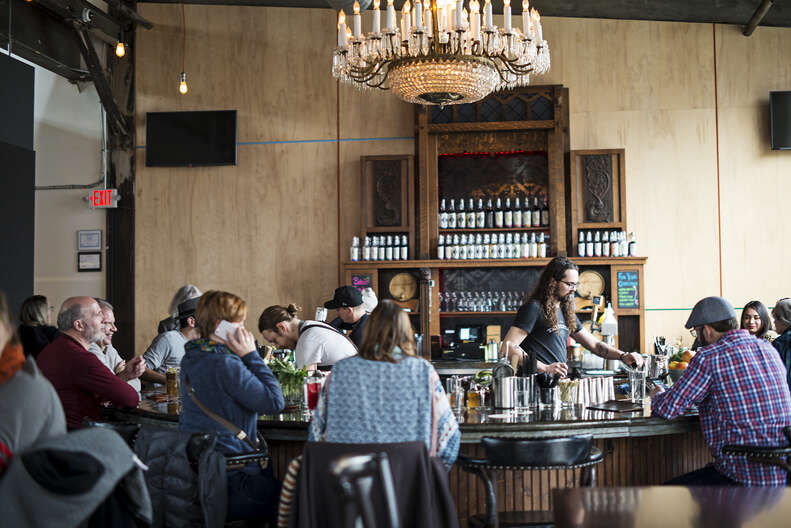 Shaking up the typical tour.
When the expanded J. Rieger & Co. distillery and visitor center opens in Kansas City, Missouri, this July, it will include the usual amenities: a tour, a tasting room, a couple of bars.

It will also include a 40-foot metal slide for visitors to gleefully hurtle from a second floor bar space to the ground-floor exit.

"We just thought, it sounds fun as hell," says brand director Lucy Rieger of the decision to put in a slide for the distillery best known for making American whiskey and Caffè Amaro, a bittersweet coffee liqueur. "We wanted to build a place where we all wanted to hang out -- that's what drove our decisions."

Taking a cue from wineries and breweries, distilleries now want visitors to hang out and linger. Expect to see more distilleries adding one-of-a-kind experiences that span beyond just a tired tour of the facilities and a shot-sized sample to sip. Instead, they're offering amenities to attract tourists --including some, like that slide, that have little to do with booze -- to create "destination distilleries."
"People take cocktail culture so seriously, it can be snobby."
Unique distilleries that are shaking up the typical "tour"
In some cases, it's about showcasing the unique personality of the distillery. For example, an indoor boat ride through a faux jungle backdrop has helped cement LA's Lost Spirits Distillery's reputation as a boozy theme park for adults, while a "whiskey prison after dark tour," conducted by flashlight, helps reinforce that Southern Grace Distillery is built on the site of a former prison. Meanwhile, at the sprawling 122-acre Firestone & Robertson in Fort Worth, TX, the "Whiskey Ranch" is located on the grounds of an historic country club, including an 18-hole golf course, for extra swagger.

Meanwhile, events like art installations (Copper & Kings in Louisville, KY), comedy shows (Orange County Distillery, Goshen, NY), outdoor concerts (Jeptha Creed, Shelbyville, KY) or yoga classes (Catoctin Creek, Purcellville, VA) entice people in to drink at on-site bars and buy bottles -- but it also serves to integrate the distillery into the local community.

Distillery bars are no longer bare-bones operations, either: often they're destinations themselves, offering full cocktail menus and entertainment. The crowd around the horseshoe bar at Tattersall (Minneapolis) or turnout for book signings or cocktail classes at Philadelphia Distilling or tiki nights at Short Path Distillery (Everett, MA) can rival that of traditional cocktail bars.
Distilleries are responding to visitors' needs and preferences
These attractions also represent how the spirits industry is reacting to changing demographics and attitudes. Many younger people are drinking less, and older Millennials are seeking spots that are fun for parents, but are also friendly to growing families. The latter is why Rieger built in changing tables, a nursing lounge, and one under-21 distillery tour each day. It's also about attracting a generation that values experiential learning, Rieger says.

"People want to get their hands on things and connect with a distillery in that way," she says, whether that means enjoying a drink, inhaling the aromas coming off the barrels in the warehouse -- or yes, gliding down a 40-foot slide.

For some distilleries, changing up the formula is about building loyalty as much as maximizing real estate and bringing in money (and mindshare) while producers wait for whiskey, brandy and other spirits to barrel-age, a process that can take several years.

Frank Coleman, senior VP of public affairs and communications for the Distilled Spirits Council of the U.S. (DISCUS) credits this "Napafication" to the effect of more relaxed laws in many states and increased cultural acceptance of distilled spirits. "So many distilleries across the nation are seeking to maximize the tourism connection," he says.
"People take cocktail culture so seriously, it can be snobby," says Rieger about new distillery offerings. "At the end of the day, (distilleries) should be fun and drinking should be enjoyable."