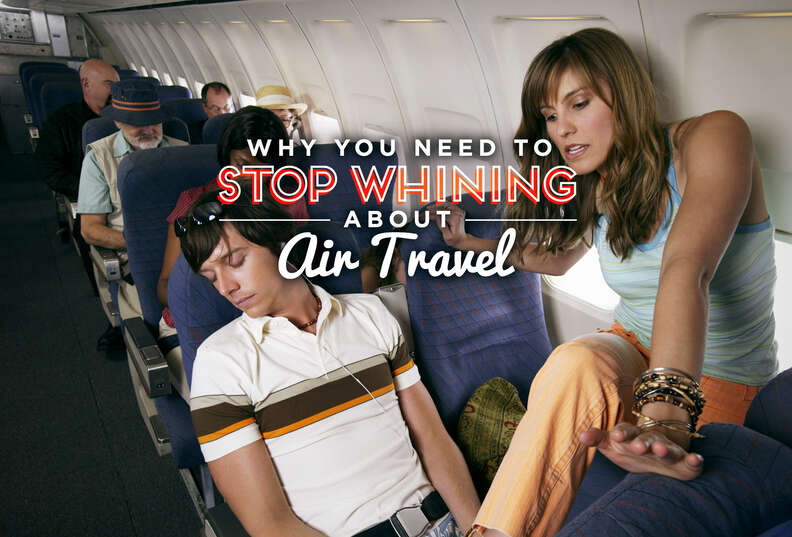 Digital Vision/Photodisc/Getty Images
Why You Need to Stop Whining About Air Travel
It has become one of our greatest national pastimes: bitching about flying. The discomfort, the hassle, the cost, the ineptitude of everyone involved, from the baggage handlers on up to the CEOs. We bitch on planes and off, in airports, on Twitter, on the corner, all the time. And when we do, we often hark back to a time when flying was humane and glamorous; when service was king and people were treated like creatures worthy of dignity and respect. It was, we like to think, the golden age of air travel.
Take Paula Clark. Her memories of working as a stewardess (they still used that title then) for Pan Am in the '60s are bathed in that warm nostalgia. It was the Tiffany & Co. of airlines, she enthuses -- a world away from the hectic Kmart experiences she says she endures when flying as a passenger today.
But then… she remembers how people were allowed to smoke on the planes. And how there was nothing to do on long flights. And how the engines were so loud you couldn't carry on a conversation. And how the food before and between flights was inedible.
"You'd come home reeking of smoke," she says. "We'd have one movie, take it or leave it. We didn't have all those restaurants in airports."
And that was the golden age of air travel? Good riddance.
This is the golden age of air travel.
OK, sure: we stipulate that the security lines are endless, the seats are cramped, the cabin attendants are surly, baggage fees are annoying, there's never enough room in the overhead compartments, the onboard Wi-Fi is balky, the person packed into the seat next to you hasn't bathed in God knows how many time zones, and the gate agent who's taking forever to hook up the skybridge clearly tanked the parallel parking portion of her driving test.
But there are also more flights, to more places, more onboard entertainment, and -- even if you have to pay for it -- much, much better food. It's safer. It's quieter. It's smoother. It doesn't stink like 100,000 Lucky Strikes. And it's crazy cheap.
You're paying less than half as much to fly as you used to. In 1954, it cost $1,727 in today's dollars, not including taxes, to fly from New York to Los Angeles, one way. That's far more than you'd usually shell out for business class today. Roundtrip fares have fallen 64% since 1995 alone. The average flight today goes for around $250, according to booking website CheapOair, down another 12% from last year. The cost of flying is one of the few expenses that has gone up much more slowly than household income.
That low price also gets you to a lot more places than it once did, more than ever of which are nonstop. There are 16,000 city-to-city connections now, or twice as many as there were in 1995, and more flights on those routes to choose from. Twenty-seven thousand flights per day, to be exact.
And that's made flying much more democratic. More than 80% of us have flown commercially within the last 12 months, compared to only 15% who had in 1975, before deregulation changed the industry forever; airlines carry three quarters of a billion passengers per year, up nearly 40% since 1995.
"It's gotten a lot cheaper, and there's a hell of a lot more choice," says Brian Pearce, the Geneva-based chief economist of the International Air Transport Association. "You can get directly to a lot more places for much less."
Performing this juggling act cost the airlines $63 billion in losses from 2000 to 2010, a period during which they also had to grapple with minor hiccups like, you know, 9/11 and a 255% spike in oil prices. Even today, having squeezed their operating costs as tightly as your legroom and finally crawled back into the black, the airlines will make an average profit of $8.27 per passenger this year, a margin half that of the corporations in the S&P index. They also still have $66 billion worth of debt to pay off.
And yet -- surprise! -- those same airlines completed 98% of their flights in the last year, 80% of them on time or early, despite a biblical scourge of weather problems, according to the US Department of Transportation. A record 99.6% of passengers had their bags properly handled. While bitching about air travel is a national pastime, only about one in every 100,000 passengers actually files a complaint. And the last five years have been the safest in the history of American commercial aviation.
In short, says Mike Lombardi, the official historian at Boeing, "One of the great achievements of airplane safety is that people complain about the food."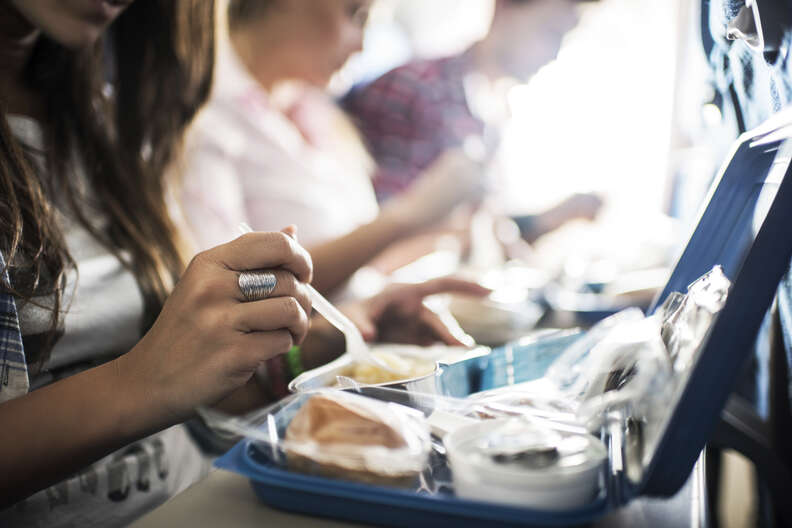 Or not. Now that the airlines get to charge you for it, the food is pretty good, especially compared to the unrecognizable reheated mush you used to get when it was free. In a survey last year by the Airline Passenger Experience Association, seven out of 10 passengers said they like the quality and selection of in-flight food for purchase. Virgin America sells Holly Baking Company chocolate chip cookies onboard, and Jet Blue serves up a grilled chicken, Brie, arugula, and cranberry mustard sandwich on a rustic roll. A rustic roll!
"When you only make food available to people who really want it, which is exactly what happens in a baseball stadium, you're going to have a higher-quality product, says John Heimlich, vice president and chief economist at the industry association Airlines for America.
Of course, a lot of us -- two thirds, in fact -- buy food before we fly. And that has gotten better, too. Because so many people now spend so much time in them, airports have been cramming decent restaurants into their passenger terminals. You can get sushi when you connect in San Francisco, and oyster po-boys while you're nursing your hangover waiting for your flight in New Orleans, or sidle up to food trucks in the passenger terminal in (needless to say) Portland, Oregon. And if you can't get into the Frontera Grill in Chicago, you can just go to Rick Bayless' restaurant at O'Hare.
Then there's the onboard entertainment. In a far cry from the flickering TV screens showing movies somewhere at the far end of the cabin, and those grim hollow-tube plastic headphones, airlines offer live TV and movies you'd actually be interested in watching even if you weren't stuck on a plane. Some are adding surround sound, touch screens over which their passengers can chat with people in other rows, and online business books and language courses. That's not to mention the life-saving kids' programming, video games, and digital shopping.
Meanwhile, the airlines are plowing their newfound profits into finally upgrading their tired fleets -- putting into service, on average, one new plane per day, every day, all with that satisfying new-car smell and even more tech and amenities.
And yet, as we fly in shiny new planes, nourished with better food, watching better movies, all for less money, we still rend our garments at the unfairness of it all.
The fact is, if you're that miserable with the state of air travel, you have only yourself to blame. Want to keep paying as little as you do to fly? The seats will stay small and you'll keep having to pay extra to check bags and buy snacks.
"That's what I tell people when they complain about their flights. I say, 'You're the problem,'" says Lombardi, the Boeing historian. "It's not the airline. "You're the one driving the price of the ticket down. What drives the market is what passengers want."
And what passengers want is two things: cheap flights, and the ability to never stop complaining about them.
In his famous bit, Louis C.K. fantasizes about seeing passengers go back in time to meet the Wright brothers, just as they were about to take flight for the first time.
"They'd go, 'Hey dude, I had to sit on the runway for 40 minutes,'" he says.
And Orville Wright, he says, "would be like, 'Oh, shit. Well, let's not even bother then.'"
Fortunately, they did, though. And so here we are, crossing the skies at 600 miles an hour in reclining seats and eating a sandwich on a rustic roll while hoping that our neighbor doesn't see that we're watching Fifty Shades of Grey. Marvel at the wonder and the progress. And then maybe stop moaning about the Wi-Fi.
Sign up here for our daily Thrillist email, and get your fix of the best in food/drink/fun.
Jon Marcus covers trends in travel for the Boston Globe, and has written for Time, The Atlantic, the Washington Post, the Huffington Post, and other magazines, newspapers, and websites. He has flown more than 54,000 miles so far this year, and wrote much of this piece on a surprisingly pleasant flight from Boston to Chicago.