Visit This Fascinating, Friendly European City Before It Gets Too Popular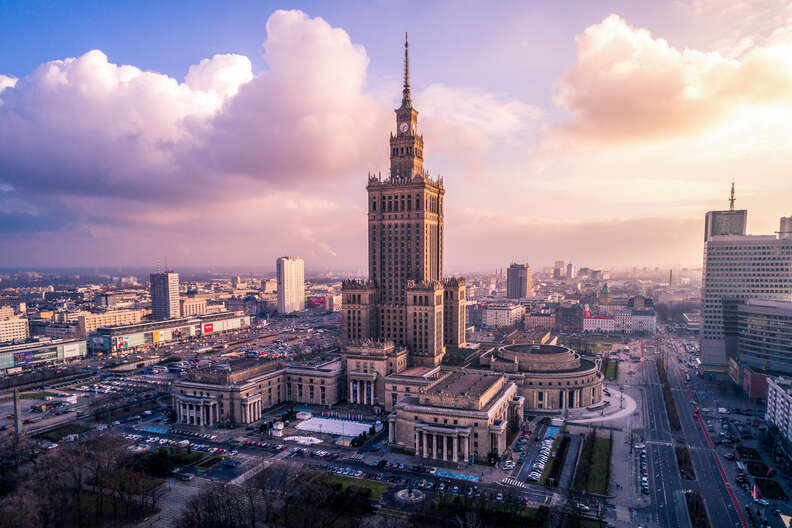 Think of Warsaw's Palace of Culture as the ultimate cultural "up-yours" to the former oppressors.

| Aleksander Glowacki/EyeEm/Getty Images
Think of Warsaw's Palace of Culture as the ultimate cultural "up-yours" to the former oppressors.

| Aleksander Glowacki/EyeEm/Getty Images
Eight years ago, when I visited Poland for the first of many times, I didn't know enough about the country to even conjure up a tired stereotype. I arrived with no iconic sights pre-burned into my imagination. None of my friends had rhapsodized about a tour I needed to take, or a restaurant I had to try. I didn't even have a well-defined reason for visiting, other than the all-powerful traveler's call: "Why not?"
Perhaps that lack of familiarity is why Warsaw failed to evoke love at first sight for me. I had a nice -- albeit somewhat forgettable -- time. But one thing stuck with me: the Poles are so friendly and so hospitable and so fun, I just had to return. Gradually, with the help of my newfound friends and more than a few splashes of vodka, I untangled the mystery of this fascinating metropolis -- and fell in love with it.
Warsaw is overlooked by American tourists, perhaps because of the antiquated belief that Eastern Europe is somehow behind the times. This is a thriving modern city, with a colorful Old Town (reconstructed after World War II) lined with pierogi shops and family-owned local restaurants. English is spoken in most places, but overall, Varsovians don't go out of their way to cater to outsiders -- and that's part of the appeal.
Warsaw is unique because they've successfully repurposed their history
Warsaw has a rich and dramatic history, and has been in a constant state of flux for centuries. It's easy to forget, but Poland is still only 30 years out of Communism. Going further back, it was occupied by the Nazis during World War II, during which time The Warsaw Uprising attack flattened most of the capital. And before that, it was conquered and reconquered by squabbling aggressors on all sides, in a series of power struggles between 1795 and 1918.
Result? The city has become an architectural patchwork. There are a slate of newer buildings, including basket-like National Stadium (Warsaw is home to several football clubs including Legia, Polonia, Gwardia, and Hutnik), and Arkadia shopping mall (the biggest in central Europe). These sit next to large Communist apartment buildings (often painted in Wes Anderson-worthy hues) and buildings that have cycled through a series of identities over the years. One of those is Mielżyński, an upscale ivy-covered wine bar, housed in an old textile factory in the newly emerging Burakowska district. Although it has changed hands and functions several times, the collective Klub Pogłos has likewise emerged as a creative pushback against the right-wing government, presenting live drama, punk shows, vegan dinners, and drag queen bingo nights.
But the king of repurposed buildings is the Pałac Kultury i Nauki, or Palace of Culture, a castle-like building in the exact center of the city. Originally a gift from (and monument to) Stalin, the building has been transformed to house two bars/creative gathering hubs Bar Studio and Kulturalna, a theater, viewing platform, and conference space. Think of it as the ultimate cultural "up-yours" to the former oppressors.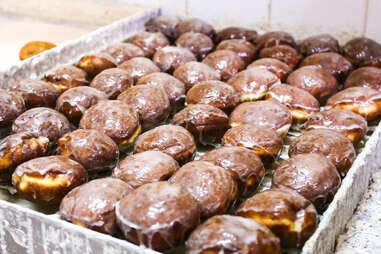 Warsaw is a place where you'll actually feel welcomed
Maybe it's because the city hasn't been flooded with American tourists (yet), but generally visitors are met with surprise rather than the exhausted complacency you might experience from locals at more highly trafficked locations. English isn't exactly ubiquitous, but most people under the age of 30 have a fair grasp on the language, and are happy to use it. As always, the key is to not be a dick -- they're speaking to you in their second language, so be patient and acknowledge that they're already going above and beyond.
Warsaw is made for people-watching. The area around Plac Zbawiciela has an air of Paris or Berlin, with plenty of al fresco cafes for talking, drinking, and spying on the locals. Recent commercial development has seen a string of bars, cafes, and hangout areas sprout up along the banks of the Vistula river -- and it's one of the only areas where public drinking is permitted. Stop by perennial favorite BarKa, a bar inside a boat moored on the river, and bar/music venue Plac Zabaw ("Playground"), which hosts free outdoor concerts. Łazienki Park is another popular pick for its summer Chopin concerts and wandering peacocks.
This is not a great place for dieters
For a traditional food experience, hit one of the city's milk bars (bar mleczny) -- low-cost cafeteria-style eateries with recipes handed down through generations. What they lack in frills (no waitresses, bathrooms, or bussers), they make up for in delicious eats. Be warned: Between fried potato pancakes, meat-stuffed pierogi, beetroot soup (borscht), rose-jam donuts (paczki), and meat wrapped in cabbage leaves (galumpki), Polish food packs it heavy. Popular spots include Wegetariański Bar Mleczny, Prasowy, and Bar Bambino.
There are plenty of international options though, too. Middle Eastern food is popular, with Beirut, Falafel Bejrut, and Tel Aviv all serving vegetarian-friendly fare. Food halls have sprung up, like Hala Gwardii, located in a former boxing arena with old-school posters still hanging on the walls. Hala Koszyki concentrates on high-end vendors, and even has a daily curated playlist. The Night Market (Nocny Market), located in a former train station in the Wola neighborhood, has become a weekend favorite, the narrow platforms featuring a constantly rotating list of local food vendors.
Experiencing Polish bar culture is obligatory
Well, almost obligatory. If you're pregnant, on antibiotics, driving, or strictly sober, no one is going to pour booze down your throat. But for everyone else, alcohol -- particularly vodka -- acts as high-proof social glue. Nearly every occasion requires a special toast and specific variety. And it's (almost) always drunk straight up.
There are countless variations of vodka. For the ultimate educational experience, stop by the Dom Wodki bar, which stocks 400 different types from five continents. You can also roll the dice and stop by Ulubiona, a tiny dive bar which has the cheapest shots in town. If you're feeling bashful, ask for nalewka -- the Polish word for fruit-infused vodka -- which is a milder and more pleasant to sip. For cocktails, visit Woda Ognista -- it's Warsaw's take on the American speakeasy.
Art and history run deep here
To come to grips with the Polish story, get thee to a museum. There are 55 in Warsaw, and most of them have free days (or regular cheap entry). For a crash course, start with the Warsaw Uprising Museum, an exhibit dedicated to the Polish resistance that protected the city for 63 days against Germany during World War II, before it was ultimately defeated. To get a sense of the action, you can watch Warsaw crumbling in a chilling 3D video. Then head to the POLIN Museum of the History of Polish Jews, a hypermodern building that houses a sobering, interactive look at Jewish persecution during World War II. Finally, cross the Vistula river to the artsy Praga district to check out Soho Factory's Neon Museum, which is packed with Soviet-era signage.
Warsaw-based designers and artists are often directly influenced by their history. Pan tu nie stał (The Lord Did Not Stand Here) adapts and updates Communist designs into colorful socks, shirts, and dresses. Mo Mularczyk of Momu uses her intricately embroidered t-shirts to confront feminist issues, including equality, sexuality, and strength. Agata Kalinowska is a photographer who documents queer life in a (still) conservative society.
Although he's British, check out the David Bowie mural in the northern neighborhood of Żoliborz. It was painted by Dawid Celek to commemorate the singer's trip to their city, and the song that it inspired.