Sponsored By
Why Your Next Group Vacation Needs to Be on a Cruise
Sponsored By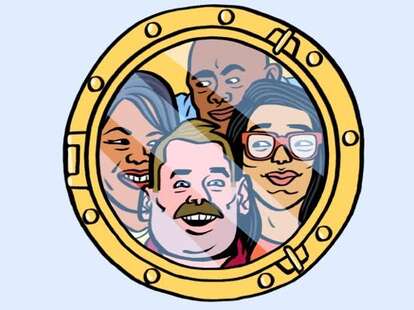 Planning a vacation for more than four people can be hell. Do all the flights connect? (Hopefully.) Can we coordinate ground transportation? (Possibly.) Does that Airbnb have enough beds? (Nope.) Is it as easy to get around as everyone says it is? (No way.)
Get your crew on a cruise ship, however, and you'll find it all: elegant dining options, creative new cocktails, Instagram-worthy panoramics, exciting excursions for the whole group, and quiet escapes when everyone needs a little alone time. Ditch the overcrowded rental, don't worry about gas prices, and cast away your stress on the high seas -- once you board a cruise, you get to settle into your cabin, stow that suitcase away, and take advantage of the floating metropolis at your disposal.
With spring in full swing and summer on the horizon, we compiled six of our favorite reasons to get you and your friends afloat.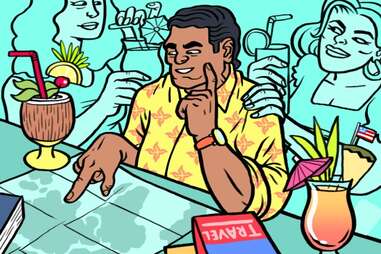 1) One person can handle all the logistics
Who's the responsible one that always books a hotel room in advance or prints out boarding passes for the group? Turn 'em loose in the flourishing online compendium of cruise research, and then schedule a happy hour meeting to discuss options. Once everybody locks down the dates and departure port, the team leader can find fantastic group deals. The rest of you? Chip in with the group when the bill is due and then don't stress about the details of your vacation until a few days before you leave.
2) Pick a theme, any theme!
Themed cruise vacations are all the rage these days, providing a perfect outlet for your like-minded crew to get away from it all while diving head-first into their favorite activity. Live music? Celebrity chefs? Faith-based retreat? Clothing-optional sanctuary? Star Trek? Star Wars? Harry Potter? Legends of Classic Wrestling (yes, it's real)? If you dig it, some cruise ship sailing somewhere on the seven seas does it. And if you have any friends who are down, you guys should definitely take the leap.
3) Devote the first night or day to catching up
The best thing about having all of your friends in one place? You can catch up in a genuine, face-to-face way -- not on Facebook or via impersonal text messages. If you and your friends haven't had time for a substantial conversation in years or are sick of sharing big news via online chat, ditch the Wi-Fi for a day (or four) and dig deep about life, hopes and dreams and all that mushy stuff (good food and tasty drinks are scientifically guaranteed to help). Next thing you know, your friend group will be reconnecting for real, minus all those smartphone notifications and email alerts that constantly interrupt day-to-day landlocked life.
4) Everyone has the time and space to do their own thing, too
That's the beauty of a cruise ship -- it's contained, but it's also colossal, and the list of onboard activities is never-ending. Active types can take a fitness class, ride a wave machine, run, do yoga, or rock climb. Divas? Treat yo' self at one of the cruise ship's many spas (Euro-posh, Zen-harmony, or anything in between). Outgoing friends can let their gregarious flags fly doing trivia or karaoke, getting dealt in at the card table, or dancing the night away after a lavish five-course dinner. Give everyone a little me time and the next group hang will be even better.
5) No cabs, curfews, or checkout times
Ever gone to New Orleans, Las Vegas, or Austin and gotten swept up in the action? It can stress the whole group having to worry about getting home safely at the end of a long night and then getting out of bed for check-out the following morning. But on a cruise ship, there's no curfew -- epically late nights aren't a big deal, and you don't have to worry about finding a way to safely get home. The daytime side of this perk is even better -- a relaxing lunch can turn into an afternoon of fun. Want to lie around in your cabin until 2 PM? Nobody will care. Have a beer with breakfast? So long as you drink responsibly and remain respectful of the rules and regulations in place, a cruise is one of the easiest places on the planet to truly let your hair down.
6) Pack without stress, shame, or hesitation
Want to live in leisurewear? Rock that tank top all week, my friend (but bring a couple of nice outfits for dinner). If you're a serial over-packer but know how to make it all fit Tetris-style in your interior cabin, bring a different outfit for every time of day. Oh, and if you've been dying to try on that ridiculously loud shirt, painfully tight swimsuit, or amazingly gaudy jacket, a cruise ship full of complete strangers is the best place to give it a shot.
Looking for a temporary escape from the everyday without all the stress of a complicated trip? The sea beckons! Solo vacays are cool, and family trips are great, but there's nothing as sweet as quality time with your besties. Whether you need a fresh perspective, a blast from the past, or a reminder of you and friends' unshakeable bonds, a friends cruise is the perfect mix of convenient, affordable, fun-loving, and freeing. You can't say no to that.