Newsflash: In Crouching Tiger Hidden Dragon, the magical, floating version of kung fu that mesmerized you was actually just SPECIAL EFFECTS. It's true! Chow Yun-Fat, Michelle Yeoh, Zhang Ziyi... none of those people can actually levitate-fight their way across the top of a bamboo forest or on the water's surface in real life. At least, not without the aid of a complex computer-controlled wire system like the one you can totally use if you're willing to venture to Wild Duck Lake in Kunming, China.
Recommended Video
Important Paris Travel Tips You Need to Know
This is the Wild Duck Lake Resort. It's pretty nice, but that's not why you'll go there.
See? Bedrooms. Like we said, this joint is preeeeeetty nice. But again, that's not why you'll go there.
So why will you go there? Well, this adorbs couple is looking at it.
You'll go for Wild Duck Lake, y'all. Not just because it's as adorbs as that couple looking at it, but because you can do levitating kung fu on it. Yeah.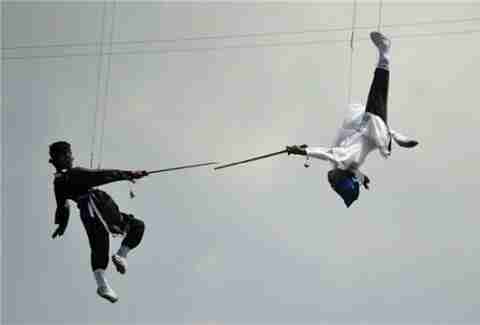 The secret is a high-tech wiring rig (almost identical to the one they used in the Crouching Tiger) that enables ordinary, not-able-to-kung-fu-fly-fight you to kung fu fly fight.
Wanna be the white kung fu dude or the black kung fu dude? Why not bring a buddy and swap robes after a morning of martial-artfully whooping each other while skimming the water's surface; then you'll get to be both!
Regardless of your outfit, Jesus will be super jealous when he sees you not only walking on water (which is so two millennia ago), but pose-running on the wet stuff.
And, so you don't look like a total fool out on the wires, there's also an on-land training course where you can get yourself acclimated (and maybe shake off a bit of that Chow Yun-Fat).