8 of America's kinkiest hotel rooms
Sometimes you don't want to spend a week at a swingers resort. Or on an adults-only erotic vacation. Or even at one of the world's kinkiest festivals. No, sometimes, you and your special lady friend just want one night at a hotel with a giant Champagne-glass hot tub. Is that so much to ask?
Turns out, not really. From rotating beds and erotic wall art, to vibrators in the room and stripper poles in the shower (so dangerous), here's our roundup of America's most salacious stays. Just promise not to take a black light to the sheets.
Andaz -- San Diego, California
Sex Appeal: Andaz's Star Suite is 1,275sqft of luxury -- and lust. Shack up under a mirrored-ceiling bunk bed for narcissistic, selfie-snapping foreplay, and finish the evening in the party-size shower. No need to find a seedy strip club -- the in-room pole is one place where your paramour's weekly striptease classes to "firm the arms" might actually pay off.
Insider tip: Olivia Wilde, Scarlett Johansson, and Gwyneth Paltrow have all spent a night between the Andaz's sheets.
Palms Casino Resort -- Las Vegas, Nevada
Sex Appeal: While the Palms may have ended its Playboy partnership, the silk-robed master himself, Hugh Hefner, has left his stamp. Exhibit A: The Erotic Suite boasts an eight-foot rotating bed, a Jacuzzi tub, and a show shower.
Insider tip: The show shower comes complete with the requisite stripper pole and disco lighting for all your weird and totally-not-kinky aqua-acrobatics.
Hotel Max -- Seattle, Washington
Sex appeal: Seattle may seem all artisanal-coffee-and-red-plaid on the outside, but under that cushy Microsoft-employee exterior, they're hiding one of the country's most sensual stays. This kinky establishment boasts erotic wall art, a get-it-now phone button, and a Sweet Surrender package, which includes a 10-foot satin tie/ blindfold and a mini vibrating toy.
Insider Tip: Ask for a room on the eighth floor for some seriously sensual door porn. Each entryway is covered with an image of a hot-and-heavy evening out, from cracking the first brew to sealing the deal in the shower.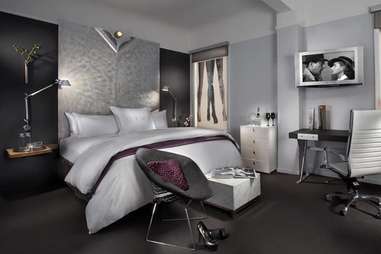 Hotel Diva -- San Francisco, California
Sex Appeal: With headboards sculpted to portray pants peeling off and pull-down shades that showcase boudoir-themed portraits of panty-hosed legs and garter belts, this place heaves with sensuality.
Insider Tip: Crack the room safe for a complimentary supply of condoms. There's nothing subtle about this "package for your package".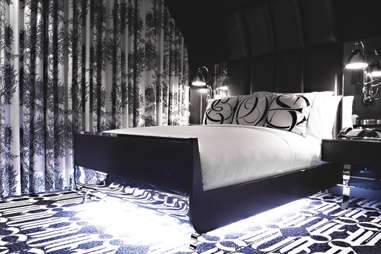 Night Hotel -- New York, New York
Sex Appeal: This black-and-white Big Apple hotel sets the mood so you don't have to. From dim lighting to under-bed glow effects, they've got getting dirty down. A padded headboard provides protection for couples who really want to explore the studio space while a nightstand copy of Kama Sutra provides need-to-know tips to beginners.
Insider Tip: Flick a do-not-disturb light from green to red to Get. It. On.
Pocono Palace Resort -- East Stroudsburg, Pennsylvania
Sex appeal: Because who doesn't love playing footsie in a seven-foot Champagne-glass whirlpool bathtub? No seriously, they've got one of those. And a heart-shaped swimming pool. And "celestial ceilings", at which you and your lady friend can gaze all night when not staring longingly into each other's eyes.
Insider tip: Venture to the gift shop for sex toys from the early '90s, although we strongly suggest checking the expiration date on the condoms.
Don Q Inn -- Dodgeville, Wisconsin
Sex appeal: Where to begin? From igloo-encased waterbeds to the Swinger Suite, this den of debauchery in Dodgeville, WI, smacks of an '80s porno set. Check out the Mid-Evil Suite to fulfill dungeon fantasies with bedside shackles and then redeem yourself in the heart-shaped hydrotherapy tub. Or, in what can only be described as a bizarre Big-Bird-meets-curdled-milk fetish, shack up in a 300gal copper cheese vat on a ceramic basin for a "bird-bath effect."
Insider tip: Check out the full-size Boeing C-97 (with a fuselage signed by Farrah Fawcett) if you feel like joining the mile-high club without the hassle of dealing with TSA.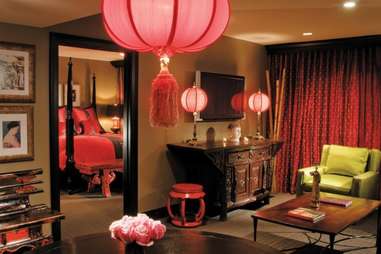 Hotel Zaza -- Houston and Dallas, Texas
Sex Appeal: This Texas-based boutique hotel offers a classier (and pricier) take on the pick-your-pleasure suite. The Dallas location boasts the Erotica, a 650sqft room filled with velvet, fur, and silk for tactile-conscious copulation and a 60s-era Shag-a-delic space with (surprise!) shag carpet and love beads. Britney Spears stayed here in what we can only assume was an "Oops, I Did It Again" evening.
Insider Tip: Redditors pounced on a so-called voyeuristic sex dungeon with two-way mirrors in the Houston location. Turns out the space is slightly more legit -- it's an unlisted theme room. Just ask for the Hard Times suite to experience this jail-themed kink-fest firsthand.