Wild tigers, ghost nurses, and other crazy tales from 13 spooky hotels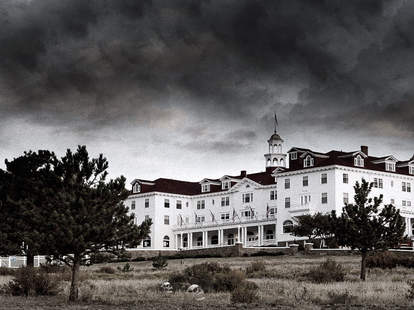 Ask most hotels if they have any good stories, and they'll probably say, "The 29th: it has a great view over the park!" Well, we tracked down 13 of the best hotels with actual tales to tell. Behold...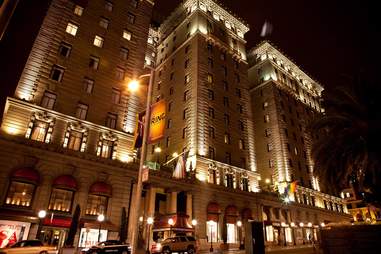 Westin St. Francis
Westin St. Francis, San Francisco
In 1921, silent-film star Fatty Arbuckle threw a raging Labor Day bacchanal in room 1220. Sometime during the party, Fatty bedded a far less fatty starlet who died four days later, many thought, from effects brought on by Arbuckle's weight. Yes, he allegedly crushed her; he was tried, but acquitted.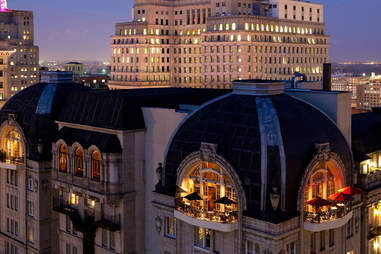 Park Hyatt Philadelphia
Park Hyatt Philadelphia at the Bellevue
During the Bicentennial, this place played host to an American Legion convention that left more than 200 legionnaires sick with pneumonia-esque symptoms, and ultimately 34 of them dead.

After closing/investigating the hotel, they discovered a new strain of bacteria in the cooling tower and named the fatal respiratory condition it caused Legionnaire's Disease. It's now owned by Hyatt, who swear they have not killed a single legionnaire yet.
Chad Davis
Maribel Caves Hotel AKA Hotel Hell, Wisconsin
Alright, so technically Maribel Caves Hotel isn't still a hotel... In fact, it hasn't been one since 1985, when the last of three fires burned the place down. However, people still camp out there (illegally), as it's rumored to be -- among other things -- an actual gateway to hell. It's also rumored to have been a hideout for Al Capone. See the other campfire tales here.
Crescent Hotel
Crescent Hotel, Eureka Springs, Arkansas
For a while in the '30s, the place was used as an pseudo-experimental cancer hospital, and guests have reported seeing everything from nurses moving corpses on gurneys in the hallways to the ghosts of actual doctors who worked there (which would definitely raise your blood pressure).

But wait, there's more! There's also the 130yr-old ghost of the stonemason who died constructing the place, who apparently reaches through the bathroom mirrors at peeps.
Hotel Raffles
Raffles Hotel, Singapore
Built in 1887 and named after the founder of Singapore, Sir Stamford Raffles (seriously), the Raffles is a legitimately luxurious joint. Its hotel bar lays claim to being the spot where the last surviving wild tiger in Singapore was shot in 1902, and where the Singapore Sling was invented (thanks bartender Ngiam Tong Boon!).

The spookiness: it's also rumored that five days after the Japanese surrendered in WWII, 300 officers who were stationed in Singapore met up at the lobby bar for an evening of sake drinking, at the end of which they all ceremoniously fell upon their swords (...guess they'd had enough shots?).
Hotel Provincial
Hotel Provincial, New Orleans
Every sane person knows that the French Quarter is as haunted as that Cubs fan who robbed Moises Alou of the foul ball that ultimately cost them the Series, but the Provincial's built on the spot where a 1722 military hospital resided, as well as a pair of houses that burned down in 1874.

Couple that with that spooky New Orleans voodoo, and it's no wonder people've been seeing -- and being pulled out of bed by -- the ghost of a soldier for nearly a century.
The Stanley Hotel
The Stanley Hotel, Estes Park, Colorado
After his stay in room 217, Stephen King got his inspiration for writing The Shining... According to lore, King put his bags in the room and returned later to find them totally unpacked, and the suitcases stowed. Oohhh… maaaids….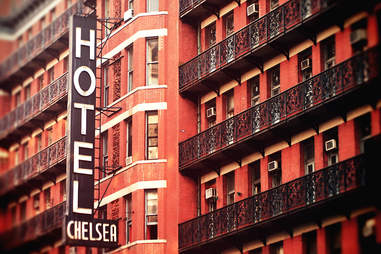 Hotel Chelsea
Hotel Chelsea, New York City
Bob Dylan, Virgil Thomson, Charles Bukowski, Janis Joplin, Leonard Cohen, Patti Smith, Iggy Pop, and Gaby Hoffmann have lived at the Chelsea, Arthur C. Clarke wrote the script for 2001: A Space Odyssey there, and it's where poet Dylan Thomas was living when he went gentle into that good night in 1953 -- but it's the fact that room 100 is where Sex Pistols front man Sid Vicious likely stabbed his girlfriend Nancy to death in 1978 that really makes it peculiar. Of course, it's also said to be super-haunted.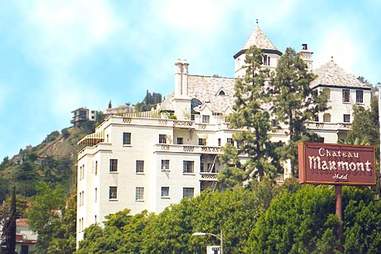 Chateau Marmont
The Chateau Marmont, LA
In 1982, after a night of partying with Robert De Niro & Robin Williams, this hotel is where John Belushi died upon injecting a speedball of cocaine & heroin. His room, bungalow #3, is still available to reserve... at a truly terrifying $1800/ night.
Lizzie Borden B&B
Lizzie Borden Bed & Breakfast, Fall River, Massachusetts
On August 4th, 1892, Andrew Borden and his second wife Abby were hacked to death by an ax-wielding lunatic... in their house. Even though she was found not guilty, popular belief is that said lunatic was Andrew's daughter, Lizzie.

No matter how you slice it, that's crappy news for the Bordens, but should you be the most morbid SOB in town, it's great news for you because the house where it all happened is now a B&B that's been identically restored to how it was in 1892. $200/ night and you're sleeping literally in one of the most famous crime scenes in American history.
L'Hotel Paris
L'Hotel, Paris
After living in room 16 in failing health for a couple of months prior, in 1900 Oscar Wilde finally passed away with a parting shot about his objection to the room's decor: "My wallpaper and I are fighting a duel to the death. One or the other of us has got to go." The wallpaper totally won. Wilde, awesomely, still has an outstanding balance of 26000 Francs there.
Palazzo Vendramin Calergi
Palazzo Vendramin Calergi, Venice
Not only is Palazzo Vendramin Calergi an antiquely-regal Venetian hotel w/ a casino on the ground floor, but in the winter of 1882, it also played host to world-famous German composer Richard Wagner (Ride of the Valkyries, son!), who died of a heart attack on a couch in his suite.

That area of the hotel's a museum now, but what's really nifty is that 30yrs later, Thomas Mann wrote one of the greatest books in literary history, Death In Venice, which some scholars believe is based upon Wagner's... death in Venice.
Wanderfly.com
The Skirvin Hotel, Oklahoma City
Legend has it that the original owner of OKC's oldest hotel, W.B. Skirvin, knocked-up the maid and locked her in the hotel's 10th floor where she eventually become so depressed (and also probably totally bored) that she threw herself and the child from the window.

While most agree that Skirvin was a sheisty womanizer, not many believe that story's actually true... not many, that is, besides almost every NBA team that comes to town. Members of the Bulls claim to have heard doors slamming shut, the 2010 Knicks actually blamed their playoff loss on The Skirvin's ghosts, and the Lakers won't even stay there... so at least Kobe passes on something.