You Can Win a FREE Month at This Lake House This Summer
Spending the summer "at your lake house" sounds like the kind of thing only people with Scrooge McDuck vaults or the Corleones do. But you don't even need to have enough dough to rent one this summer -- because you can get a month at this one, absolutely FREE.
Visit Ithaca is giving away a luxury lake house on Cayuga Lake, an hour from downtown Ithaca in New York State's Finger Lakes region. The spacious four-bedroom house -- which is up for grabs from June 26 through August 23 -- has plenty of space for your friends, and comes fully equipped with an eat-in kitchen, three bathrooms, and even a hammock out front where you can laze about just feet from the lakeshore.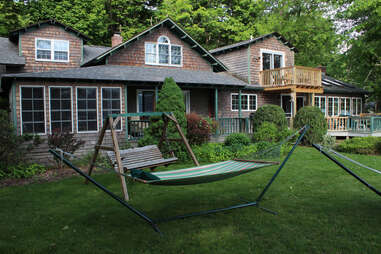 The prize, valued at $18,000, also comes with kayaks and a canoe, so you can venture out on the water... just don't accept any invitations to go fishing though, especially if your name's Fredo. Transport isn't included, so you'll have to make your way there and back, but are you really gonna complain about winning a free lake house?
Plus, the house is near the region's famed Wine and Beer Trails, a bunch of scenic waterfalls, and hiking and cycling routes. There's plenty to keep you busy.
You're probably wondering how to win by now: just enter your email address on Visit Ithaca's website before March 31. Winners will be notified by email, and have 30 days to claim the prize before it's offered to another entrant at random.
What are you waiting for -- the lake to come to you? Enter now.

Chloe Pantazi is an editorial assistant on Thrillist's travel team. Yes, that's a British accent. No, she doesn't watch Doctor Who. Follow her on Twitter at @ChloePantazi.