It sounds counterintuitive, but stick with us. No longer will that tourist lean over you from the aisle or middle seat to snap a blurry Instagram of the skyline... so long as you're on the right plane. On board this Ixion jet, there are no windows. But there are better views than you'd ever get out that tiny port hole.
The sexy, futuristic aircraft does this by replacing windows with screens that offer panoramic views around the sky.
Proposed by French company Technicon, the plane enables flyers to use the screens for gawking and a whole lot more. For flyers on business, the screens can be used for video conferencing, for example. Or, as an upgrade on those seat-back monitors with endless re-runs of The Big Bang Theory, the display can show whatever you like -- so you can choose your own destiny in the highest-tech way possible. 
Technicon's design director, Gareth Davies said in a press release he wanted "to break out of conventional thinking with regards to a business jet exterior and interior", and "quickly settled on the controversial yet interesting idea of removing the windows from the cabin and using existing or very near future technology to display the exterior environment to the inside surfaces of the cabin via external cameras".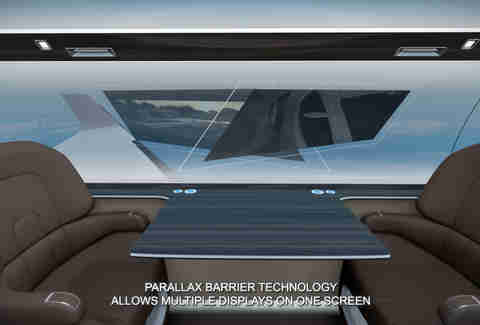 Passengers can even enjoy their own chosen backdrop, thanks to parallax barrier technology that cleverly "allows the passengers to see different views at the same time on the same screen", offering all sorts of swanky, mood-altering cabin effects.
And what you see can differ from what someone else on the flight sees, too.
Which makes the plane that much more of a customized experience.
You can even go into space (well, not really).
Eliminating windows isn't simply a cosmetic improvement, either; it notably "allows for weight reduction, simplifies construction and opens up an enormous spectrum of possibilities for interior design", Davies said.
The lack of windows also opens up more eco-friendly possibilities, including "amorphous solar panels" that fuel "low voltage systems on board".
But the selling point is clearly the widescreen panoramas.
Until you can fly on the Ixion yourself (which could be a while, since this is just a proposal), take a virtual tour in the video below.
Chloe Pantazi is an editorial assistant on Thrillist's travel team. Yes, that's a British accent. No, she doesn't watch Doctor Who. Follow her on Twitter at @ChloePantazi.