This app lets you join the Mile High Club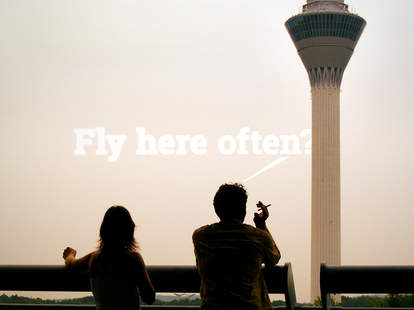 The friendly skies are about to get a whole lot… friendlier, thanks to Wingman, a Tinder-like app (set to drop next month) that helps you hook up specifically with passengers on your flight. And in your gate area. And milling about the airport on your layover. How's it work? Here's a handy guide to your most immediate questions.
Wait, so how is this different from Tinder?
Wingman matches people exclusively by their airline and flight number -- so you're only skeeving on passengers who are actually on (or about to board) your plane. Also, and this is huge, it won't require a mutual match before a conversation can be started. Which means you should definitely give the talent on your flight a quick once-over before signing up.
Is it easy to use?
It is indeed! After creating a profile (airline, flight number, totally ironic selfie from Comic-Con), simply swipe through pictures of other passengers who're also eager to make uncomfortable small talk on a crowded airplane. When someone catches your fancy, you can chat them up via Bluetooth or in-flight WiFi.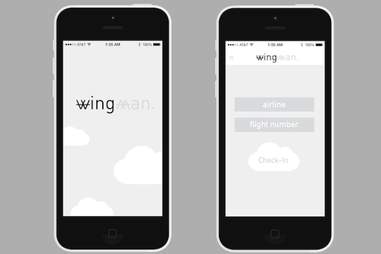 Wingman
Chat? You sold this as a way to join the Mile High Club!
Baby steps. After the fasten seatbelt light is turned off, you're welcome to move about the cabin, visit the lavatory in tandem, or simply hover over the guy in the aisle seat while sharing a fun-size Snickers with the attractive blond sitting in 22B.
Exactly, what if things get awkward? Won't meeting someone while stuck on a plane be the worst?
Sure, awkward aisle chats are bound to happen, but hey, the app is what you make of it. Use it to alleviate boredom, find someone to commiserate about watching Cloudy With A Chance Of Meatballs (again), or arrange post-flight drinks and a local guide. 
Seriously, what if someone won't stop bothering me? How do I put the genie back in the bottle?
It's entirely up to you to respond (or not), and there'll be a block option if someone is super persistent, like this lady. 
How about layovers at O'Hare? Can I use it to meet people in the airport?
Yep, Wingman will offer both early check-in and layover features, so you won't have to rely entirely on these time-killing suggestions.
Just to clarify, downloading this app does not guarantee I'll join the Mile High Club?
No.
Sign up for updates on the app here, and prepare for imminent take-off.
Sophie-Claire Hoeller is Thrillist's associate travel editor and can barely stand breathing the same air as strangers, let alone make small talk with them. Follow her not talking to fellow passengers @Sohostyle.