Traveling in December means you either fully lean into the holiday season, or else escape it entirely and flee to somewhere warm. Personally, I try to appreciate the cold weather while we have it and max out on warm seasonal beverages, colorful lights, soft snow, and good company. True, some places are overwhelmed by the capitalist engine that powers Christmas, but you can still get a non-denominational winter wonderland fix if you know where to look. No matter your travel preference, there's a perfect place in this world for you to bliss out to those final sunsets of 2019.
MORE: Here's the deal with Boxing Day, a confusing but very real holiday
Recommended Video
Please Don't Hang Up: The Best Things to See, Eat, and Do in Seattle, WA
Cologne, Germany
If you're highly susceptible to the Christmas spirit and haven't already committed the entire holiday season to wrapping presents with Aunt Linda, consider Cologne. The city has a whopping seven main Christmas markets -- definitely don't miss the Cathedral Market, which has the largest Christmas tree in the Rhineland, or Angel's Market, where you can sip eggnog punch and weave around people actually dressed as angels; Santa comes through once a week as well… on horseback. All that's left for you to do is listen to the festive music and browse the stalls for an apology gift to send to Aunt Linda.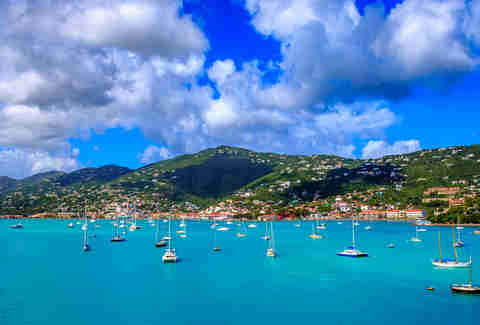 St. Thomas, United States Virgin Islands
Oh, did you want a sunny tropical vacation that doesn't require a passport? Done. Hurricane season is over, flights are cheap, and the water is still warm enough for swimming (and scuba diving). Almost all the tourists come here via cruise ship, which means you're mostly not competing with them for hotel rooms -- Windward Passage, Emerald Beach, and the Bolongo are all open for business after Hurricanes Irma and Maria last year. On December 15 watch the St. Thomas Lighted Boat Parade, where contestants (boats) are judged on lights, originality, and holiday cheer.
MORE: Your guide to visiting the US Virgin Islands
Kyoto, Japan
The most important holiday in Japan is oshogatsu (New Year), and the month leading up to it is packed with fun festivals and markets. Standouts are Shimai Kobo (December 21) and Shimai Tenjin (December 25) both of which offer great ceramics and handicraft shopping, in addition to lots of good things to eat and drink. From December 8th through the 17th, thousands of lanterns will be placed around Arashiyama, including in the enchanting bamboo forest. If you're there on New Year's, you'll catch the famous the bell-ringing ceremonies -- get up real early and see the monks at Kyoto's largest temple, Chion-in, or drop by a small-scale local shrine instead.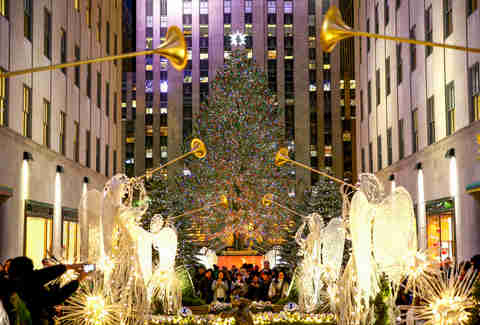 There's really nothing like the holidays in Manhattan. December tends not to be too cold in New York -- you may actually pine a bit for snow as you mosey past Fifth Avenue shops, peering in at the elaborate holiday window displays. The rink at Rockefeller Center gets crowded, but catch it midweek and you'll have room to skate a lap beneath the most famous Christmas tree in the world. And if you're still picking up last-minute gifts, you really can't beat the shopping in this town. Even usually gruff New Yorkers seem to have a brighter spirit this time of year, and carols echo through the subway stations thanks to the city's many transit musicians. There's no better time to go and bask in the Home Alone 2 Christmas vibes.
MORE: Check out our ultimate New York City travel guide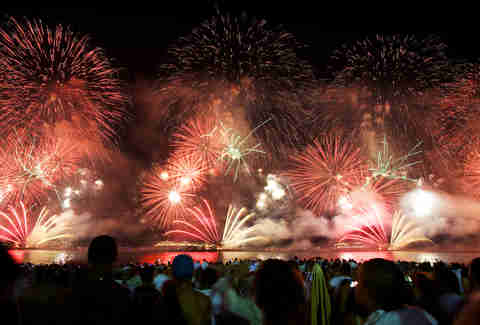 Rio de Janeiro, Brazil
Your December plans probably seemed fine until this very moment when you realized they didn't yet include Reveillon on Copacabana beach -- one of the biggest and best New Year's Eve parties anywhere in the world. December is summertime here, so you can spend your trip under illuminated palm trees on the beach, before joining two million (yes) other humans for the debauchery of Reveillon. To extend the trip, join a week-long tour that gives you a blend of rainforest, city, and beach.
Yellowstone National Park, Wyoming/Montana/Idaho
You could go somewhere that's cute in December, or you could go somewhere that's iconic. Consider choosing the latter, because there are tons of winter activities (snowmobiling, skiing, etc.). And even though most of the roads will be closed, there's oversnow transport to get you around the park. Look for wolves at dawn and dusk, watch frost-covered bison plowing through the deep snow, and see the steam rise off Mammoth Hot Springs. If you're a backcountry camper who knows what they're doing, permits in wintertime are free.
MORE: We also have an ultimate guide to Yellowstone!
Quebec City, Canada
"Winter in Eastern Canada" might sound more like a 19th-century prison sentence than it does a pleasant vacation, but Quebec City does the cold better than anywhere in North America. Blanketed in snow, QC looks like the world's most elaborately constructed Christmas village. The cobblestone streets in Old Quebec densely packed with storefronts beckoning you to come in for hot food and baked goods, and boisterous bars overflow with a cacophony of Quebecoise. In December the streets are draped with Christmas wreaths and populated with carolers, plus there's an authentic German Christmas market -- a true novelty in a city so overwhelmingly French.
MORE: How to move to Canada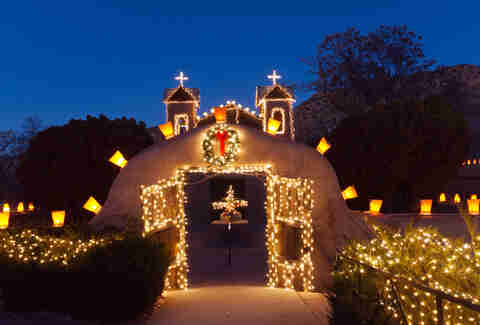 Albuquerque, New Mexico
In the desert city of Albuquerque, winter is cold but not too cold. On December 7, Nob Hill shines bright for the Twinkle Light Parade. If you're there December 24, you'll be able to catch the Old Town Luminaria Tour. And the whole month of December you can go to ABQ BioPark Botanic Garden to see River of Lights, the largest walk-through holiday production in the state, and one of the most sparkly light shows anywhere in the country.
MORE: The best cities to live in if you're an artists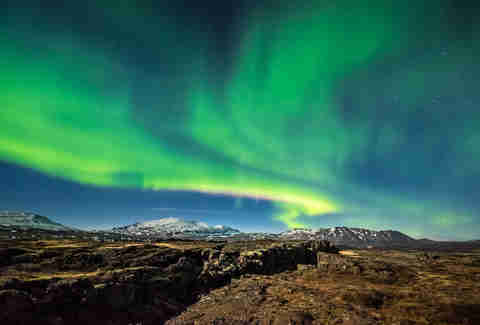 Reykjavik, Iceland
It's only fitting that the closest big tourist destination to the North Pole would do Christmas up big. Reykjavik feels almost like a mini-New York in December, with the Oslo Christmas tree standing sentinel over the city and a public skating rink in Ingolfstorg Square. Seeing the northern lights is never a guarantee, even during days of near-perpetual darkness, but your odds are much greater in winter. On the other hand, who needs 'em when you have 13 official Santas walking around town posing for pictures? The Christmas Village at Hafnarfjordur is a top weekend destination for both locals and the newfound throngs of American visitors. Just beware their holiday tradition of eating ruinously smelly fermented skate.
MORE: Maybe your Iceland trip should also be a Greenland trip
Antarctica
December is the beginning of summer in Antarctica. Penguin chicks are hatching, blue whales are migrating through, the temperatures are above freezing, and the pack ice is melting enough for ships to pass through Drake Passage (the main route down from Chile). Antarctica tourism has been increasingly blowing up the past few years, and it's very much a cruise ship situation -- this isn't really a place you can explore by land, but  there are a number of different tour operators you can choose from. They can help you get in some sea kayaking. Maybe a polar plunge.