If you're the type who gleefully looks forward to your December vacation all year long, you might be in the market for a Christmas-saturated winter wonderland -- or maybe you'd rather dodge the whole cold weather thing and drink your eggnog on a beach somewhere. Hell, maybe you just want to go literally anywhere other than the mall, for as little money as possible.
Either way, we found the best places to go this winter with a little help from our friends at Hopper and WalletHub, factoring in cost, weather, and of course, holiday goodness. No matter your travel preference, there's a perfect place in this world for you to bask in those final sunsets of 2017.
Recommended Video
This Therapy Pig Makes Travelers Feel Better About Flying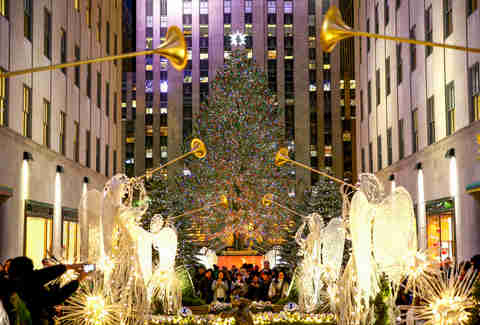 There's really nothing like Christmas in Manhattan. December tends not to be too cold in New York -- you may actually pine a bit for snow as you mosey past Fifth Avenue shops, and peering in at the elaborate holiday window displays. The rink at Rockefeller Center gets crowded, but catch it midweek and you'll have room to skate a lap beneath the most famous Christmas tree in the world. And if you're still picking up last-minute gifts, you really can't beat the shopping in this town. Even usually gruff New Yorkers seem to have a brighter spirit this time of year, and carols echo through the subway stations thanks to the city's many transit musicians. There's no better time to go and bask in the Home Alone 2 Christmas vibes.
Hawaii
You still get warm ocean breezes and 80-degree temperatures, plus the Hawaiian islands go all out for the holidays. Locals host potlatch-style parties where the Christmas goose is replaced by a luau pig, and the resorts deck themselves out like tropical North Poles, including a massive tree lighting ceremony at the Outrigger on Oahu and tree-decorating contests at Mauna Kea on the Big Island. Residents there race to the top of the 13,000-foot-tall volcano, shovel snow into their trucks, and speed back down to build snowmen in their yards before it melts. Best of all, flights to Hawaii have been historically cheap this year, with plenty of deals still to be had in the holiday months: Hopper found that Kahului, on Maui, clocks in as the country's 10th-most-discounted destination in December, with round-trip flights for about $578.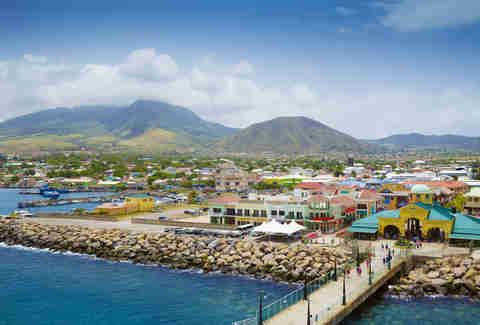 St. Kitts and Nevis, the Caribbean
If you're on the East Coast and jonesing for a tropical getaway, the more practical (and closer) option is the Caribbean. And no place in the Caribbean does December with quite as much fervor as St. Kitts and Nevis. This two-island nation in the Lesser Antilles gets rowdy for a TWO MONTH celebration known as the Sugar Mas festival, their unique take on Carnival. November through January is filled with music, pageants, parades, competitions, and spontaneous parties. Or you can stick to hiking through craters and rainforests, or indulging in some heavy R&R by the beach. Either way, you're paying low-season rates. Even if your family isn't the type to buy into Caribbean Christmas, the festival is so long you can escape down here for a week, and still make it back in time for the ham.
Quebec City, Canada
"Winter in Eastern Canada" might sound more like a 19th-century prison sentence than it does a pleasant vacation, but Quebec City does the cold better than anywhere in North America. Blanketed in snow, QC looks like the world's most elaborately constructed Christmas village. The cobblestone streets in Old Quebec densely packed with storefronts beckoning you to come in for hot food and baked goods, and boisterous bars overflow with a cacophony of Quebecoise. In December the streets are draped with Christmas wreaths and populated with carolers, plus there's an authentic German Christmas market -- a true novelty in a city so overwhelmingly French.
Your grandma might cringe at the thought of you spending the holidays in Sin City, but Vegas is WalletHub's highest-rated warm-weather winter destination, a relative bargain compared to more tropical -- and less sinful -- locales. The sins themselves might not be discounted, but the airfares certainly are, with flights from the West Coast starting at about $100, and East Coast flights starting at $200. Hotel rooms in actually nice spots like the MGM Grand can be had for $100 a night.
The season between Thanksgiving and Christmas results in more empty seats in showrooms and thus, more discounted show tickets, plus shorter lines at clubs and easier reservations to be had at the city's top restaurants. Vegas also hosts the National Finals Rodeo in December, probably the best introduction to the sport outside of Calgary. There's a ski mountain just outside of town at Lee Canyon, which might not be much of a challenge to black diamond regulars, but it's still a fun spot for beginners.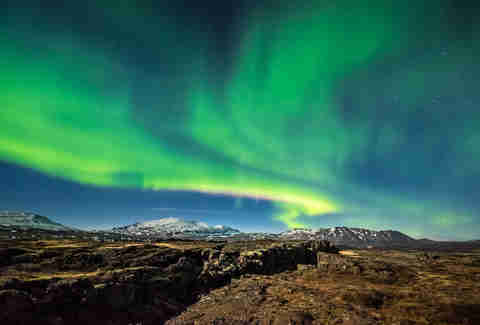 Reykjavik, Iceland
It's only appropriate that the closest legitimate tourist destination to the North Pole would do Christmas up big. Reykjavik feels like almost like a mini-New York in December, with the Oslo Christmas tree standing sentinel over the city and a public skating rink in Ingolfstorg Square. Seeing the Northern Lights is never a guarantee, even during days of near-perpetual darkness, but who needs 'em when you have 13 official Santas walking around town posing for pictures?
A huge exhibit in the City Museum is devoted to Nordic Christmas, where you'll hear some songs that sound somewhere between Viking war chants and familiar carols. The iconic Harpa performing arts center has over 35 concerts during the season, and the Christmas Village at Hafnarfjordur is a top weekend destination for both locals and the newfound throngs of American visitors. Though the famous $99 fares might not always be available, as Hopper's fifth-most-discounted December destination, it's still a fairly cost-friendly time to go. Locals will be friendly, too -- just beware their holiday tradition of eating ruinously smelly fermented skate.
Buenos Aires, Argentina
In case you skipped ninth grade geography, Argentina is in the Southern Hemisphere, which means Christmas to Porteños isn't so much about chestnuts roasting on an open fire as it is slurping dulce de leche ice cream. Because the holidays come during Argentine summer, it feels more like the Fourth of July than Christmas; at midnight on the 24th -- aka Nochebuena, when most of the celebrating goes down -- locals light off fireworks to kick off one of the best parties of the year.
Buenos Aires prides itself on being the most European spot in South America, and the city's Italian heritage is made obvious in December by the copious nativity scenes around town and the smells of pan dulce. This sweet bread is a Milanese tradition imported to Buenos Aires, and during the holidays people line up in the Plaza Mayor to buy the breads for Christmas dinner.  
Vienna, Austria
The skiing in Austria is among the best in the world -- make a full holiday of it in the fairytale town of Ischgl, where locals gather on December 26 to sing Christmas carols. If you'd rather stay off the mountains, head to Vienna. Where else can you experience the famous Vienna Boys Choir belting out Christmas carols from the center of the acoustically masterful Hofburgkapelle chapel? Holiday lights illuminate the city's famous gothic town hall, not far from a Christmas market with over 140 vendors, where you'll catch the gingerbready scent of hot lebkuchen and warm steam coming off cups of spiced, mulled wine.
Orlando, Florida
Orlando has a dynamic, bustling city out there beyond the theme parks, but let's assume the only reasons you want to come to Florida are for selfies with Goofy and riding the Hulk coaster until you puke. What would keep you from doing so? Cost aside, most people would say the endless lines and seventh-circle-of-hell-level humidity -- neither of which exist in those magical days between Thanksgiving and Christmas. If you're not afraid to pull the kids out of school for a few days, there's no better time to go; it's pretty much just you and Mickey in the parks.
The Mouse isn't giving you any financial breaks just because it's December, but stuff like rental cars and hotels are considerably cheaper. Hopper finds December flight prices to Orlando have some of the deepest discounts in the country. And you'll also spend less on bottled water and bright yellow ponchos, since instead of the summer's mid-90s temps and daily thunderstorms, the average December high is 73 degrees. Heck, you might even need to pack pants.
Colombia
Hopper listed Bogotá as the third-most-discounted international destination in December -- flights to the capital city are only $464, and it's the perfect jumping off point to explore this tropical, relatively safe, and comparably cheap little slice of paradise. From there, head to the beaches of Cartagena. Here the Caribbean shoreline is a diverse mix of North Americans and weekenders from inland Colombia enjoying the average daily highs of 84 degrees. After a couple of days tanning and strolling the historic city, experience the country's best nightlife in Medellin. It's sometimes referred to as Colombia's Miami, but the cost of a good time here is a fraction of what it would be up north. Even if you want to relive your favorite rap video in one of the posh cubs at Rio Sur, you'll rarely be out more than $50. It's like college town pricing, with considerably cleaner floors.
San Antonio, Texas
South Texas may not top your holiday travel wish list. But it is near the top WalletHub's list of lowest-cost winter destinations, meaning if you're looking for a hyper-affordable December getaway, the Alamo City is your best bet. Visiting the Alamo is free, the food is fantastic, and the mid-60s temperatures are ideal for exploring some of the nation's most underrated scenery: the Texas Hill Country River Region. Head to Garner State Park (admission is $8) and hike to the top of Old Baldy for an incredible view over the valley. Or kayak through the bluffs on the Nueces River, enjoying the sunshine without the crowds. If you're the type who likes to shoot their own Christmas dinner, it's the height of white-tailed deer season in the Hill Country, and turkey and quail abound this time of year.
Sign up here for our daily Thrillist email and subscribe here for our YouTube channel to get your fix of the best in food/drink/fun.