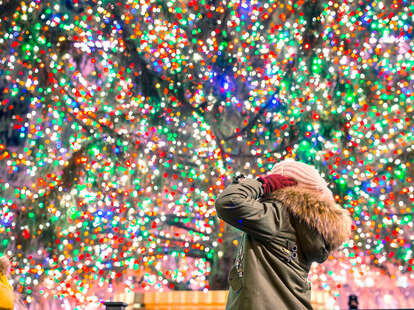 Editor's note: We know COVID-19 is impacting travel plans right now. For a little inspiration, we'll continue to share stories from our favorite places around the world. Be sure to check travel restrictions and protocols before you head out.
The best part of December 2020 will no doubt take place at 11:59pm on the 31st, when all of humanity shotguns a bottle of champagne and welcomes 2021 with something resembling hope.
But until then, we've got some clutch ideas for holiday getaways so you can leave 2020 on a high note. Ski slopes are open, holiday lights are twinkling, and road trips are still up for the taking. Bust out the Gore-Tex and carpe the diem… 2020's on its way out.
Get a whole national park to yourself
While some national parks close up for the winter, others are at their absolute best when the season changes. And it's not just cold places like Mount Rainier, Bryce, and Denali, either: You'll find crowds way, way down at Zion and Channel Islands, too. Or, if you're feeling extra adventurous, December's also a prime time to go chasing waterfalls… a cliche, yes, but way easier to achieve when they're totally frozen.
Get holly and jolly across the US
The holidays are going to be a slog this year, even while the pandemic gives you a solid excuse not to listen to your uncle bloviate about election fraud over dinner. But there's still cheer to be had. New York, for one, will still be as magical a place as any, with the outdoors serving as a safe and festive release for anyone bah humbugging. St. Petersburg, Florida is leaning into the North Pole-with-palm-trees vibe on its new pier and beyond, offering up multipleholidaymarkets, a boat parade, and more. Or head to the festive Bavarian mountain town of Leavenworth, Washington, or any number of small towns that go full Clark Griswold with holiday displays.
Go rocketing down a mountain
First, the bad news: You're likely not going to be hitting Banff or the Alps this year, unless you're a Kardashian celebrating a birthday. But the ski resorts at places like Tahoe, Colorado, California, the northeast, and other mountainous regions are up and running. Sure, the apres ski scenes will be a little different, but if your biggest problem right now is adjusting your expectations for happy hour at a ski resort, well, your 2020 is going pretty ok. The best ski getaways near New York, Boston, LA, Phoenix, Vegas, Denver, Seattle, Philly, DC, and Chicago are callling.
Slow way down on a Georgia island
While NYC's Rockefeller Center has become a holiday symbol, the place where the actual Rockefellers spent many a winter is very likely off your radar: bite-sized Jekyll Island. Located just north of the Florida border, this Georgian barrier island is a laid-back antidote to city-induced winter doldrums. Spend your days wandering the forests and driftwood-covered beaches, or navigate the state park by bike. The island goes all in for the holidays, but honestly, if you wanted to just post pat the old Victorian Jekyll Island Club Resort and inhale a massive Low Country Boil at waterfront restaurant The Wharf, you'd still be doing things exactly right.