Everything You Need to Know Before Visiting the Wizarding World of Harry Potter Florida
Nearly a decade into its existence, the Wizarding World of Harry Potter has become a must-visit attraction at Universal Studios Orlando. For the Potter devout, it's Mecca, a rite of passage to prove your Hogwarts bonafides. For the other people who can't be forced to give a damn about the young wizard, a trip to the park is still incomplete without diving into the wildly immersive experience.
As any muggle might expect after being cast into the world of wizards, there's a lot to take in -- it can be more overwhelming than discovering your pet rat is actually an old man. Fortunately for the uninitiated, there are tips and tricks about what to do and what to avoid when visiting the park. Before you take your amusement park O.W.L.s, here are some things you should know.
Buy tickets in advance and go to both parks
The deluge of options at the Universal Studios site can be panic-inducing. There are multiple Universal parks, and each requires its own ticket. The cynical among you will be vindicated by the discovery that Harry Potter attractions are split between two parks: Universal Studios and Universal's Islands of Adventure. So, yes, you have to buy two tickets to see it all, starting from $115 -- of course, it's far more expensive to visit two parks than one. What super-sucks? You absolutely want to visit both.
The two parks are connected by the Hogwarts Express, which you can only ride if you have the two-park pass. At Universal Studios, you'll find Diagon Alley, the Escape From Gringotts ride, and a fire-breathing dragon atop Gringotts Wizarding Bank. Over at Islands of Adventure, you'll walk through the shops of Hogsmeade, see performances in the street (occasionally including the witches and wizards of Beauxbatons Academy and the Durmstrang Institute), and ogle the massive Hogwarts Castle. This is also where you'll find the Flight of the Hippogriff coaster and the Forbidden Journey ride.
Since you want to see everything, it's worth buying tickets in advance. You'll save a few dollars by doing so, and you can get a calendar view of admission prices, which vary by day. You typically save money by going early in the week.
The Hogwarts Express will drop you off in Hogsmeade.

| Universal Orlando
Ride the Hogwarts Express in both directions
As long as we're on the topic: ride in both directions. (Though, you probably have to in order to return to your car.) The Hogwarts Express is more than just a way between parks. You'll pass through a pillar to enter Platform 9¾, and there's lots to watch aboard the train. What you'll see is different in each direction, making it advisable to ride twice, even if you don't have to.
Get there super early
You're on vacation. You don't want to set an alarm. That's understandable. However, you'll beat some of the crowds by arriving early. If you want a couple of shots at Escape From Gringotts, you will appreciate the shorter lines found in the morning hours.
If seeing the sunrise isn't your jam, there's always the Express Pass, which allows you to access the front of lines that can easily last for more than an hour on weekdays. Note that the Express Pass makes for an even more expensive day, especially if you're visiting both parks. While it improves the experience, you can get through both parks in a single day without the Express Pass if you're committed to it.
Don't expect any normal prices, not even on coffee
You knew this was the case, but it bears repeating. Everything in the Wizard World of Harry Potter and Universal at large is pricey. That includes getting a coffee at the Starbucks near the entrance. Moreover, you can't take the coffee you bought outside the gate into the park with you, and this location doesn't accept
Starbucks Rewards
if you were hoping to eke out one measly freebie for the day. Womp womp.
Skip everything and head straight for Diagon Alley
There are loads of worthwhile attractions at both parks. Nonetheless, skip the Flaming Moe and head straight for Diagon Alley. The level of immersion is unlike anything else you'll find at the park. Stand by the opening into the alley near the Leaky Cauldron and watch the stunned joy of each face as they enter. It's that stunning.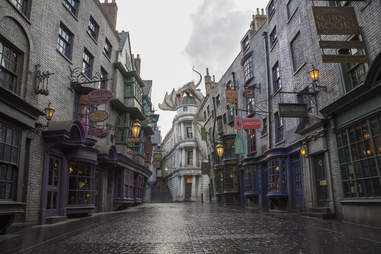 Put your phone away and immerse yourself in the world of wizards.

| Universal Orlando
Don't look at your phone, ever
Are those flying broomsticks near the ceiling in Hogsmeade shops? Is Crookshanks sleeping on a shelf in the Magical Menagerie? Is that Nagini in the window? Is the music being piped in evoking very specific moments in the movies based on where you're standing? Yes, yes, yes, and yes.
Seriously, don't look down. There's something worth seeing wherever you are. In line for Escape From Gringotts, you'll find silhouettes of characters having conversations in the windows, moving portraits, and newspapers with moving pictures. That's pretty much the case wherever you go. Don't look at your phone and stop taking pictures in line for rides. It's too dark for the pictures to turn out anyway.
The wand chooses you at Ollivanders.

| Universal Orlando
Buy a wand, if you can stomach the price
There are a lot of expensive, alluring toys available, and the stores themselves are beautiful. You'll want to visit every store. Of course, you have to see Quality Quidditch Supplies and Ollivanders Wand Shop and Weasleys' Wizard Wheezes... However, as mentioned above, it quickly gets expensive.
However, wands are one of the few toys that might be worth the price. They run around $55, but you're getting more than a souvenir. At both parks, there are places where you can perform "magic" with your wand. Brass markers indicate places where you can cast a specific spell to make things "magically" happen. You're basically buying an extra attraction with your wand.
The wands are fun, but you can skip the show in Ollivanders Wand Shop. Only one person in each group is selected to be paired with their wand. Everyone else just has to watch. Go into the store next door to discuss what kind of wand you want with, uh, one of Ollivanders' assistants. You aren't missing much.
Don't miss the two dark rides
The Flight of the Hippogriff isn't anything particularly special, and it's probably best suited to younger visitors, but the other two rides (with
another coming soon
) are worth the wait. In fact, you'll probably want multiple trips through the Forbidden Journey and the 3D trip of Escape From Gringotts, which is only at the Orlando location. Both the Forbidden Journey and Escape From Gringotts have been among the world's top-five dark rides at the Golden Ticket amusement park awards.
Skip the robes
Some people are tempted to go straight to Madam Malkin's Robes for all Occasions to acquire the proper cloak for their assigned house. How do we know? Because half the people walking around are wearing robes. They cost about $114, don't get you anything special in the park (unlike the wands), and you can find one for much cheaper online. If you really want to wear your house robes to the park, buy them before you get there. Though, you should visit the talking mirror inside Madam Malkin's. It's a nice confidence booster to start the day.
Lines for butterbeer can be nearly as long as the rides -- head to the Leaky Cauldron and enjoy a pint with some food, instead.

| Universal Orlando
Get a butterbeer
Again, it's tough to afford everything you want in the park, but how do you resist the sugar-rush of a butterbeer? Although…
Eat at the Three Broomsticks or the Leaky Cauldron
Lines for butterbeer can be nearly as long as the rides. If you know you're going to eat at the park, know that you can get a butterbeer with your meal at the Three Broomsticks in Hogsmeade or the Leaky Cauldron in Diagon Alley. Also, the level of detail inside these locations is wonderful and makes up for how much the fish and chips costs.
Also, you might expect the actual beers to be crap. That's reasonable. While the park won't disclose who brews the beer for them, the beers are exclusive and actually good. You won't be disappointed you skipped the Stella and went for the Dragon Scale Red Ale. (There are also local beers available at the park.)