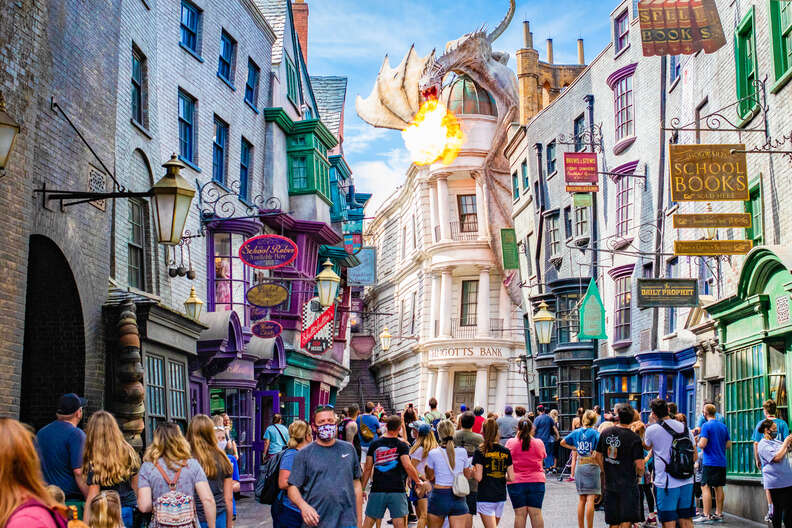 It does not do to dwell on dreams and forget to live.

| Photo Spirit/Shutterstock
It does not do to dwell on dreams and forget to live.

| Photo Spirit/Shutterstock
More than a decade into its existence, the Wizarding World of Harry Potter has become a must-visit attraction at Universal Studios Orlando. For the Potter devout, it's Mecca. For people who honestly don't give a damn, the park's enormous castle and winding streets are still magical. And whether you grew up alongside Harry, Ron, and Hermione or can barely pronounce "petrificus totalus," it's guaranteed to be a wildly immersive experience.
As any muggle might expect after being cast into the world of wizards, there's a lot to take in, and your first trip can be more overwhelming than discovering your pet rat is actually an old man. Fortunately, there are plenty of tips and tricks that'll help you discover the best of the Wizarding World. Here's what to know.
Buy tickets in advance and go to both parks
The deluge of options at Universal Studios can be panic-inducing. There are multiple parks, and each requires its own ticket. Harry Potter attractions are split between two parks—Universal Studios and Islands of Adventure—meaning that you'll need to buy two tickets to see it all, a double-whammy that starts at $115. And beyond the steep price, you know what super-sucks? You'll absolutely want to visit both.
At Universal Studios, you'll find Diagon Alley, the Escape From Gringotts ride, and the fire-breathing dragon that sits atop Gringotts Wizarding Bank. Over at Islands of Adventure, you can stroll through Hogsmeade, catch street performances (which occasionally include the witches and wizards of Beauxbatons Academy and the Durmstrang Institute), and ogle the massive Hogwarts Castle. This is also where you'll find the Flight of the Hippogriff coaster, the Forbidden Journey ride, and Hagrid's Magical Creatures Motorbike Adventure, the newest Wizarding World ride.
The two parks are connected by the Hogwarts Express, which you can only ride if you have the two-park pass. If you love rides and can only visit one park, Islands of Adventures might be the way to go. But Gringott's is a great ride, and Diagon Alley is a wildly impressive setting.
Since you want to see everything, it's worth buying tickets in advance. You'll save a few dollars by doing so, and you can get a calendar view of admission prices, which vary by day. You'll typically save money by going early in the week.
Ride the Hogwarts Express in both directions
As long as we're on the topic: ride the Hogwarts Express in both directions. (Though, you'd probably have to anyway in order to return to your car.) This magical train is more than just transportation between parks: You'll pass through a pillar to enter Platform 9¾ and the sights you'll see are different in both directions, making it well worth riding twice, even if you don't have to.
Get there super early
You're on vacation. You don't want to set an alarm. That's understandable. But if you want a couple of rides on Escape From Gringotts, beat the crowds and arrive early to enjoy shorter lines during the park's morning hours.
If seeing the sunrise isn't your jam, there's always the Express Pass, which allows you to jump to the front of lines that would otherwise require an hour-plus wait on weekdays. While it undoubtedly improves the experience, the Express Pass does make for an even more expensive trip (especially if you're visiting both parks), so know that you can still get through both parks in a single day without it.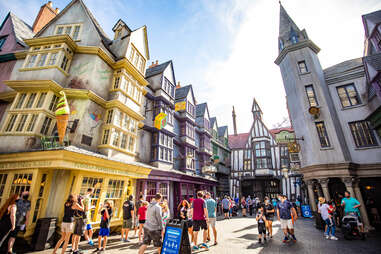 Head straight for Diagon Alley
There are loads of worthwhile attractions at both parks. Nonetheless, skip the Flaming Moe and head straight for Diagon Alley. The level of immersion here is unlike anything else you'll find at the park. Stand by the opening into the alley near the Leaky Cauldron and watch the unbridled joy that spreads across each visitor's face as they enter. It's that stunning.
Don't look at your phone, ever
Are those flying broomsticks near the ceiling in Hogsmeade shops? Is Crookshanks sleeping on a shelf in the Magical Menagerie? Is that Nagini in the window? Is the music referencing very specific movie moments based on where you're standing? Yes, yes, yes, and yes.
Seriously, don't look down. There's something worth seeing wherever you are: silhouettes of characters having conversations in the windows, moving portraits, newspapers with moving pictures. If you spent too much time staring at your phone and taking pictures, you just might miss something amazing.
Buy a wand, but skip the robes
The stores throughout the park are beautiful, and inside each, there are a lot of magical, alluring toys for sale. But transforming yourself into a wizard gets mighty expensive.
Wands are one of the few toys that might be worth the price. They run around $55, but you get more than a run-of-the-mill souvenir: At both parks, brass markers indicate spots where you can cast a spell and "magically" make things happen. You're essentially buying an extra attraction.
The wands are fun, but you can skip the show in Ollivanders Wand Shop. Only one person in each group is selected to be paired with their wand—everyone else just has to watch. Go into the store next door to discuss what kind of wand you want with, uh, one of Ollivanders' assistants. You aren't missing much.
Although it's tempting to complete your Hogwarts uniform with a robe, they cost about $114, don't get you anything special in the park (unlike the wands), and you can find one for much cheaper online. You should still visit the talking mirror inside Madam Malkin's for a nice confidence boost, though.
Ride as many rides as possible
The Flight of the Hippogriff isn't anything particularly special, and it's probably best suited to younger visitors. But the other three rides are worth enduring the long lines. In fact, you'll probably want multiple trips on the Forbidden Journey and Escape From Gringotts, both of which have been ranked among the world's top five dark rides at the Golden Ticket amusement park awards.
You'll also absolutely want to try out Hagrid's Magical Creatures Motorbike Adventure, an outdoor coaster that streaks through the Forbidden Forest. It's not only the newest but easily the most thrilling of the Potter rides.
Get a butterbeer
Again, it's tough to afford everything you want in the park, but how do you resist the sugar rush of an iconic butterbeer, which—for the uninitiated—essentially tastes like butterscotch and cream soda woven into one delicious, frothy drink?
You can drink it in many forms (though given the Florida heat, we'd recommend enjoying it either cold, frozen, or in ice cream form). Although...
Eat at the Three Broomsticks or the Leaky Cauldron
Lines for butterbeer can be nearly as long as the rides. If you're going to eat in the park, know that you can get a butterbeer with your meal at the Three Broomsticks in Hogsmeade or the Leaky Cauldron in Diagon Alley. The level of detail inside these locations is also wonderful and makes up for how much the fish and chips costs.
Also, you might expect the actual beer to be crap. That's reasonable. But while the park won't disclose who brews their beer for them, they're exclusive and actually pretty good. Trust us: you won't be disappointed you skipped the Stella and went for the Dragon Scale Red Ale. (There are also local beers available at the park.)
If you want to see a show, get there early
It's probably not the main reason you've come to the Wizarding World, but its street shows are a nice diversion while you toss back a butterbeer. But they're almost always crowded, so keep an eye on the showtimes posted throughout the park and find a spot early.
The Triwizard Spirit Rally is ripped right from the frames of The Goblet of Fire and it's performed several times throughout the day, making it easy to catch. Plan to close your day in Hogsmeade with the Nighttime Lights at Hogwarts in Islands of Adventure, an incredibly photogenic experience.
My personal favorite, however, is the Tales of Beedle the Bard. Puppeteers perform "The Tale of the Three Brothers" and "The Fountain of Fair Fortune," the former bearing some resemblance to the Deathly Hallows movie version. It's a welcome change of pace inside a park that's generally focused on King Kong-sized experiences.