Woman Flashes Her Boobs on Google Maps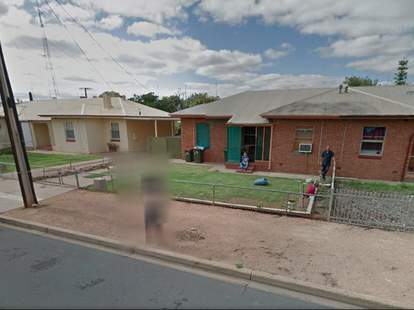 <a href="https://www.google.com/maps/@-33.206309,137.992358,3a,75y,157.62h,73.53t/data=!3m4!1e1!3m2!1s2QGqNlo7Nyyl7LoqTZkeDA!2e0!6m1!1e1" target="_blank">Google Maps</a>
For a brief moment, streaking lets anyone become famous -- all it takes is running around naked. But if you get caught in the act, well, then you become infamous -- as is the case of Karen Davis, now nicknamed the "Street View Streaker" in her hometown of Port Pirie, South Australia.
Davis got herself trending on social media and earned the cool nickname after she showed up topless on Google Maps. Check her out:
Davis saw the Google Maps car zooming down Barry Street in her neighborhood, lifted up her top, followed it a while to make certain her boobs were on camera, and just like that, made mammary map history. When asked why she felt the need to flash Google, Davis told The Port Pirie Recorder she uses Google Maps often and really wanted to be on it. She also said she did it for a friend in the United Kingdom, so he could "see her all the time."
Maybe the most convoluted love letter ever -- flashing your business on Google Maps so someone on the other side of the globe can see you topless.
Google subsequently blurred Davis' entire image (booooooo), so don't spend the rest of your day blaming your office NSFW filter. But Davis' story goes to show: the Internet is for porn.