Fact: women have more sex on vacation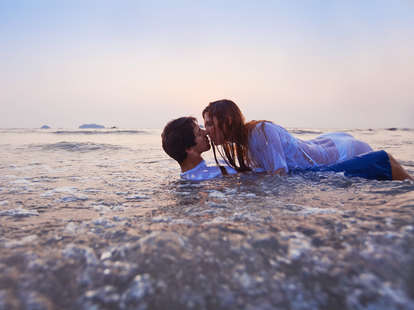 Shutterstock
Shutterstock
A scientific study confirms what guys in popular tourist destinations already suspected: women are more likely to have sex while they're on vacation.

That is to say... vacation makes women "sexual risk takers".
Liza Berdychevsky, assistant professor at the University of Illinois' department of recreation, sport and tourism, Heather Gibson of the University of Florida, and Yaniv Poria of Ben-Gurion University in Israel, interviewed 34 women in the US and Israel to understand what sends their sex drives into overdrive while on holiday.
The women involved said vacations make them feel disconnected from gender stereotypes and double standards of home, and that their holiday anonymity even condones sexual freedom, thereby rendering them more apt to engage in casual sex, often, apparently, to feel like a man.
Tl; dr: When on vacation, women are more likely to experiment sexually and have one-night stands.

According to a press release on the study, women experience an "altered sense of reality [...] that encourages sexual risk-taking while minimizing perceptions of risk and long-term consequences".
Basically, inhibitions are low, blood alcohol high, and women are going to leave you and everything else behind when they get back to their real lives anyway.

Interestingly, research found backpackers to be especially promiscuous, as "sexual activities perceived by women as unconventional and adventurous – such as casual sex – comprise an integral part of the adventurous ethos of the backpacking experience".
Now might be a good time to invest in a new backpack.

The study's primary purpose, however, is to shed light on the risks of casual sex, to address the sense of invincibility women display when engaging in it, and how this sort of risk-taking can empower women.
Works for us.
Sophie-Claire Hoeller is Thrillist's über-efficient German associate travel editor, and has had frequent flyer status since she was born in a Lufthansa terminal. Follow her @Sohostyle.