Adriana Garcia and Luz Lituma of Latinxhikers

| Photo by Cherisa Hawkins
Adriana Garcia and Luz Lituma of Latinxhikers

| Photo by Cherisa Hawkins
It's a funny thing about the outdoors—that such a vast, uncharted, open-ended space can be so affirming of one's identity. The identity we tend to associate with the outdoors, though, is a fit white male sporting the latest in recreational gear. But that image is slowly beginning to fade, thanks to the efforts of several adventurous women of color and their ever-growing Instagram communities.
"For me, it came down to representation. When I was growing up, I didn't really see a lot of people who looked like me, doing the outdoorsy things I loved to do," says Adriana Garcia, co-founder of Latinxhikers, a platform dedicated to making the outdoors more accessible for people of color. By sharing the stories of fellow Latinx hikers and hosting IRL events, Garcia and co-founder Luz Lituma have been transforming the definition of what it means to be "outdoorsy" since 2017.
Garcia has always felt most like herself in nature. She spent her childhood playing in the woods behind her house in a predominantly white town in Tennessee. Every year her parents would take her to Fall Creek Falls State Park, where she was given full reign to run wild and cultivate the intrepid spirit she has carried into adulthood.
Luz Lituma has a different relationship to the outdoors. It's a space that she only recently became acquainted with, but has since devoured fully. She grew up in the city, between Queens and Atlanta, raised by parents who were originally from Sucua, a town in the Ecuadorian Amazon. All it took was one spontaneous hike to Vinicunca Mountain in Peru (which she did in jeans) for her to imagine a life outdoors; she's been living on the road since June.
"What I've realized, especially after reading the stories shared by our social media community, is that I also want to get in touch with my roots," Lituma explains. "My parents are from the jungle. There's a reason why I'm called to the mountains. There's a reason why I want to be living this lifestyle."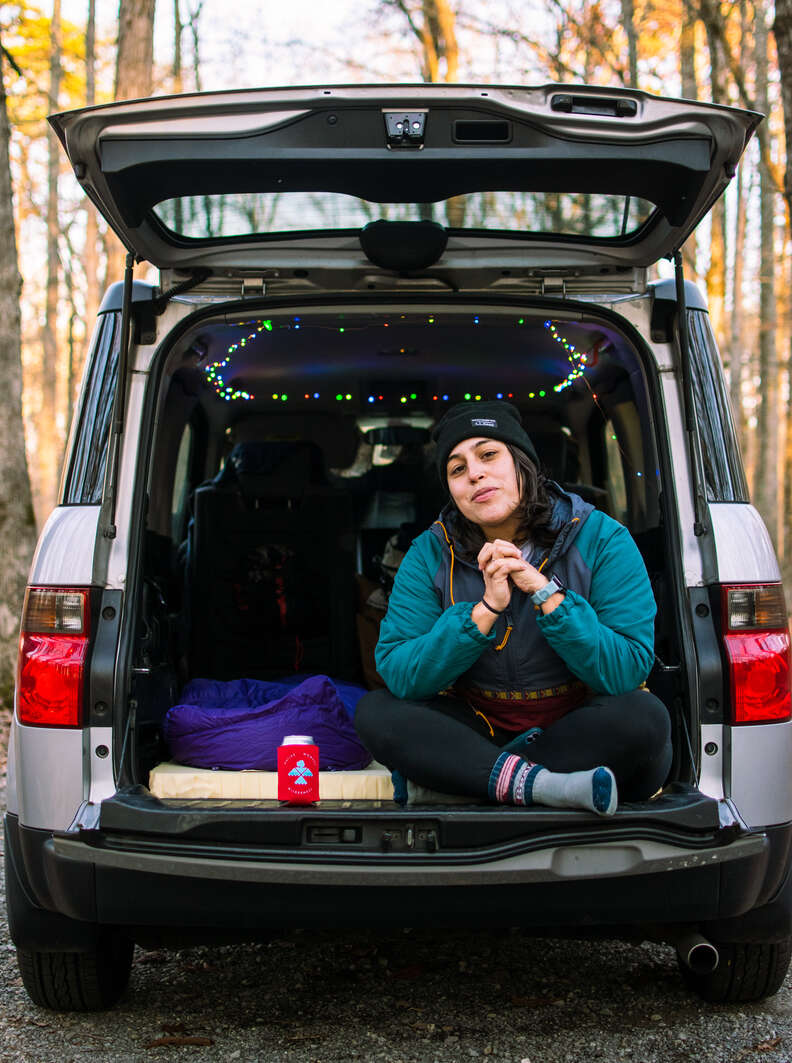 When Garcia and Lituma first started venturing out together, hiking near Atlanta and around North Georgia, they chatted about how refreshing it was to find another Latinx woman to explore with. And they realized they couldn't be the only ones seeking this kind of familiarity.
"We solidified [the idea for] Latinxhikers on the Havasupai trail in Arizona. We went to the reservation, and walked through the waterfall, and it just felt so different," Lituma explains. "We were like, 'Why does it feel so good here?' And then we noticed, when we got to Zion, that it was because everybody on that hike was brown."
Though Latinxhikers is open to all, many of its resources are geared specifically towards women. "I do a lot of camping, especially by myself, and I constantly feel like something bad can happen to me," Garcia adds. "I think that's something that any woman can feel."
And then there's the mansplaining. "You're out there, and you're doing your thing, and you have that guy that comes up to you and is like 'Oh do you need me to help you with that?' or 'Do you really know what you're doing?' Garcia says. Even as a trained retail specialist at REI, Garcia finds that men still don't take her seriously on the sales floor.
Being a woman of color compounds things even further. "There are some areas that I feel comfortable going to, and some areas I don't, simply because I know the type of people that live there," Garcia explains. "I know who I need to avoid because of the color of my skin."
Lituma adds, "It's hard to feel comfortable while stopping at gas stations that are waving Confederate flags."
When Garcia and Lituma host hiking meet-ups, it's power in numbers. These hikes, which are mainly held in the Southeast, have brought together dozens of people from all walks of life, forming a web of safety. Garcia and Lituma have witnessed the forming of friendships, and even romantic relationships, but their favorite connections are the ones that happen between beginners and more seasoned veterans.
"The last hike that we had, we went to Amicalola Falls State Park, which can be a rough hike for beginners. There were these two girls who I noticed connecting while they were there," Garcia says. "And afterwards I saw on social media that they had gone hiking together." This is exactly what Garcia and Lituma are aiming for—for members to feel so empowered by the group dynamic, they feel comfortable enough to go out on their own.
Of course, joining a hiking group—and putting yourself out there in general—can be intimidating. But Garcia and Lituma take a few steps to ensure that everyone feels comfortable—a skill not unfamiliar to Latinx people. "Honestly, I think as a culture, we're pretty inviting and inclusive to begin with," Lituma notes.
A slower hiker herself, Lituma will walk with anyone who's behind. "I would hate for somebody to come out and feel like they can't do it, and say 'I'm not going hiking again,'" she says. For Garcia, it's important that everyone knows they don't need expensive gear, or even hiking boots, to join. "I want you to come out here and not feel like you're having to compare yourself to other people," she says.
But what both women hope to make clear is that there is no right or wrong way to occupy the outdoor space. "For me, being outdoorsy is sitting outside with my family and having a carne asada barbecue by the lake," Garcia says.
"At the beginning, I wanted to do harcore things. I would go on a five day trek in Machu Picchu, or do intense backpacking every now and then," Lituma adds. "But now, I'm like, 'I'm outside, I'm grabbing my chair, and I'm sitting and enjoying the view.'"
Los Angeles, CA
Tiffany Tharpe and Michelle Race founded Black Girls Trekkin' in an effort to subvert the narrative that Black girls and women don't engage in outdoor activities. They're also big on conservation, hosting events dedicated to educating their audience about minimizing their impact on the environment.
Nationwide
24-year-old Ambika Rajyagor co-founded Disabled & Outdoors, a BIPOC-run online community focused on amplifying disabled voices and advocating for barrier-free excursions. They've partnered with AllTrails, an app of curated trail maps, to build a comprehensive list of accessible trail routes in the US.
Portland, Oregon
Unlikely Hikers, founded by Jenny Bruso, is a "diverse, anti-racist, body-liberating outdoor community featuring the underrepresented outdoorsperson." Self-described as "queer, fat, and femme," Bruso often uses the hashtag #mybodytookmehere to emphasize that bodies of all kinds can conquer the outdoors. While the pandemic has put group hikes in Oregon on hold, diverse stories continue to be shared on the Unlikely Hikers podcast.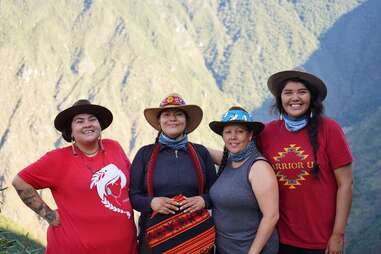 Owens Valley, California
Indigenous activist Jolie Varela is a citizen of the Tule River Yokut and Paiute Nations, from Payahuunadu (Owens Valley, CA). She was inspired to form Indigenous Women Hike in 2017 after hiking Nuumu Poyo, now known as the John Muir Trail, along with several other women as an act of reclamation. Since then, she's led a number of hikes, encouraging Native women to reconnect with their land and experience collective healing through nature. Online, Varela fills the organization's Instagram page with informative resources, raising awareness of Indigenous issues, deconstructing colonial language, and providing tips for respectful travel.
Los Angeles, California
Hike Clerb is an LA-based intersectional women's hike group founded in 2017 by Evelynn Escobar Thomas. Pre-pandemic, the group hosted monthly hikes, designed to increase BIPOC visibility in the world of recreation. The club is actively working to expand in other cities across the US.
Jessica Sulima is an editorial assistant at Thrillist whose idea of "being outdoorsy" is sitting on her fire escape. Follow her on Twitter and Instagram.