This New Must-Visit Zooquarium Is Like an Amazon Jungle in the Midwest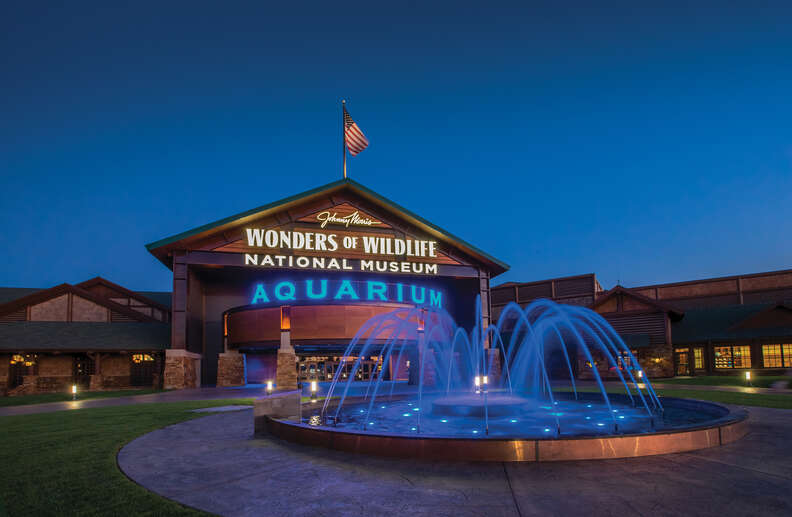 Courtesy of Wonders of Wildlife Museum & Aquarium
A cold Arctic wind blew over my head, and I stared into the eyes of the most menacing creature I'd ever been near. His giant horns were pointed straight at me. He didn't blink. The Arctic buffalo was flanked by four beasts even bigger than he; between us crouched a pack of white wolves. In the face of such vicious wild animals, I lunged forward and yelled, "Come at me, bro!"
The little kid standing next to me laughed. I guess this kind of bravado looks ridiculous when said menacing herd of muskox are stuffed.
This is the kind of encounter you'll have at Wonders of Wildlife, a brand-new museum and aquarium where the exhibits recreate ecosystems from all over the planet, and house more than 35,000 live mammals, birds, fish, and reptiles. It's part natural history museum, part Disney ride -- a totally immersive experience that's as close to BBC's Planet Earth as you can get without, ya know, actually exploring planet Earth.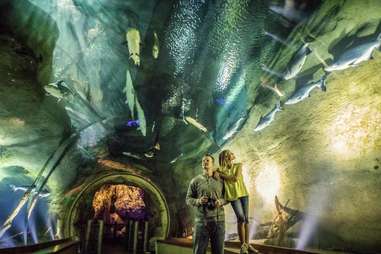 A painstakingly detailed, immersive recreation of our planet
At first blush, this might sound like the American National History Museum on 'roids. But the Wonders of Wildlife is more immersive than that. Avid conservationist and Bass Pro Shops founder Johnny Morris has achieved the most ambitious and impressive re-creation of our environments ever attempted. WOW lets visitors experience the world's vast ecological diversity in one day, in one space -- in Springfield, Missouri. Which, if you're on the coasts might as well be the Arctic, but worth the trip all the same.
Over a mile and a half of trails wind through the African savannah, the Arctic, the Himalayas, and other far corners of the globe. And each area is designed to give all five senses the sensation of really being there. The air is precisely controlled to simulate various temperatures and humidity levels, and scents and soundtracks mimic the noises and smells one might find in a particular region.
OK, so they don't quite crank the AC down to 20 below or scent the air with rancid animal smells; this is still a tourist attraction, after all. But the level of detail is nonetheless remarkable.
"My background is Disney and the Georgia Aquarium. Nobody has theming like we have here," says Mark Schafer, World of Wildlife's executive director. "When you go through the Amazon and feel that thick jungle around you, and you see the piranha and the neon tetras... or you go to Africa and smell the dirt in the air and feel the heat. You see these magnificent animals like lions and giraffes just two or three feet away from you. Nobody has attention to detail like that."
Earth may have been created in a week, but fake Earth took a lot longer
The museum covers 350,000 square feet with 800 different species of wildlife. In addition to all the live animals, WOW has thousands of mounts and animal sculptures, mostly donated by hunters and collectors.
"People ask me why this place took so long," says Morris, who spent nine years completing the project. "It's not just like, 'Oh, let's go paint something and put some animals on display.' Every detail of an ecosystem was studied. Do we have the right kind of leaves on a plant? Are these the birds that would be in an area where these animals are? We had to study that and make sure everything was completely accurate."
The walls took six years to paint. Local artists Adam and Aaron Wolken painstakingly drew and re-drew each room to depict the landscapes. The precise three-dimensional drawing leaves you wondering where the mounts end and the walls begin.
In the savannah, for example, a herd of 150 wildebeests tramples out from one wall, fronted by a half dozen mounts and a dirt cliff. At first glance, it looks like one solid thundering herd. On Sheep Mountain, two dozen longhorn sheep and mountain goats stand tall in the cold of the Himalayas. You have to squint to determine which are real and which are merely on the walls.
Walk through a shipwreck and cruise the Amazon
The most impressive part of the museum is the aquarium, bar none, home to 1.5 million gallons of tank space. Its coup de grace is the shipwreck room, inspired by an artificial reef Morris sunk off the coast of Fort Lauderdale. The walls are made to look like a rusted ship, and the portholes look out into tanks populated by South Florida sea life. The center of the room is a towering cylinder with a ship's mast inside, where colorful exotic fish swim and feed. This is as close to the real thing as you can get without an oxygen tank on your back.
Further along, guests are engulfed by humidity. First, the Amazon rainforest swallows you; then, you tromp into an American swamp complete with mangroves and live alligators creeping through black water. Beyond that is a walk-through fish tank where you're surrounded by marine life on all sides before passing through a floor-to-ceiling shark tank.
The cheapest, quickest trip to the African Sahara you're gonna find
It's no cruise down the Amazon or safari adventure, but WOW is the easiest, cheapest substitute there is. (Adult tickets are $40, or $30 for just the aquarium portion.) It feels like the kind of over-the-top attraction you'd find in Dubai -- utterly massive, absurdly detailed, and completely indoors. Leaving the museum, it was disorienting to realize I was actually in the Ozarks. But how else do families in Middle America get to immerse themselves in these ecosystems?
"We're a day's drive from over half of the population of the US," Morris says, sitting in the original Bass Pro Shop just outside the museum's front entrance. "It's a chance for people to come and see all this wildlife right in the center of the country, who might not have a chance to get to Alaska or Africa or Monterey Bay."
Morris hopes to inspire a younger generation of conservationists who might not otherwise experience such varied natural environments. A portion of the wildlife galleries highlights various conservation challenges and success stories, such as the sad-then-uplifting history of the American buffalo, which white settlers once hunted to near extinction. "Hopefully kids like it, and we can influence them to be good stewards of our wilderness," he says. Even if you're dopey enough to yell at a stuffed muskox, you're going to learn something.
Sign up here for our daily Thrillist email and subscribe here for our YouTube channel to get your fix of the best in food/drink/fun.
Matt Meltzer is a contributing writer to Thrillist who would never mess with a real muskox. Follow him on Instagram @meltrez1.