If you love The Mouse, working at one of the magical Disney parks is literally a dream job. But if you've ever ACTUALLY worked there, you know it can be more like a nightmare. Whether you love it or hate it, working at a Disney park is a big eye-opener -- both to the (not so) wonderful world of Disney, and to the heart of human nature.
We asked one woman (we'll call her Natalia, because she preferred anonymity) who worked for six years at Walt Disney World in Orlando to tell us in her own words what it was like, and everything she learned from wearing those big costumes that, yes, are really, really hot.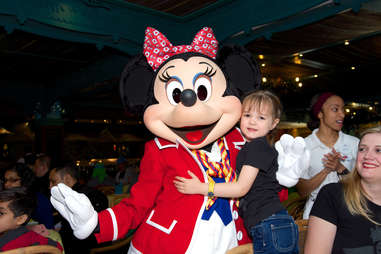 Your job is to keep the illusion of Disney alive
In my six years working as a Walt Disney World "cast member" (that's what they called us), I did everything from working attraction lines, to taking pictures of park guests with costumed characters, to being an actual costumed character (more on that one in a minute). And there was a lot of stuff I learned there, but I think above all else it was this:
When you go to work at Disney, your most important job is to keep the illusion of Disney alive. There were always seven or eight of us walking around the park at one time in Mickey Mouse costumes, but when people would ask, "How many Mickeys are there here?", the answer was always, "One." And for whatever time those guests are in the park, they really believe it. It's like a daylong suspension of disbelief.
And what were all the costumed characters that I played, you ask? Well, at Disney, it is prohibited for cast members to say they "played" certain characters, because the characters are "real." Cast members can, however, tell someone they "hung out with" characters. So, to answer your question, some of the more popular characters I "hung out with" included: Mickey Mouse, Minnie Mouse, Donald Duck, Lilo, and Stitch.
Disney sucks you in really powerfully...
When you get hired, you have to go through what we called a "Disney indoctrination course," where you're shown endless films about the history of Disney, the parks, and the feeling the word "Disney" evokes in people. Typically if you've signed up to work there, you already have an emotional attachment to Disney, and the indoctrination course pulls hard at those heartstrings. Like a Disney Princess, you're encouraged to dream your way to improving your situation. But you pretty much sign your life away, agreeing to work whenever and however long Disney wants -- and you're happy about it. Like somehow getting to work 80 hours a week in a 120-degree costume for $6.90 an hour is the greatest thing you could possibly be doing for humanity.
But some people get sucked into it for life. There are the ones who were born and raised with the sole life goal of working for the Mouse. Then there are those who come to Disney as a College Program intern, or as a seasonal employee, and then come to the realization that they'd rather get free park admission for the rest of their lives than continue pursuing their education. Last are those who get wrapped up in the wishes, hopes, dreams, and "making people happy" mindset, and eventually they find themselves having invested so much time at Disney, that at some point, they no longer have the desire to leave. Why do they get "so into it"? My guess is Pixie Dust.
... and then demands your maximum commitment
When you make $8 an hour, 40 hours on the clock isn't gonna pay your bills. So we worked 10- to 18-hour shifts in order to make overtime. And if you worked a shift of more than 20 hours, you got double time. So people would actually COMPETE to see who could work more 20-hour shifts. The majority of people I knew there were workaholics and would sign up for all the OT they could get. They'd work 80-hour weeks and love it. And as a full-time cast member you were expected to work overtime, any shift, 24/7/365.
We actually looked forward to working those endless shifts. Sure, we liked the excitement of making $16 an hour, but most of all we just wanted to be part of the magic for longer -- and that trade-your-life-away commitment was probably why Disney didn't mind paying out the overtime.
The thing they did mind was giving people days off for anything. And I mean ANYTHING. I knew a woman who alerted Disney to her wedding nine months before it happened, and they gave her one day off. And it wasn't even her wedding date. They told her you can either get married and quit, or work around our schedule.
You must always be portraying the magic of Disney and carrying on Walt's legacy, no matter what goes on in, what's left of your personal life. It really takes a special breed to work there.
All the hard working means hard partying, too
When you work as hard as people do at Disney, you play hard, too. So partying is huge and cast members have gotten kind of a reputation for raging when they're not on the clock. For personal religious reasons, I stayed away from most of it, but because our social circle was so small, everyone basically ended up hooking up with everyone else. It was the most incestuous workplace I've ever been a part of. A lot of people lived in the same apartment complexes too -- especially the college kids -- so when we weren't on the clock, life for us wasn't unlike the freshmen dorms.
Because we had so little time (sometimes as little as six to eight hours) between shifts, it wasn't uncommon for people to party right up until work started. We had one guy who played Grumpy the Cat from Pinocchio -- a character who's supposed to be a little clumsy and "off" -- who came in one day after a loooong night. Still feeling the night before, he put on his costume and got a performance appraisal of AWESOME because he was so spot-on with the character. Everyone kept quiet, but we were all highly entertained.
Americans are entitled, foreigners are grateful and well behaved
The stereotype Americans have is that they're the best-behaved people in the park, and that it's the ignorant foreigners who make everything difficult. It's the EXACT opposite. Americans had this sense of entitlement, and thought just because they'd spent thousands of dollars to bring their family to Disney World, everything had to run smoothly. If there was lightning in the area and we had to shut down an attraction, they'd take it out on us like we'd purposefully caused the shutdown -- like we enjoyed working in electrical storms. I get it, you dropped your whole savings to go on Splash Mountain and now this stupid Florida weather is keeping you from fulfilling your Disney dreams. But you can't blame the park for that.
On the other hand, most foreign guests just seemed grateful to be there, no matter what. For example, at Tokyo Disney you're not allowed to take pictures with the characters, so Japanese visitors thought it was the greatest thing in the world to get a picture with ANYONE, even if was just Chip (or Dale. Still can't tell them apart.). They'd even bring gifts for us, like Japanese stuffed animals. Europeans had the best-behaved children I'd ever seen, so polite and so gracious. American kids just screamed about wanting to go back to the swimming pool.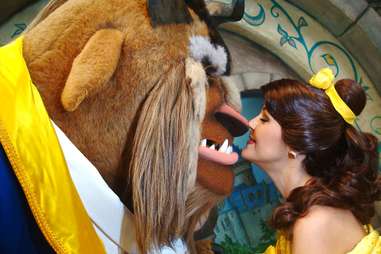 Money, no matter how little, breeds resentment
Face characters, as they were called, like Belle or Prince Charming or anyone who doesn't have to wear a thermal death-suit, get paid $3 an hour MORE than the "furries." (Save your fetish jokes, that's what they call characters whose heads are covered and can't speak.) But even though the face characters still make only $11 an hour, they acted like they were Britney freaking Spears. Most of them were prima donnas, and we all hated them. But we also secretly wanted to be them. It was a fierce rivalry, so much so that all of us forgot we were barely making minimum wage either way.
But your co-workers become like your family
When you eat, sleep, and breathe in the same quarters 24/7/365, you either become a recluse and hide in a corner away from the rest of the cast members in your area, or you bond with them on a personal level. They become your family. I made a couple of really close friends at each department I worked in, and I continue to keep in touch with today. I've been a bridesmaid at the wedding of a couple who met one another while working on the opening team of Epcot's Soarin' attraction. And there was one area manager in particular who actually treated cast members as humans, and she was an important mentor to me. She helped me through a really tough breakup, and would go running with me as I planned my post-Disney career.
When I go back to visit Disney World I make a point to go around the park and see all the friends I used to work with. And because of times like that -- despite the long hours and life-consuming schedule -- I sometimes still wish I was back working there. Just maybe not on the 20-hour shifts.
Sign up here for our daily Thrillist email, and get your fix of the best in food/drink/fun.
Matt Meltzer is a staff writer at Thrillist who only believes in the magic of LEGOLAND. Follow him on Instagram: @meltrez1.