Economies. Standing armies. Breakfast dishes. There are a million different ways to rank the countries of the world, and each one is guaranteed to upset someone. Since none of these criteria can ever hope to fully capture the essence of a country, we decided to rank the world's richest countries by a different metric altogether: the official residences of their leaders.
Yep. It's basically like an episode of MTV's Cribs, except instead of Master P, we're looking at Vladimir Putin. Whose pimped out palace grabs the top spot?
18. Bellevue Palace
Berlin, Germany
Who lives here: The President of Germany
When it comes to the official residence of its leader, Germany is a lot less straightforward and efficient than you might think. Angela Merkel, the Chancellor and effective head of government, lives with her husband in the same modest apartment she had before taking office, which is both laudable and an immediate disqualifier for the purposes of this list. The President isn't much better, though, because instead of living in Bellevue Palace, the lavish estate that is technically his official residence, he actually lives in a villa in southwestern Berlin. Hence being no. 18.

17. Quinta de Olivos
Olivos, Argentina
Who lives here: The President of Argentina
Despite sounding like a second-rate hotel made entirely from olives, the Argentinian president's official residence is a far cry from the iconic Casa Rosada (the executive mansion and office). While yes, it earns points for being an architectural landmark, and probably the only one with a heliport and a mini golf course, not many photos of the place exist, and from the few that do, it's just not much of a looker. If Argentina's not crying for anyone else, it should definitely be crying for its president's choice of abode.

16. Los Pinos
Mexico City, Mexico
Who lives here: The President of Mexico
Although the current Mexican president faced accusations last year of accepting a brand new, multi-million-dollar mansion from a company in exchange for a bullet train construction contract, his actual home (at least while he's still president) is Los Pinos: a French-style mansion in the Chapultepec Forest.
Los Pinos is a pretty cool place in its own right, but the PREVIOUS official residence, Chapultepec Castle, was way more impressive, and served as the presidential home from 1882 to 1944, when then-president Lázaro Cárdenas prudently/annoyingly converted it into a museum. Way to preserve history, nerd!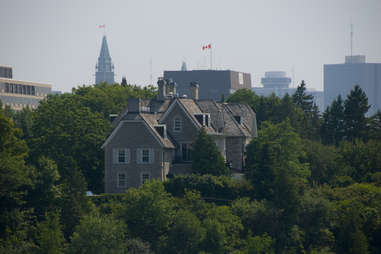 15. 24 Sussex Drive
Ottawa, Canada
Residence of: The Prime Minister of Canada
Originally commissioned in 1866 by then-Member of Parliament Joseph Merrill Currier, this 34-room Norman Revival mansion only became the official residence of the PM in 1950. In fact, 24 Sussex Drive is one of the few buildings on this list that operates exclusively as a residence. That might be its biggest failing, though, as it somehow doesn't have central A/C, and its continual state of disrepair has been a big talking point in the past few years. Oh, Canada. It does have an indoor pool and sauna, though, FWIW.
14. Kirribilli House
Sydney, Australia
Who lives here: The Prime Minister of Australia
Technically, the PM Down Under can spend his time at either of his two official residences, but many recent holders of the office preferred Sydney's Kirribilli House over The Lodge in Canberra. The current Aussie PM, Tony Abbott, actually sank over $120k into the Sydney residence, pimping it out with everything from a landscaping overhaul to nearly $25k worth of luxe carpeting. Clearly Mr Abbott, like Mr Lebowski, understands how some floor decoration can bring a whole room (or house) together. At the end of the day, though, it is just a normal house, albeit a nice one located in Australia -- land of sunshine, koalas, and Yvonne Strahovski.

13. Mahlamba Ndlopfu
Pretoria, South Africa
Who lives here: The President of South Africa
Built in 1940 on Pretoria's luxe Bryntirion Estate, Mahlamba Ndlopfu used to be the residence of the PM, and went by the name "Libertas." After Nelson Mandela became the country's first president, though, the place's Cape Dutch architecture received a bit of a facelift (not to mention a name change), and these days the whole place is surrounded by lavish gardens. That being said, the fact that it's not open to the general public and can't really be seen from any public roads keeps it from achieving peak levels of awesomeness.
12. Istana Merdeka/Istana Negara
Jakarta, Indonesia
Who lives here: President of the Republic of Indonesia
Like the Aussie PM, Indonesia's President has two residences to choose from: Istana Merdeka and Istana Negara. Unlike Mr Abbott's homes, however, these two are nearly identical palaces located within 500ft of each other, and are technically two parts of the same collective presidential compound. Both feature white, Palladian-style architectural trappings, and were constructed back in the days when the Dutch controlled Indonesia, although the current president has chosen Istana Merdeka (or "Freedom Palace") as his primary residence.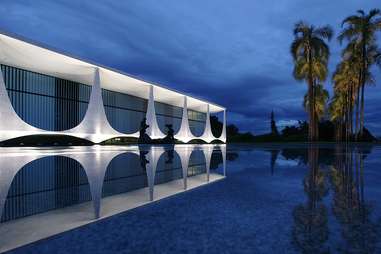 11. Palácio da Alvorada
Brasilia, Brazil
Who lives there: The President of Brazil
Located on a peninsula facing Paranoá Lake, this modernist palace could be easily mistaken for a swanky art museum, with its striking glass-and-marble exterior, unconventional lines, and vivid blue pool that's definitely not for bathing (despite the fact that there's a statue nearby called "The Bathers"). It's not all external coolness, though: the Palácio also features a movie theater, a gym, a heated Olympic swimming pool, and a pretty sizable wine cellar. Sure, visitors aren't allowed here, but hey -- at least they had the common sense to release photos of the damn place.
10. Élysée Palace
Paris, France
Who lives here: The President of the French Republic
Serving as the official home of the French President for about as long as "French President" has been an actual title, this breathtaking example of Classical architecture isn't generally open to the public, but nevertheless serves as a local and national icon on par with the White House. With 369 rooms and a total area of 11,000sqft, Élysée Palace might not be the biggest official residence on this list, but it's an iconic institution in Paris -- which is saying something in itself.

9. Zhongnanhai
Beijing, China
Who lives here: The President of The People's Republic of China
This royal garden complex has seen more history than any other place on this list, having been around in one form or another for over a millennium. It makes sense, then, that Zhongnanhai would be more than just the residence of the president, acting as the main HQ for China's central government and the entire Communist Party of China. While actual photos and video of the complex's interior are limited, and public access is pretty much non-existent (it is China, after all), this massive compound gets points for the sheer weight of time it's been around, not to mention its two massive, scenic lakes.
8. The Blue House
Seoul, South Korea
Who lives here: The President of South Korea
This 62-acre compound is actually home to both the president and vice president, and was the site of a failed assassination attempt by 31 North Korean commandos back in 1968. These days, though, the place is open to visitors (carrying passports), allowing them to explore the gardens, enjoy the picturesque view of nearby Mount Bugaksan, or simply marvel at the nearly 150,000 blue granite tiles that cover the roofs of the Blue House's traditional Korean buildings.
7. Quirinal Palace
Rome, Italy
Who lives here: President of the Italian Republic
Located on (and named after) the highest hill in Rome, this sprawling palace was constructed in 1583, and has undergone several expansions in the time since, having been home to 30 popes, four kings, and 12 presidents. In fact, it even beats out the official residence of the Prime Minister, Palazzo Chigi, where the actual head of state resides. Totaling 1,200 rooms and over 2,000,000sqft (including an incredible walled garden), the Quirinal Palace's magnificent frescoes and iconic facade prove without a shadow of doubt that popes were the 16th-century equivalent of hip hop moguls.
6. Buckingham Palace
London, UK
Who lives here: The Queen of England
The UK's reigning monarch has multiple official residences, but it's probably not too much of an extrapolation to say that Buckingham Palace is her most official official residence. Built back in 1705 as a town house for the Duke of Buckingham (hence the name), the palace is pretty much a living museum, and its Royal Collection features works of art from Leonardo, Michelangelo, Rembrandt, Vermier, and Reubens, just to name a few. Plus, this place made security guards clocking in and out of their shifts actually seem cool.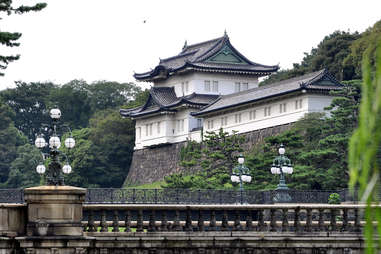 5. Tokyo Imperial Palace
Tokyo, Japan
Who lives there: The Emperor of Japan
When you think of the kind of place an emperor would hang his hat, Tokyo's Imperial Palace ticks all the boxes. The grounds resemble a gigantic park more than an official residence, dominated as they are by verdant gardens and flowing water. And while public access is limited to two days per year (the New Year, and the Emperor's birthday), each fleeting glimpse of the palace's traditional Japanese architecture is enough to remind visitors of how it's still good to be the king. Or emperor. You get the point.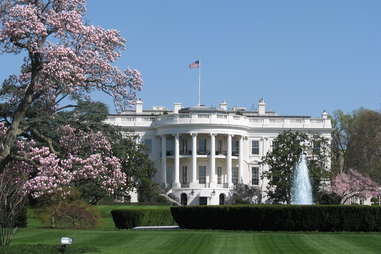 4. The White House
Washington, DC
Residence of: US President
America's commander-in-chief has without doubt the most widely recognizable residence on this list, if not on Earth, and that's not just thanks to its striking color and Greek revival detailing. Beyond iconic chambers like the Oval Office and the Map Room, the place is fully equipped with perks like a swimming pool, a movie theater, and even an honest-to-goodness bowling alley put in during the Truman administration. The one thing it doesn't have? Some sweet marble columns.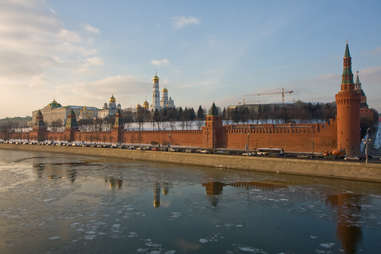 3. The Moscow Kremlin
Moscow, Russia
Who lives there: The President of Russia
President Putin's got plenty of residences -- some official, some not-so-official -- but when it comes down to history, aesthetics, and sheer size, the Moscow Kremlin's hard to beat. While yes, the Russian President's residence is technically the Kremlin's Senate Building, and the Kremlin compound as a whole is much, much more than just sleeping quarters for Vladimir, let's be frank for a second. If the Grey Cardinal himself decides he wants to up and spend the night in any of the Kremlin's buildings, who's gonna tell him he can't?
2. Rashtrapati Bhavan
New Delhi, India
Residence of: The President of India
Originally constructed in 1929, this massive compound (whose name literally means "Presidential Residence") includes not only the 340-room presidential mansion, but 320 additional acres of gardens, housing for household staff, and, well, just tons of lavishness. On top of being absolutely massive, and open to the public, the Indian president's home possesses arguably the most unique color scheme of any official residence, with its powdery red clay courtyard, lush green gardens, and soft brown sandstone architecture. Speaking of sandstone, in fact, Rashtrapati Bhavan was made from some 700 million bricks, and only token amounts of steel were used in its construction. Try blowing this one down, big, bad wolves.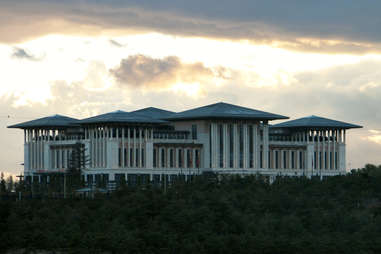 1. Presidential Palace
Ankara, Turkey
Who lives there: The President of Turkey
Sorry, rest of the world. Charm, history, design, and uniqueness go a long way, but when it comes to over-the-top grandiosity, the Presidential Palace in Ankara takes the cake. Then it turns that cake into a gargantuan structure with 1,000 rooms, a price tag of more than half a billion dollars, and nearly 50 times the floor space of the White House. Unveiled in 2014, this brand-new behemoth even extends four stories underground (allegedly), and is meant to symbolize the new direction that Turkey is headed in. We can only assume that direction is obesity.

Gianni Jaccoma is an editorial assistant for Thrillist Travel. Given the choice of any of these places, he'd go with Kirribilli House, just to see if the carpets match the drapes. For more "Down Under" puns, follow him on Twitter @gjaccoma