Sorry, mountains. Nice try, lakes. When it comes to the greatest Summer vacation destination, nothing beats the beach. Think about it: sun, sand, surf, half-naked people -- throw in strong drinks and laid-back beach bars, and you've got the full monty. But which waterfront watering holes are the best? Here are five to start your list.
This tiny bar in Jost Van Dyke's White Bay has no dock, so unless your boat has a dinghy (giggity), your only choice is to swim to the shore (hence the name). Once on dry land, you can try to score free rum by playing the ring game -- a tricky local challenge that's undoubtedly made a lot harder after you've had a few.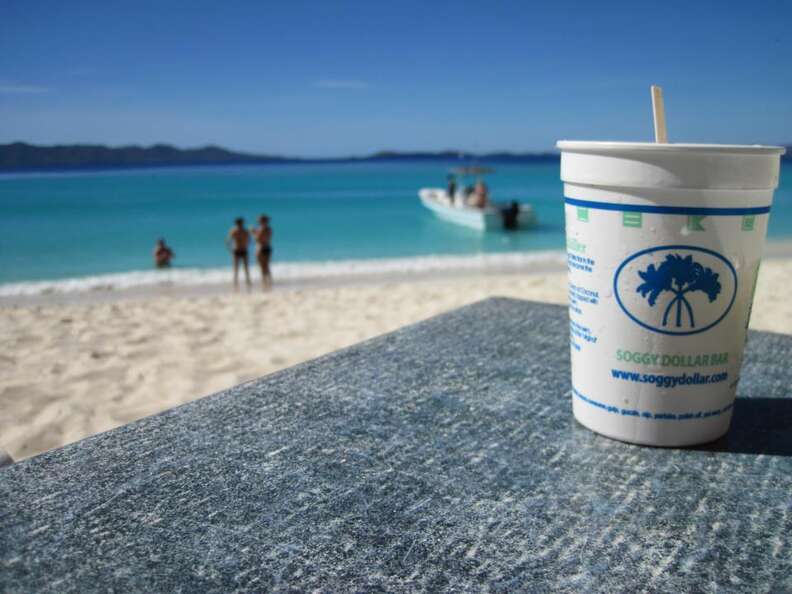 If you're looking for a new favorite drink, you'll find it in The Painkiller, the Soggy Dollar's signature cocktail. First crafted back in the 1970s, this puppy contains dark rum, cream of coconut, pineapple and orange juice, and a topping of freshly grated nutmeg. The proportions of each ingredient are kept secret, but you can read about how it was first concocted here.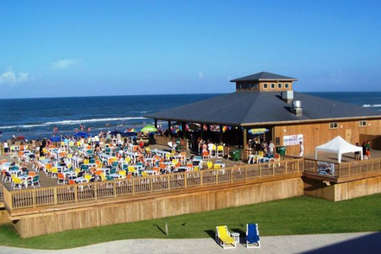 Clayton's claims to be the "Biggest Beach Bar in Texas", and with 100 tables and a max capacity of 5,000 people(!), they're probably right. Although it caters to all sorts, Spring Breakers and their off-season ilk tend to dominate -- especially when musicians/rappers like Nelly show up. If you're looking to party, but you don't wanna venture too far from the beach, Clayton's is your play.
After a day of drinking Clayton's Turbo Pina Coladas and frozen Blow Pops, it would ordinarily be lights out. Unless it was a weekend night, in which case their beachfront firework display would captivate the crowd.
This double-decker spot overlooks the white-sand shoreline of the Turquoise Coast, and emphasizes chilled ambiance over raging parties -- you can even check out the relaxed atmosphere right here, right now, via webcam. While visitors come back for Buzz's ice cream cocktails and chicken kebabs, the real draw here is the view.

Oludeniz is one of the most photographed beaches on the Turkish Riviera, and the terrace commands spectacular shots of the region's popular aquamarine waters. The sunset alone is reason enough to grab a table.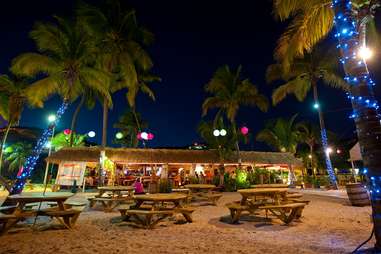 Located at the Bolongo Bay Beach Resort, Iggies lays claim to being the first karaoke bar in the Caribbean; whether or not that's true, it's definitely the only joint in the USVI where you'll find live tunes 365 days a year. The weekly Cruzan Carnival Extravaganza's also a big draw, featuring fire walking, broken bottle dancing, and, of course, a limbo contest.
The real star here, however, is the Voodoo Juice cocktail; this monster combines five different rums (Pineapple, Banana, Citrus, Coconut, and Cruzan) with some cranberry and pineapple juice, all mixed together in an easy-to-carry plastic bucket for your tippling pleasure. Whether or not you choose to make a sand castle with said bucket once you're done is up to you.
There's more to this driftwood shack than meets the eye; legions of thirsty tourists have flocked to Bomba's since it opened in 1976, thanks in part to its DIY aesthetic, colorful (and off-color) signs, and laid-back atmosphere. Also, probably because women are encouraged to hang their panties/bikini bottoms from the rafters. Just speculating, here.

If that wasn't enough, another reason why Bomba's is so popular is because of the Full Moon Parties they've been throwing for the last 25 years; Usually going all night, these wild gatherings are fueled by all-you-can-eat BBQ, rum punch, and Bomba's specially brewed "mushroom tea".
Gianni Jaccoma is an editorial assistant for Thrillist Travel, and he'll be working remotely from one of these places for the foreseeable future. Follow him there on Twitter @gjaccoma.