12 Badass Boat Trips Around the World
Sure, a cookie-cutter cruise to the Caribbean might be the easiest way to explore the high seas (and a gorgeous chief stewardess from Moldova), but that doesn't mean it's the most exciting. No, if you're looking for more adventure than an all-you-can-eat sushi buffet and pai gow in the ship's casino, check out one of these 12 action-packed boat trips around the world.
Type of trip: Three nights on a liveaboard boat
Where you're floating: From Lombok Island to Flores Island, Indonesia
This joyride over pristine coral reefs and past castaway islands culminates with a real-life search for the man-eating monsters of lore -- the region's namesake Komodo Dragons. Just be sure to keep your head on a swivel; while your park ranger on the island of Rinca might carry a stick for protection, these deadly 300lb monitor lizards are not to be reckoned with. Boats are available for all budgets, but the cheapest are often the most fun. Also, the most likely to sink. Consider yourself warned.
Type of trip: Catamaran day trip
Where you're floating: The Coral Sea off of Cairns, Australia
No trip to Australia would be complete without a sail out to the world's largest coral reef system. Covering over 133,000sqmi, this is one bunch of bommies that begs to be snorkeled. Trips to the reef leave daily from Cairns and other towns on the Queensland coast, and often take about two hours to reach the reef's outer edge.
Type of trip: Ferry ride
Where you're floating: Victoria Harbour, Hong Kong
There may be no better way to simultaneously view the skylines of both Hong Kong Island and neighboring Kowloon than from the Star Ferry, which has crossed the city's Victoria Harbour since the late 1800s. The boats run daily until 11pm and cost just 30 cents per ride ­-- although the view is worth infinitely more than the price to board, both during the day and at night.
Type of trip: Multi-day, small-ship expedition
Where you're floating: Southern Alaska's Pacific coast
Various big-boat companies run cruises in this region, but the best way to explore Southeastern Alaska's fjords, glaciers, islands, and icebergs is onboard a small-ship that can access more confined areas of the coast. Daily off-ship kayaking and hiking excursions are popular ways to discover the Glacier Bay National Park, which boasts wildlife like humpback and orca whales, bears, sea birds, and otters.
Type of trip: Overnight excursion on a traditional junk boat
Where you're floating: Ha Long Bay, off the coast of Northern Vietnam
Thousands of limestone karsts dot the emerald waters of Ha Long Bay, and the best way to explore the region's caves and floating fishing villages is by spending the night on a Chinese "junk" sailboat. Typical tour itineraries include time for swimming, snapping selfies, and kayaking around the islands.
Type of trip: Day trip from Phuket or Krabi
Where you're floating: Koh Phi Phi Ley and Koh Phi Phi Don in Thailand's Andaman Sea
These craggy green islands rise from Southern Thailand's turquoise sea in a collision of color that threatens to explode your eyeballs (hyperbole fully intended). Okay, but it is pretty amazing. Phi Phi Ley's stunning Maya Bay reached mythical status after Leo was drawn there by a mysterious map in The Beach, and it continues to attract thanks to superb snorkeling, diving, and caving.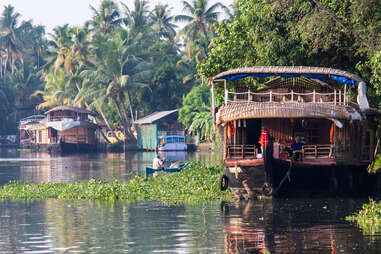 Type of trip: Two-day barge trip
Where you're floating: Backwaters of Kerala, India
How does lounging feet-up on the front of a private kettuvallam rice barge sound? Hundreds of these thatched houseboats, each complete with a three-person staff, leave from the town of Alappuzha daily to potter around the palm-tree-lined brackish waters that provide a way of life for locals. Just be sure to score some monster-sized river prawns from a local fisherman to make Keralan curry.
Type of trip: One-hour rowboat ride
Where you're floating: The Ganges River, Varanasi, India
It may seem like you've seen everything that the bathing banks of Varanasi's Ganges River has to offer after walking up and down the riser-like ghats, but an early morning boat ride (or at twilight, for that matter) offers postcard views of everything from pious pilgrims floating in inner tubes to Hindu cremation ceremonies. And next to those burning corpses -- laundry being done in the ashy waters, of course.
Type of trip: Five-day, no-frills sailboat trip
Where you're floating: The Caribbean Sea via the San Blas Islands
Backpackers on the South and Central American circuit have figured out that the best way to bypass the jungles (and kidnappers) of the Darien Gap region on the Panama-Colombia border just happens to be via a voyage through some of the world's most idyllic tropical islands -- the San Blas Islands. These white-sand paradises are pretty much all coconut trees, thatched huts, and indigenous locals, and the surrounding waters provide plenty of fresh lobster and conch ripe for beachside cooking.
Type of trip: Quick boat ride
Where you're floating: Niagara River, Canada
Niagara Falls is one of the most impressive (and most famous) waterfalls on the planet, so why capture the moment shoreside with a thousand iPad-toting tourists? No, better to don the poncho, get a little wet, and experience the powerful churning waters from a boat.
Type of trip: Multi-day sightseeing tour
Where you're floating: The Galapagos Archipelago in the Pacific Ocean off of Ecuador
Galapagos guests who make their base on one of the region's main islands and make day trips to see the sites are missing out -- cruises or yacht charters around the more remote destinations are the way to go here. The archipelago's volcanic islands offer diverse landscapes and equally impressive wildlife -- tourists can expect to snorkel with the sea lions, mingle with giant tortoises, and weirdly spy on blue-footed boobies while they mate.
Type of trip: Beginner-to-advanced whitewater rafting
Where you're floating: Chilean Patagonia
The icy blue, glacier-fed waters of Chile's part of the Futaleufu River are known as one of the world's top whitewater rafting destinations. And when you're not floating through the gorges of the Patagonian Mountains, campsites along the route offer other adrenaline-pumping activities like rock climbing, rappelling, hiking, and horseback riding.
Elspeth Velten is a food and travel writer who uses that title as an excuse to incite jealousy on Instagram. And to eat endless Asian food. Follow her at @elspethvelten for live tweets of daytime TV. #freelanceproblems