When you were eight, going to a pool party meant packing your favorite water wings, some OP shorts, and maybe a bottle of SPF 45, if you had one of those moms. And while sunscreen is still never a bad idea, if you've seen that David Guetta/Akon video then you know that pool parties for adults -- like these ridiculous 10 from around the globe -- often mean world-class DJs, spraying Champagne in people's faces, and gorgeous models dancing in bikinis even smaller than the ones they wore when they were eight.
Las Vegas, NV
22,000 square feet. Just let that sink in for a second. That's like 10 of your parents' house, except instead of mom and dad, you've got a nightclub/dayclub packed to the velvet ropes with people who came to town planning to make bad decisions, wearing very little, and dancing to A-list DJs. And if the sun by the pool gets too hot (it's Vegas, that happens), the indoor club goes all day too.
Champagne Spray Party at Ocean Club
Marbella, Spain
Wine connoisseurs should probably steer clear of Ocean Club's pool party, where insanely expensive and tasty bottles of grape juice aren't so much used for drinking, but more so for bathing. Waste of money? Well, that depends on whether you think champagne is better down your throat or all over a hot Spanish girl on a blistering summer afternoon.
Miami, FL
If you happen to be driving through Miami and see a guy wandering around spritzing a bottle of Chandon all over his lawn, don't worry, he's not that crazy Miami guy who's going to eat your face. He's likely just taking the advice of this monthly themed bash -- a Miami outpost of LA's most exclusive dayclub -- to "save water, spray champagne". The party also rages on at Bellagio in Vegas, but much like the LA originator, also lacks the bikinis and cool water of a South Beach swimming pool.
Las Vegas, NV
Sure, it may require you to wait in a line only slightly longer than you would for Space Mountain on Memorial Day, but instead of four minutes on a roller coaster, this party at the Nevada's coolest hotel has stripper poles on the water, often manned by actual off-duty strippers. The world's top DJ talent doesn't hurt the scene either, nor does the fact that it goes ALL DAMN WEEKEND.
Ushuaia Ibiza Beach Club at Ushuaia Ibiza Beach Hotel
Ibiza, Spain
The main stage at Ultra is cool and all, but it would be like a billion times better if instead of 100,000 teenagers in front of it, there was, like, a giant swimming pool with bikini-clad girls rolling around in giant, see-through bubbles. Hey! That's what they're doing every weekend, all summer, at the Ushuaia hotel in Ibiza! But hold off until nighttime to go; The Brits who make up most of the Ibiza weekend traffic can't leave their pasty skin out in that Ibiza sun for too long.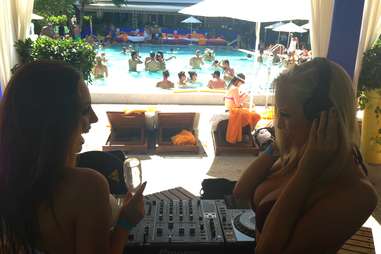 Miami, FL
Some of most renowned pool party experts in the world rated this the #1 pool party in Miami, which is saying a lot for a city whose main industry is pretty much pool parties. Every Sunday you'll see more silicone at this villa-style pool than you would on some layers of the Earth, and if you work up an appetite drinking and dancing in the pool, it's also got one of the best brunches in town where ladies drink free.
Nikki Beach
St. Tropez, France
If you're a bargain traveler, well, you're probably not going to St. Tropez anyway. But in case you got lost on your way to the youth hostel, you'll have some serious sticker shock at this weekly themed bash on the French Riviera. This party is a regular hangout for celebs, but even moreso for rich people you've never heard of like Saudi princes and Asian business tycoons, who will get in the occasional "who can order more expensive champagne" pissing contest where bills can reach into the seven figures.
Ace Hotel
Palm Springs, CA
Strangely, this pool party is not named after a brand of champagne that the Sultan of Dubai or one of the Eastern European models in his harem is using to spray you in the face. Because this hipster-cool pool scene is the exact opposite of that, a refuge for LA folks with enough cash to play in Palm Springs for the weekend that attracts an upscale, attractive crowd and has great drinks that are actually intended for drinking. As opposed to, ya know, spraying.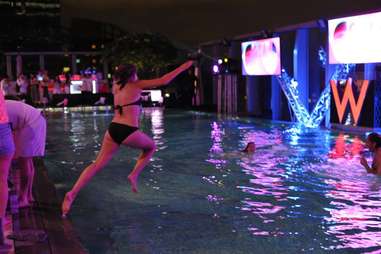 Heat Wave Summer Series at the W Hong Kong
Hong Kong
Views? Oh, the W near Victoria Harbor's got views. First, it's 76 stories up and boasts a panoramic view of the most famous waterfront in Asia. But if human scenery is more your thing, the hottest girls in the far East's most international city hit this place every summer weekend decked out in high heels and bikinis. Just watch your cocktail intake, 'cuz if you get distracted by those views and don't watch where you're going, that 76-story fall Is gonna hurt.