The 11 Best Scuba Diving Spots in the World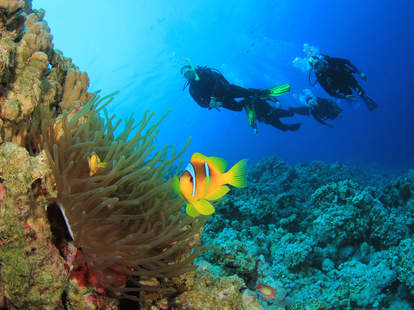 Because you can only retrieve the same nickel so many times from the bottom of the hotel pool, we rounded up some of the most colorful, remote, and flat-out fascinating scuba diving spots around the globe.
The Great Blue Hole
Belize City, Belize
Jacques Cousteau claimed that this natural phenomenon off Belize was one of the world's best dive sites, and who are we to argue? While its coral may not be the most colorful, the 406ft-deep by 1,000ft-wide former limestone cave (flooded during the last ice age) is heavy on the stalactites and bull sharks, and attracts advanced divers with its still water.
Darwin's Arch (El Arco)
Galapagos, Ecuador
Charles Darwin made the Galapagos Islands famous by studying their staggering number of endemic species, so it's no surprise that the water around them is equally teeming with wildlife. Darwin's Arch, a rock formation off Darwin Island with waters as deep as 70ft, is often cited by professionals as the best dive spot in the world. Expect to swim with everything from whale sharks, hammerheads, and massive turtles, to dolphins, seals, and stingrays.
The Great Barrier Reef
Queensland, Australia
Diving the GBR might be touristy, but it's still a must-hit for divers around the world. At 1,430mi long, it's actually made up of 4,000 separate reefs and is visible from space! And with 1,500 types of fish, 400 species of coral, and 4,000 kinds of mollusks, it's one of the most diverse ecosystems on Earth, rivaled only by the Amazon.
Ras Mohammed National Park
Red Sea, Egypt
This Egyptian National Park offers divers cliffs, canals, and reefs to explore, all while swimming alongside blacktip sharks and barracuda. One of the main draws, however, is the wreck of the SS Thistlegorm, a British Merchant Navy ship that was bombed by zee Germans in 1941. It's not just the ship's 419ft hull that beckons divers though; it's also the cargo (weapons, boots, motorcycles, and armored vehicles) that's scattered across the nearby ocean floor.
Barracuda Point
Sipadan Island, Malaysia
While Sipadan is famous for its epic diving, the island's 131ft-deep Barracuda Point steals the show with giant sea turtles, parrot fish, and -- you guessed it -- a ton of barracuda. Seriously, you'll have that Heart song stuck in your head for days.
Hairball
Lembeh Strait, Indonesia
An underwater photographer fave, this spot off Indonesia is home to a whole slew of weird-looking aquatic creatures (frogfish, ghost pipefish, scorpion fish, and cuttlefish), all of which swim above or sit atop photogenic black sand.
Marathon Key
Marathon, FL
Home to the only living coral barrier reef in the continental US, the waters off Florida are teeming with 650 types of colorful fish and 40 species of coral. Two top dives at Marathon Key include the 40ft-deep Sombrero Reef (considered by many to be one of the country's best), and the Thunderbolt, an intentionally sunk wreck/artificial reef teeming with grouper, angelfish, and barracuda. There's also a History of Diving Museum on nearby Islamorada.
Cenote Aktun Ha (Car Wash)
Tulum, Mexico
Cenotes are huge, underwater caverns that were considered by the Mayans to be portals to the underworld and used for ritual human sacrifice; in fact, human remains are still occasionally found to this day. This one got its name as a result of local cabbies washing their taxis in the shallow areas of its lake-like entrance. Below the water's surface, though, the stalactite/stalagmite-laden cavern is full of tree roots, branches, and even lily pads, all which make for a wholly surreal, super-eerie dive experience.
Manchones Reef and Museo Subacuático de Arte (MUSA)
Cancun, Mexico
The Cancun Underwater Museum (or MUSA) is an otherworldly dive site featuring 500 different sculptures created by local artists and Jason deCaires Taylor, an English sculptor/conservationist who co-founded the museum. 20ft below the surface and spread out over 4,520sqft, the sculptures serve as artificial reefs that attract a diverse marine life and promote coral growth.
Chumphon Pinnacle
Koh Tao, Thailand
As synonymous with diving as neighboring Koh Phangan is with partying, Koh Tao rocks around 20 dive sites popular with beginners and advanced divers alike. One of the biggest draws is Chumphon Pinnacle, a granite peak that attracts everything from whale, bull, and grey reef sharks, to snapper, barracuda, and batfish.
Fathom Five National Marine Park
Georgian Bay, Ontario, Canada
This National Marine Conservation Area features 20 islands, a handful of historic lighthouses, and 22 incredible shipwrecks from the mid 1800s -- including one of the world's coolest, Sweepstakes. Many of the wrecks have been perfectly preserved by Lake Huron's calm and cold waters. There are also epic underwater cliffs, caves, and even a "submerged waterfall."