There's a New World's Busiest Airport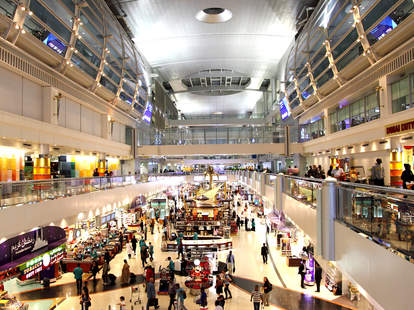 <a href="http://www.shutterstock.com/gallery-488500p1.html?cr=00&amp;pl=edit-00">Dr Ajay Kumar Singh</a> / <a href="http://www.shutterstock.com/editorial?cr=00&amp;pl=edit-00">Shutterstock.com</a>
If you've traveled internationally even a handful of times, there's a great chance you've landed at London's Heathrow Airport before, seeing how it's been the busiest airport in the world for a helluva long time.
But it's not the busiest anymore.
According to DXB's end-of-year traffic report, Dubai International Airport is now the busiest airport on Earth, serving 70.4 million international passengers in 2014. That's up 6.1% from 2013. It's even got great coffee, too. The United Arab Emirates' leading airport dethroned Heathrow, of course; 68.1 million passengers passed through the London hub last year. 
Dubai owes its rise to the expansion of airlines like Emirates and flydubai; more long-haul flights between Asia and the West; and the fact that more travelers are being crammed onto planes. On average, 208.3 people now fit on a commercial jet, though how you seat 0.3 of a person on a plane remains unclear.
"The shared goal is to make Dubai a global center of aviation and we are nearing that goal thanks to an open skies policy," Sheikh Ahmed Bin Saeed Al Maktoum, Chairman of Dubai Airports, boasted in a statement. The airport expects 79 million passengers in 2015, and could even reach 90 million, with the opening of a new concourse.
As for the US, Chicago O'Hare International Airport recently took the title of the nation's busiest airport from Atlanta's Hartsfield-Jackson International Airport; flight operations totaled 881,933 at O'Hare last year, compared to 868,359 at Hartsfield-Jackson.
The coffee at O'Hare's waaay better, too, FWIW.

Chloe Pantazi is an editorial assistant on Thrillist's travel team. Yes, that's a British accent. No, she doesn't watch Doctor Who. Follow her on Twitter at @ChloePantazi.