There was once a day when shipping containers were used exclusively to, well, ship stuff. Like TVs and Teddy Ruxpin. Somewhere along the way, though, the hep kids stopped talking to Teddy, became designers, and "re-imagined" said containers into everything from chic hotels and fancy restaurants, to food trucks and office space. (But interestingly, not into a Container Store, which would've made a lot of sense.)
Anyway, new-wave containers are everywhere these days and they look pretty damn cool. Here are 12 you should appreciate.

You know Freitag as the company who makes those hip messenger bags with recycled seatbelt straps. So, does it really surprise you that the brand's 30,000sqft factory and HQ is comprised of 19 shipping containers, housing 76 employees and boasting four floors of retail space? Of course, not.
Located at the foot of an ancient pyramid, Container City in Cholula contains over 50,000sqft of shops, restaurants, bars, galleries, and even a tattoo parlor, all inside 50 or so colorfully painted shipping containers piled atop one another.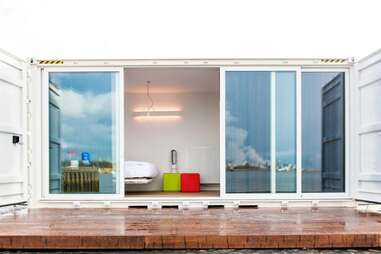 Six 20ft containers have been transformed into this super stylish, and obviously minimalist, luxury pop-up hotel complete with four bedrooms, one eatery, and a sauna to get your shvitz on.
This "pop-up" shopping mall (which has remained popped since 2011) in London's hipster Shoreditch 'hood is made up of around 61 boxes and houses stores like Urban Ears and Nike, as well as a plethora of restaurants, bars, and cafés.
This cocktailery is made of seven stacked boxes, and proudly claims to be America's first container bar.
Giving new meaning to the term "pop-up restaurant", these bad boys literally convert from container to solar-powered, eco-friendly restaurant in about 90 seconds. While old Montreal already has MUVBOX Lobster Roll and MUVBOX Porchetta, others are currently in the works for Toronto, New York City, and Paris.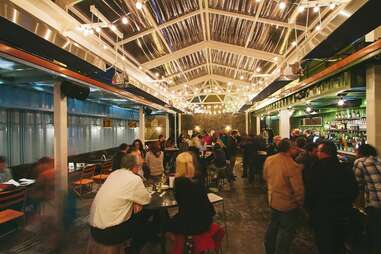 Five brightly colored containers sit squeezed between buildings on DC's U Street, beckoning pedestrians with the lure of tacos and tequila, as well as a year-round beer garden with a retractable roof.
This sexy, glass-walled mobile pizzeria slings slices from a 20ft container that's been mounted to the back of a delivery truck. And yes, that's an Italian-made, wood-fired oven inside.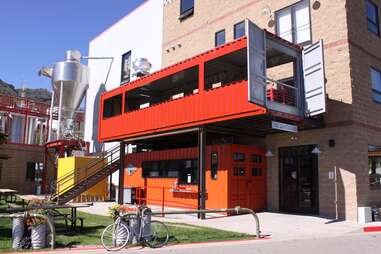 The Ska Brewery's World HQ beer garden features locally sourced sandwiches and pizzas designed to complement the beers brewed and served out of, you guessed, more containers.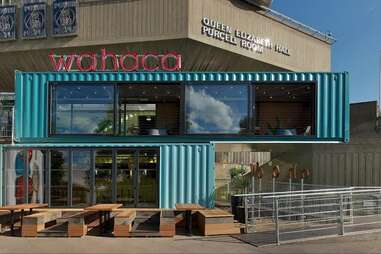 In London, Mexican street food is dispensed from eight colorful shipping containers that overlook the Thames.
One of the coolest playgrounds on the planet, SAP was designed by Phooey Architects and uses containers to create a multi-functional room with lounges, decks, and balconies (because if we know anything, it's that kids love lounges, decks, and balconies) alongside climbing structures and trampolines.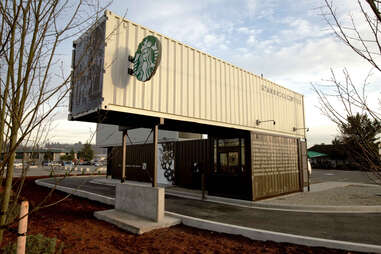 Yep, they're even serving grande decaf mocha soy frappuccino lattes (or, you know, Tall Pikes) out of shipping containers now, as is evidenced by this Washington State Starbucks drive-thru.
Sophie-Claire Hoeller is Thrillist's über-efficient German associate travel editor, and has had frequent flyer status since she was born in a Lufthansa terminal. Follow her @Sohostyle