They don't call it #ruinporn for nothing. As morbid as a plane crash or sunken ship might be, there's something alluring about abandoned wrecks. Eerie, full of history, and possibly haunted, they can be truly captivating.
Tanks -- Playa Flamenco, Culebra, Puerto Rico
In 1903, Teddy Roosevelt turned part of this small island 20mi off the coast of Puerto Rico into a gunnery and bombing practice site for the US Navy. This explains why -- even though the bombing has long since stopped, and the beach is today considered one of the most stunning in the world -- graffitied tanks still dot the shores of Playa Flamenco.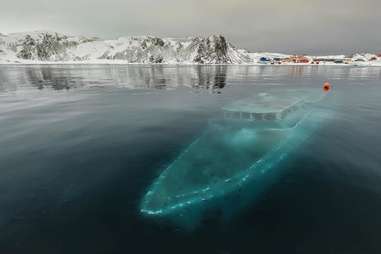 Mar Sem Fin -- Ardley Cove, Antarctica
Brazilian journalist João Lara Mesquita was using this 76ft boat to film a documentary in 2012 when it began taking on icy water during a storm. Though the Chilean Navy tried to save it, the boat sank and remained in 30ft of water until the following year, when Mesquita used divers and buoys to raise/tow it to shore.
​Train Graveyard -- North Carolina
Around 78 abandoned and decaying subways, trains, and buses from all over the country were recently discovered by photographer Johnny Joo in a North Carolina forest. Dubbed the Train Graveyard, there are even old Green Line trains to North Station that Boston folks will truly appreciate.
Mahéno Boat Wreck -- Fraser Island, Australia
The Mahéno first traversed the Tasman Sea as a fancy ocean liner (complete with smoking lounges and music rooms) in the early 1900s, before heading to Europe as a New Zealand Navy hospital ship during WWI. Eventually, it was a cyclone off Fraser Island in 1935 that did the Mahéno in.
Sherman Tanks -- Saipan Lagoon, Saipan, Mariana Islands
Part of the Maritime Heritage Trail – Battle of Saipan, this aqua trail includes a ton of WWII wrecks, including Japanese ships, US planes, and even three Sherman tanks. Most were destroyed during the 1944 Battle of Saipan, considered one of the biggest battles in the Pacific theater.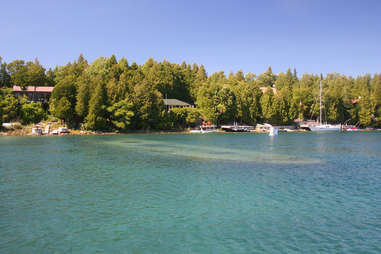 Sweepstakes -- Big Tub Harbor, Ontario, Canada
The two-masted wooden schooner that sits a mere 20 feet below the water in Big Tub Harbor is said to be one of the best-preserved ships of its kind. Damaged off Cove Island in 1885 while transporting coal, Sweepstakes was towed to its current location and, after a failed repair attempt, scuttled. Today, thanks to the clear water, it's a popular tourist attraction.
Tangalooma Wrecks -- Moreton Island, Australia
In 1963, 15 decommissioned Marine Department steamships, old barges, dredges, and flatboats were sunk just off Moreton Island to make a breakwater. Today, you've got the stunning backdrop to some epic snorkeling.
Panagiotis Wreck -- Navagio (Shipwreck) Beach, Zakynthos, Greece
Chased onto the beach by the Greek Navy in 1983, the Panagiotis was reportedly smuggling cigars, wine, and women. As you might guess, the area is now known as Smuggler's Cove.
B-52 Bomber -- Huu Tiep Lake, Hanoi, Vietnam
A stark reminder of the Vietnam War, this B-52 Bomber (which was shot down in 1972) juts out of a small lake in the middle of Hanoi.
Drug plane -- Ventanilla, Mexico
Riddled with bullet holes, this plane was reportedly used to smuggle drugs before getting shot down by the Mexican Army 10 years ago. It made an emergency landing on the beach (everybody on board survived), and has has remained there ever since.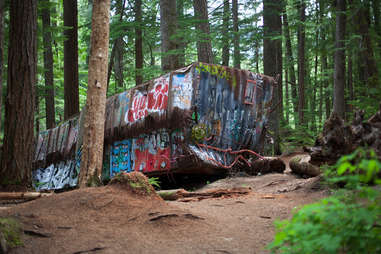 Whistler Train Wreck -- Whistler, Canada
Covered in Chili Thom's colorful graffiti, these seven box cars in the middle of the forest are remnants of a 1957/1958 freight train crash; today they're a popular hiking destination and jump for local mountain bikers.
Moynaq Ship Graveyard -- Moynaq, Uzbekistan
Believed to be one of the world's worst ecological disasters, this desert use to be a busy Soviet fishing port. Once the rivers feeding it were diverted for irrigation, the Aral Sea (formerly one of the four largest lakes IN THE WORLD) dried up completely. Hence, the ships sitting on the old sea floor. Even crazier, the nearest shore is almost 100 miles away!
Sophie-Claire Hoeller is Thrillist's über-efficient German associate travel editor, and has had frequent flyer status since she was born in a Lufthansa terminal. Follow her @Sohostyle