When you pull up to a famous tourist attraction, you don't always know what you're gonna get. Some are amazing and worth the trip, while others leave you totally disappointed. And still others, well, they make you say, "WTF, is that a giant statue or honey, did somebody shrink the kids?!?!" These 15 massive monuments from around the world are the latter; sky-grazing statues that make ordinary people feel like they stepped into a copy of Gulliver's Travels.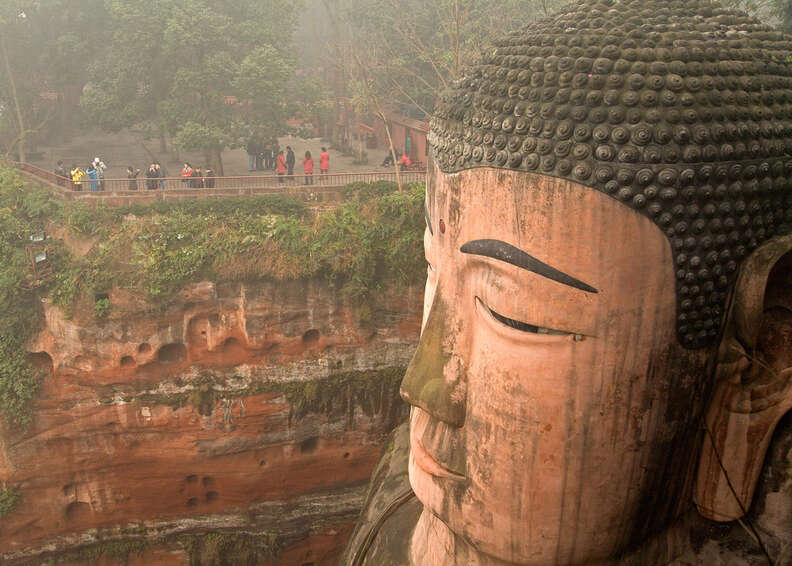 Leshan Giant Buddha
Leshan, China
This giant Buddha was carved into a cliff face 1,200 years ago to protect boats traveling down the three rivers it overlooks. At 233ft tall (with toes that are 26ft long), it's the largest stone Buddha in the world.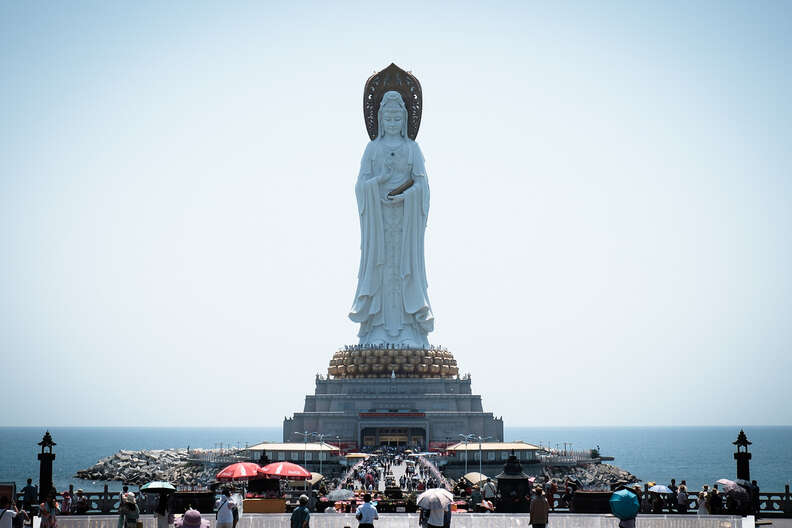 The Guanyin of the South Sea of Sanya
Sanya, China
Successfully one-upping Harvey Dent, the world's fourth-largest statue actually has three faces, so you see a different pose depending on the direction from which you're approaching; it'll either be holding a sutra, prayer beads, or a lotus flower.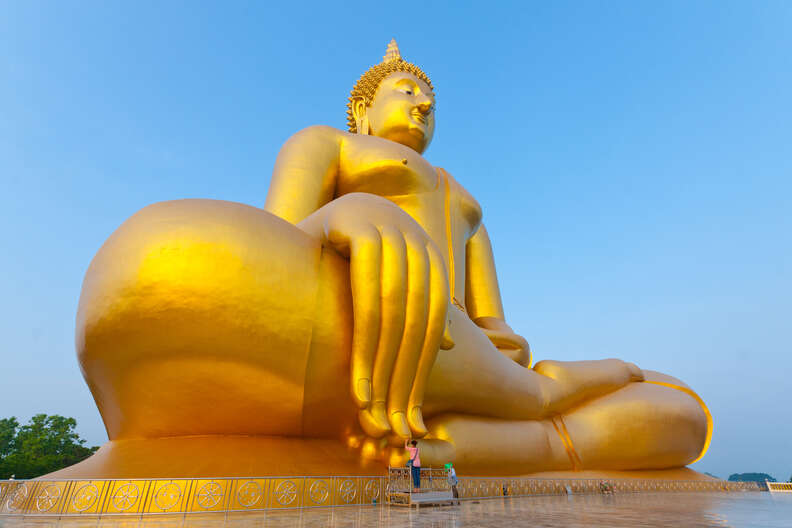 The Great Buddha of Thailand
Ang Thong, Thailand
About the same size as the Statue of Liberty, this 300ft Buddha is the tallest statue in Thailand. Completed in 2008, it took 18 years to build and boasts a surrounding "Hell Park," which morbidly demonstrates the fate sinners can expect.
Genghis Khan statue
Erdene, Mongolia
As if the Mongolian conqueror wasn't terrifying enough, this Genghis Khan towers over visitors at 131ft. The statue cost $4.1 million to build, is made out of 250 tons of stainless steel, and according to legend, sits atop the very spot where the infamous warrior discovered a golden whip.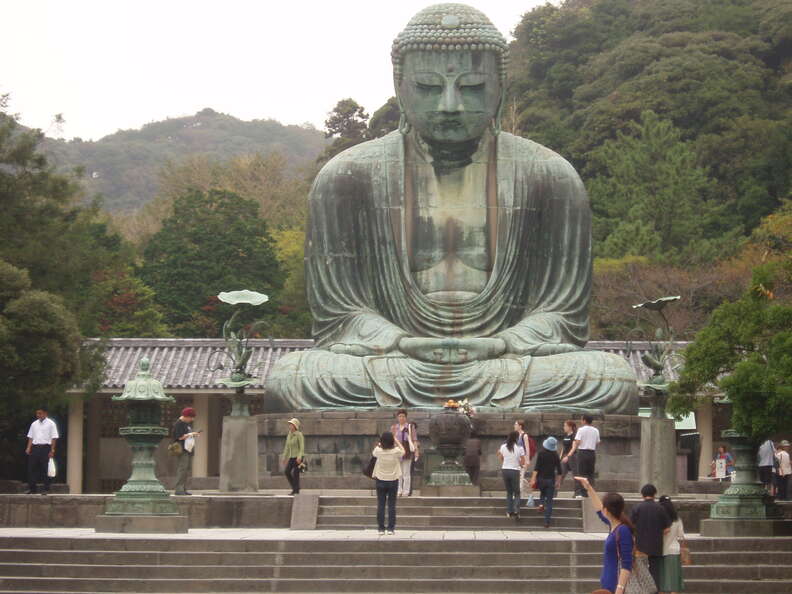 Kōtoku-in Daibutsu
Kamakura, Japan
Once located indoors, this 37ft, 850-ton bronze Amida Buddha (which dates back to 1252) became an outdoor statue after it scratched up the couch too many -- sorry -- after its home was destroyed by a tsunami in 1495.
Win Sein Taw Ya/Giant reclining Buddha
Monywa, Myanmar
Yes, the world's largest reclining Buddha -- 590ft long and 98ft high -- actually lazes around in front of the world's second-largest standing Buddha. Inside, the giant deity is full of Buddhist dioramas and over 9,000 images.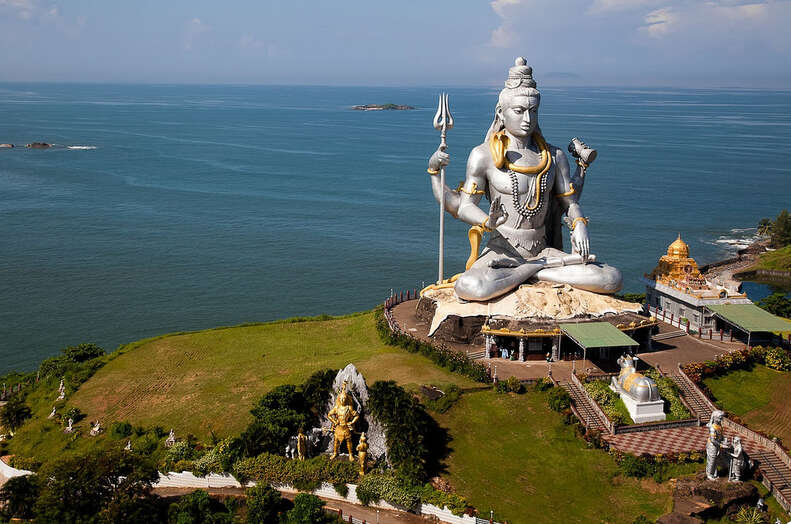 Lord Shiva statue
Murudeshwar, India
This 121ft Shiva statue towers over Murudeshwar, a scenic beach town and popular destination for religious pilgrimages, with her back to the Arabian Sea.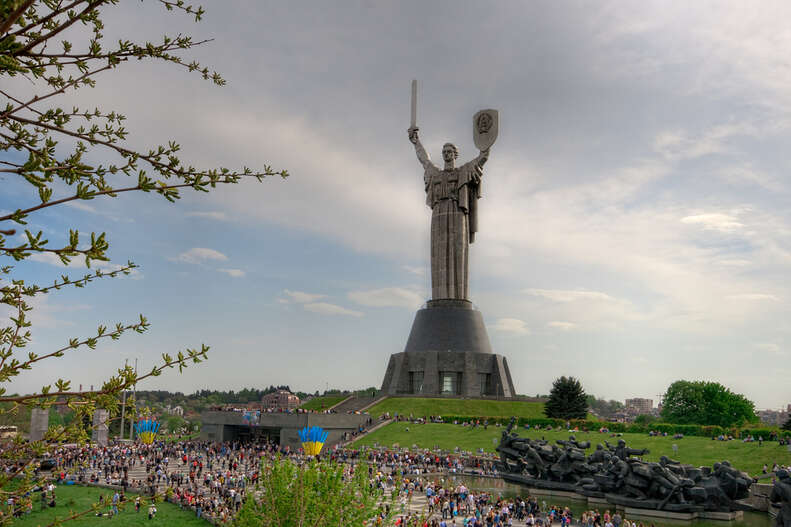 Mother Motherland
Kiev, Ukraine
The twice-named Mother Motherland -- sometimes called Mother of the Fatherland -- is a fearsome 340ft statue that sits above the Kiev skyline and honors the heroes of the Soviet Union. Turns out, she was supposed to be even taller but her sword was clipped to keep the statue shorter than the cross on the Pechersk Lavra church.
Spring Temple Buddha
Henan, China
At a towering 682ft from the base of its pedestal (which is a monastery, mind you) to the top of its head, this is the world's tallest statue. It's almost 80ft taller than Seattle's Space Needle.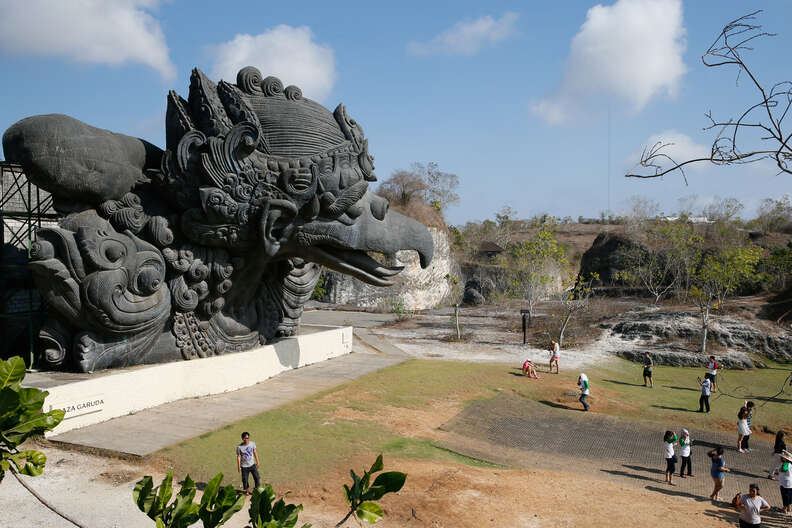 Garuda Wisnu Kencana
Uluwatu, Bali
Currently just a giant bronze head, this statue of Garuda (the King of Birds) is designed to stand 216ft tall -- and will boast a wingspan of 210ft -- when completed. Construction recently resumed after a 16-year hiatus and is slated to be finished in three years.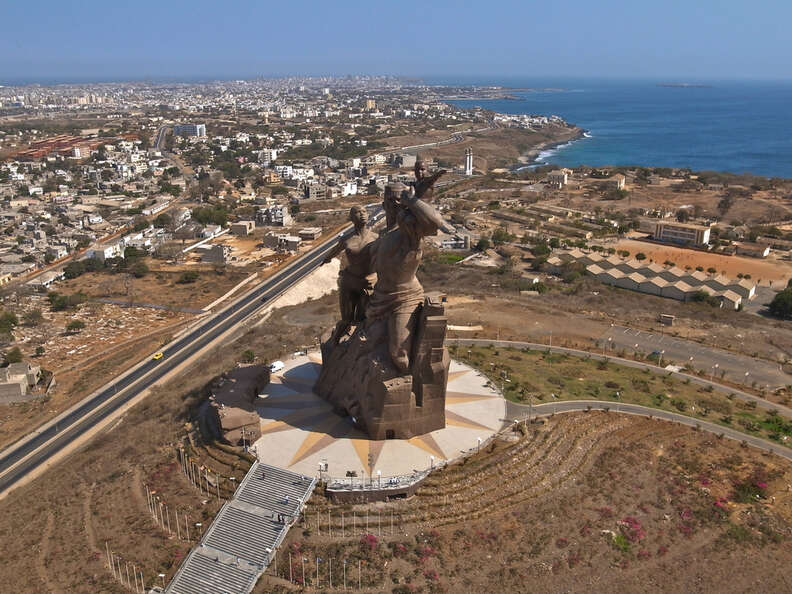 African Renaissance Monument
Dakar, Senegal
Meant to represent African liberation from colonialism, this 160ft bronze statue depicts a half-naked man, woman, and child and appears even more imposing thanks to its perch high on a hill overlooking Dakar.
Lord Murugan, Batu Caves
Kuala Lumpur, Malaysia
What do you get when you combine 250 tons of steel, 54,738 cubic feet of concrete, and 79 gallons of gold paint? This Hindu deity, of course. It guards the front of the Batu Caves, which are home to Hindu temples and shrines.
Tian Tan Buddha, aka the Big Buddha
Ngong Ping, Lantau Island, Hong Kong
Made of 202 individual pieces of bronze, this towering Buddha is meant to symbolize the relationship between man and nature. He's perched above the clouds, on a lotus, atop a mountain, and is surrounded by six smaller statues.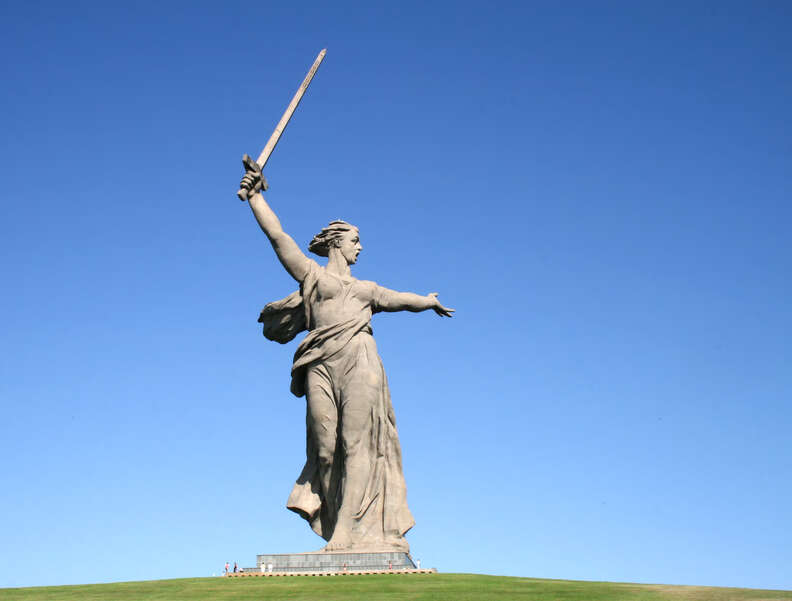 The Motherland Calls
Volgograd, Russia
Commemorating the Battle of Stalingrad, this statue measures 279ft from the tip of its sword to the tip of its toes, and was the largest in the world when it was dedicated in 1967. Now, it's only the world's tallest non-religious statue of a woman, of course.
Mansu Hill Grand Monument
Pyongyang, North Korea
Finished in 1972 to celebrate the Great Leader's 60th birthday, the 72ft bronze likeness of Kim Il-sung stood alone until 2012, when Kim Jong-il died and his statue was added.