The world's most haunted island sells for $704,000
Last month, we told you about a haunted Italian island off Venice that was on the auction block. Well, you missed out -- it's officially been sold.
The leasing rights (but not the actual land itself) to Poveglia -- abandoned since the late 1960s and at one time a quarantine for people with the plague -- were purchased by Luigi Brugnaro for $704,000 (513,000 euros). The wealthy owner of a recruitment agency outbid the Poveglia Association, a local organization determined to keep the island free from commercial development, which raised/bid 440,000 euros. They had proposed building a cafe and sailing store on the property, as well as offering archaeological courses. The state agency in charge of the auction has 30 days to decide whether they'll accept Brugnaro's offer.
While Brugnaro indicated through a spokesman that he doesn't have any set plans for the island yet (the Italian government wants a luxe resort to lure tourists), he does intend to pump 20 million euros into revamping Poveglia's crumbling buildings, a few of which you can see in all their decayed glory right here.
Check out a couple more photos of the island below.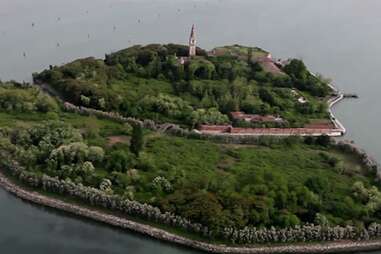 Chloe Pantazi is an editorial assistant on Thrillist's travel team. She's totally not afraid of this creepy island. Follow her under a blanket on Twitter at @ChloePantazi.