The world's tallest waterslide is higher than Niagara Falls
Kansas City not on your destination bucket list? Nor ours. Until now, at least, as they're using the "bigger is better" formula to lure us in with the world's tallest, steepest, wildest water slide. Verrückt, which means "insane" in German, opens this spring at the Schlitterbahn Kansas City Waterpark, and will enter the record books when it does.
What makes Verrückt so verrückt? It's three feet higher than Niagara Falls. It's steep enough to combine a massive drop with an uphill blast over 50" high. All told it's 17 stories -- so after climbing 264 steps, you and three friends can simultaneously kamikaze at speeds of around 65mph.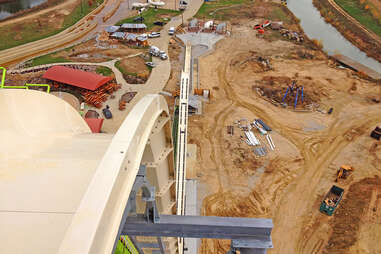 Since people look like tiny ants from up here, getting on this ride means facing your mortality.
Don't believe the hype? Check out this terrifying video.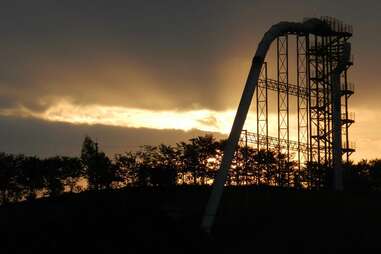 In second place
For the sake of comparison, this is the Kilimanjaro at Águas Quentes Country Club in Rio de Janeiro, Brazil. At 163.9ft, this bad boy's held the Guinness distinction for tallest water slide since 2002 (Verrückt's planning to top out at 170ft).
And in third
Looks terrifying, eh? (You basically spend most of the drop suspended in mid-air.) And yet, the Insano (I think these guys are trying to tell us something), at Beach Park in Fortaleza, Brazil, only clocks in at 134.5ft.

Oh, you scrolled all the way down (someone's between rounds of Candy Crush)? This gratuitous ad for the Insano should give you an idea of just how misguided your upcoming plans to hit Kansas City may actually be.
Sophie-Claire Hoeller is Thrillist's über-efficient German associate travel editor. She's had frequent flyer status ever since her mother gave birth to her at a Lufthansa terminal. Follow her adventures @Sohostyle.