Forget everything you know about the water parks of your youth, 'cause the days of lame slip 'n slides and ho-hum lazy rivers are long gone. Today's water worlds are extreme -- as in 10ft waves, vast indoor beaches, and terrifying slides that seemingly defy the laws of physics.
But which ones are worth planning a vacation around? Here are 10 of the largest, longest, and wildest water parks in the world.
Scariest slide: At 14 stories high, Insano is listed in the Guinness Book of World Records as the world's tallest water slide. Terrifying, but quick, it reaches speeds of up to 65mph.
Why it's worth the visit: As the largest water park in South America, BP offers a whole Disney World's worth of activities. Not only can you swim in the real ocean (as it's located seaside), but there are even on-site hotels so you don't have to leave the property.

Scariest slide: After climbing 120ft in the air, Summit Plummet shoots you straight down a vertical drop at speeds up to 60mph. There's even a digital speedometer to clock your top speed.
Why it's worth the visit: Named for an apparent freak snowstorm that hit Florida years ago, Blizzard Beach is designed to evoke a sense of snow in the sun. Chairlifts bring you to the top of Mount Gushmore, where you can race a friend on the Downhill Double Dipper. BB also boasts Teamboat Springs, the world's longest family white-water raft ride.

Best slide: The Aqualoop is the first ever 360-degree looped water slide. Not to mention, it's the fourth fastest slide in Europe and takes about seven seconds to complete.
Why it's worth the visit: Honestly, where else can you find a water park and wellness center in the same complex? Visitors can enjoy a total of 30 outdoor and indoor pools filled with black thermal mineral water, which is said to have special healing powers.
Scariest slide: Prepare for the ultimate wedgie, because the Wildebeest is considered a water coaster, not just a slide -- it's the longest in the world and lasts a whopping two-and-a-half minutes.
Why it's worth the visit: Other than the fact that it's in Indiana, you mean? Not only is the water coaster pretty awesome, but the Bakuli -- where you drop dizzyingly into a giant bowl -- will ensure you won't know which way is up when it's over. Also, there's a connected theme park that rocks the number one wooden roller coaster in America. Just saying.
Best slide: The almost 90ft-high tower actually features four different water slides, ranging from a leisurely family ride to a high-speed turbo chute that hits speeds of up to 40mph.
Why it's worth the visit: Warm weather, white sand beaches, palm trees. Sounds like a day in Hawaii, right? Try the middle of Germany. In an old airship hangar. Yup, this is the world's largest indoor beach. Hit up the spa, sip on a mai tai, and soak up the sun, even in the dead of winter. Take the full tour, right here.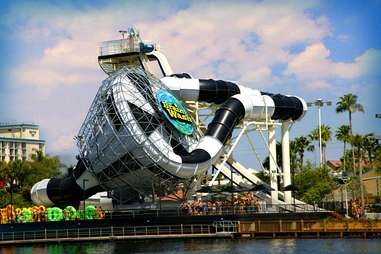 Scariest slide: The Brain Wash is a completely enclosed six-story extreme tube ride/hypnotic slide that drops riders into a 65ft domed funnel.
Why it's worth the visit: Wet 'n Wild has more multi-person rides than any other water park in the world. There's a massive (17,000sqft) wave pool, a lake for wake/paddle boarding, and even a 1970s-inspired water ride called the Disco H20.

Scariest slide: "Don't look down" is the only advice given when standing atop the Tower of Power. The 90ft vertical drop will actually leave you feeling weightless at times.
Why it's worth the visit: This Thai-themed Spanish water park not only offers a Bangkok-like floating market and sea lion beach, but also a pool where you can take actual surf lessons on waves up to nine feet high.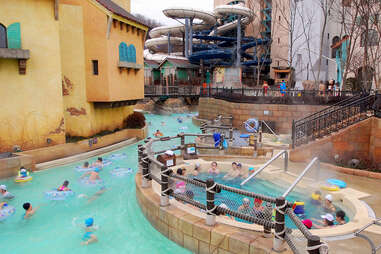 Scariest slide: Despite a name that sounds all innocent-like, the 85ft-tall Water Bobsleigh is pure evil. Also, there's three of them.
Why it's worth the visit: Not only are there six distinct areas offering something for every water enthusiast, but there's also the world's longest lazy river, The Wild River (which, interestingly enough, is not said lazy river but a ride where water surges push you up a 62ft hill), and even a spa, salt sauna, and nap room.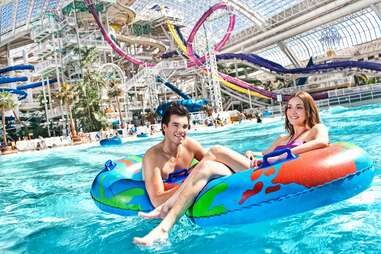 Scariest slide: Once inside the Cyclone's glass-enclosed capsule, the trap door opens and sliders fall down a straight drop before hitting the gravity-defying loop, eventually ending up at the splashdown chute.
Why it's worth the visit: After a quick stop at Hugo Boss or Chess King (the park's located inside the The West Edmonton Mall), you can actually jump in the world's largest indoor wave pool (or ride a zipline clear across it).

Scariest slide: The 105ft Jumeirah Sceirah. After climbing to the top, riders are instructed to cross their arms and legs before the bottom drops out and they're sent plummeting at 50mph.
Why it's worth the visit: Not only does Wild Wadi boast 30 rides (including a series of Master Blaster water coasters), but it also features two artificial surfing machines that you may or may not recognize from The Amazing Race Australia 2. Guessing not.