Next time you're watching the cancellation station (better known as the terminal information board), cross your fingers and pray that you just so happen to be at the same spot as one of these 10 best airport bars in the world, where instead of finishing your latest harlequin sensation, you can de-ice your wings with a little liquid pick-me-up poolside, listen to live music, or land a craft cocktail.
Eyecon, Copenhagen
The minimalist-style two-story Eyecon in Copenhagen offers up Scandinavian food & drink, including the "Taste of Denmark": an open prawn sandwich and a glass of ice cold beer for DKK 99 (or just under 20 greenbacks, which by airport/Scandi standards is a deal).
O2 Bar, Las Vegas
Terminals C and D at the Vegas International Airport are home to the O2 Oxygen bars, where you can pass the time by reducing a hangover with oxygen tubes of scented water. That's correct: you will pay money for air and water, and you will like it.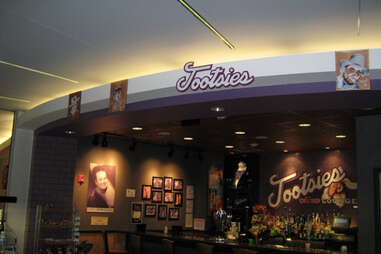 Of course the Nashville International Airport has live country and honky-tonk; Tootsies Orchid lounge puts together some of the best live entertainment you'll ever see at an airport, outside of the TSA line.
Seating around 600 guests, Europe's largest roofed-in beer garden is actually located inside the Munich Airport Center. Relax amongst real chestnut and maple trees while taking in steins of beer and live polka. Live polka!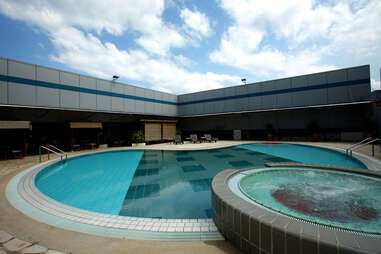 Take a quick dip between connections at Changi Airport in Singapore, in its freaking swimming pool, and take advantage of its fully stocked poolside bar. Oh, or miss your flight completely when you doze off in the jacuzzi.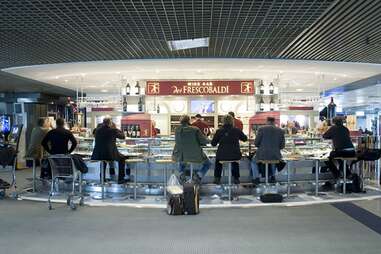 The family has been in the wine business for over 700 years. 700 years. Take a second between flights to pull up a stool in Rome's Leonardo da Vinci–Fiumicino Airport and grab a glass of Brunello to pair with your antipasto.
"Southernational" cuisine isn't easy to come by -- that is, unless you're passing through Atlanta and pop into "One Flew South". Imbibe some craft cocktails inspired by the "Salute to Aeromarine", which pays homage to the Aeromarine Airways that took booze-hounds from Miami to Nassau and Havana so they could drink legally during the Prohibition era.
Center Bar, Zurich
Zurich. It already has the word "rich" in it. And guess what: you're gonna feel baller at this sweet-ass Swiss uber-Euro bar that took home the prize for "Best Airport Bar" in the Airport Food and Beverage Awards.
Biergarten, New York City
Hunker down in LaGuardia International's Terminal C at the Biergarten, with a beer lineup arranged by Brooklyn Brewery's Garrett Oliver featuring brews like Greenport Black Duck Porter, Bronx Pale Ale, and Ommegang Hennepin. If you need something to soak up the booze, the menu's got five different Deutschland sausages to choose from.
Two locations in the Portland International Airport. They say it's "a great way to relax before your flight or unwind after your latest jaunt around the world." We say it's a great way to bar-hop, slamming their Workhorse IPA and Space Stout before your connecting flight.