Hike, Boat, or Helicopter to the World's Most Remote Vacation Destinations
There's beauty in the unattainable.
Blame it on the pandemic, the recent rise in overtourism, or a growing desire to kick back and unplug: It's no longer cool to favor convenience. Whether this means taking a week-long boat ride to a remote volcanic island or hiking up the Himalayas in search of a Buddhist monastery, travelers are prioritizing treks to the farthest corners of the world, places so infrequently glimpsed by visitors that it makes all the effort it took to get there well worth it.
In fact, according to a 2023 poll by Booking.com, 73% of travelers are embracing "out of comfort zone" vacations, and 55% want to travel off-grid. And it makes sense why—in the age of digital burnout, we're seeking out places where work emails can ever reach us. So here are the best destinations for a WiFi-free adventure, perfect for seeking thrills, testing your limits, and kissing the rest of the world goodbye.
Svalbard, Norway
Located just between Norway and the North Pole, Svalbard is one of the world's northernmost inhabited island archipelagos, and home to the world's northernmost permanent settlement, Longyearbyen (population: 2,500). Board a flight from Oslo or hop aboard the Svalbard Express to experience the frosty destination's seven national parks, dozens of wildlife preserves, and all kinds of snowy activities, from dog sledding to ice fishing.
You might not get an hour of sunlight in the winter, but you will be able to experience the northern lights at lunchtime. And it all becomes even more magical during the summers, when the glaciers reach their ultimate glow beneath 24 hours of pure sunlight. The islands are inhabited by all kinds of furry animals year-round, like arctic foxes and reindeers. But here, the polar bear is king—and for this reason, it's imperative that you be accompanied by a local guide whenever leaving the settlement. Certainly adds to the intrigue, don't you think?
Tristan da Cunha, British Overseas Territory
To your west, the closest inhabited landmass sits 2,000 miles away. To your east, it's a much more reasonable 1,500 miles before you'd get to another town. The south? That's Antarctica. Oh, and there's some more tiny islands about 2,300 miles north. Welcome to the archipelago of Tristan da Cuhna, home to a volcano that last erupted in 1961 as well as a mere 230 people. Unlike its counterpart Saint Helena, which comes with its own (admittedly modest) tourism industry, Tristan da Cunha is for those intent on crafting their own adventure.
The terrain is so rocky that there's never been a way for them to safely build an airstrip. Thus, Tristan da Cunha can only be reached by taking a six-day boat ride from Cape Town, some 1,750 miles to the east. Plus, you'd also need to get approval from a member of the Island Council prior to visiting. But the payoff is worth it: A tranquil community, a swarming of rockhopper penguins, and a heart-shaped crater lake—the OG Love Island.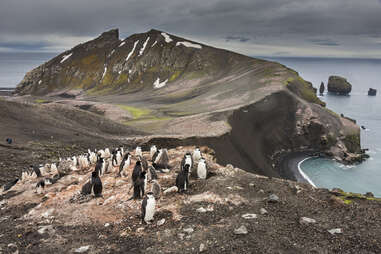 Deception Island, Antarctica
Located off the South Shetland Islands in the Antarctic Peninsula, Deception plays host to just a handful of research scientists and a few bold vacationers at any given time. A haven for whalers throughout the 18th and 19th centuries, the area is stocked with a beautiful natural port and heaps of freshwater in the midst of one of the world's most inhospitable oceans. But Deception Island is, you know, deceiving—because it's not an island. It's actually the caldera of a very active volcano.
Deception Island (which sounds a lot like a Bond villain's secret lair) got its name when a plane crashed here after having misjudged the approaching island's distance—allegedly, its surface appears solid from above, but in fact it's entirely hollowed out (hence, the whole caldera thing). Why visit? Well, for one, it's literally at the bottom of the earth (your 10 days of PTO will be gone before you know it), and offers primo wildlife viewing if you're into adorable seals and frolicking penguins. You can also take a dip in Pendulum Cove's volcanically-heated waters, and gander at the ruins left behind by the whaling communities of yesteryear. Also, bragging rights.
To get to Deception Island, you'll need to board a flight to the small Argentine village of Ushuiaia. There, a shuttle will take you to the port, at which point you'll board a ship to Antarctica, then transfer to a smaller boat bound for DI's trickster shores. Just make sure the captain keeps his eyes trained on the firm ground ahead.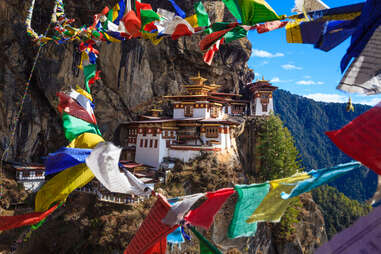 Paro Taktsang, Bhutan
In March of 2022, Bhutan re-opened its historic Trans Bhutan Trail, a 250-mile footpath connecting the western town of Haa, near the border of Tibet, to the eastern Trashigang, near the Indian border. Once used by the area's traditional trail runners, the path fell out of use in the 1960s when Bhutan introduced its national road system. Hiking the trail in its entirety can take an entire month—a journey that'll guide you through historic sites, rugged mountain passes, and dazzling rhododendron forests.
Visitors are drawn to the Paro Taktsang Monastery, otherwise known as Tiger's Nest, stashed on the side of a cliff 3,000 meters above the Paro Valley. The legend goes that Guru Rinpoche, the founder of Tibetan Buddhism, was called to Bhutan to subdue some troublesome demons. He flew from Tibet to Bhutan on the back of a tigress and landed in a cave. There, he spent the next three years, three months, three weeks, and three days meditating and performing rituals to cast the demons away. Hence the name "Tiger's Nest".
These days, you don't have to bum a ride on the back of a tigress to reach the Paro Valley. Instead, you can now board a much more comfortable airplane and fly into Paro International Airport. There are direct flights out of several major Indian cities, including Delhi, Kolkata, Gaya, Siliguri (West Bengal), and Guwahati (Assam), as well as from Singapore, Bangkok, Bangladesh, and Kathmandu via Bhutan's Druk Air. Driving, of course, is the more scenic option, with the most direct route spanning about four hours from the West Bengal border town of Jaigaon via the Phuentsholing-Thimphu Highway. However, for the real show, you'll have to hoof it—the breathtaking monastery itself is only accessible via a 10-mile hike up the mountainside.
Ciudad Perdida, Colombia
Ciudad Perdida, Spanish for "Lost City," is an ancient site in the Sierra Nevada Mountains, a few hours-drive outside the city of Santa Marta. And the only way to see this archaeological wonder is by climbing up a 1,200-step stone staircase that weaves through dense jungle along the Buritaca River. The daunting, Stairmaster-from-hell trek takes—get this—an average of four days to complete.
Built by the Tairona people around 800 CE, it beats Machu Picchu by a whopping 650 years. The area was abandoned during the Spanish Conquest then "rediscovered" by accident in the 1970s by a group of local treasure looters. (Indigenous groups, including the Arhuaco, Kogis, and Wiwas, were always aware of its existence—they just preferred to keep it a secret.) Made up of almost 170 individual terraces built over 30 hectares, this high-in-the-hills city was likely the epicenter of a network of neighboring villages, and if you visit it today, you'll learn all about its native history with help from a local guide. Bonus: You'll never have to stick it out through another leg day again.
Nunavut, Canada
There are no roads leading to the arctic Canadian archipelago of Nunavut, so your only options for entry are by air or by sea. The distant province is the size of Western Europe and comprises about one fifth of the landmass of Canada, though it's sparsely populated with only 33,330 people, 84% of which are Inuit. That's one person for every 25 square miles of pristine wilderness.
Here, polar activities abound, especially at Auyuittuq National Park, where you can hike your way around glistening glaciers and awe-inspiring fjords. The park's famous and aptly named Mount Thor boasts the world's highest vertical drop, at 1250 meters. For some animal spotting, canoe through the muskoxen-laden Thelon Wildlife Sanctuary, or say hello to narwhals at Pond Inlet. On Baffin Island, you can immerse yourself in Inuit culture, admiring stone carvings or enjoying some freshly-caught arctic char.
To drop in, book one of the regularly scheduled flights out of Ottawa, Ontario to YAB Airport, about 3.5 miles from the central town of Arctic Bay. And while there's no ferry service, you can access Nunavut via certain cruise ships during open water season (July–September). If that's your thing, look for cruise lines advertising Northwest Passage, Hudson Bay, and High Arctic routes.
Ittoqqortoormiit, Greenland
Ittoqqortoormiit translates to "Big-House Dwellers" in English, though upon arrival, you might be disappointed by the size of said abodes (though we hear the Ittoqqortoormiit Guest House is very nice). What you will find, however, are some pretty fantastic fjords—the world's longest, in fact. The tiny island—population 450—offers everything an outdoorsy traveler would need for an ideal multi-day adventure: dog sledding, sailing, skiing through June, and even polar bear hunting, if you so dare (that's how the locals make a living). Basically, the "in my absence please contact" person listed on your out-of-office email is going to hate you.
To get there, make your way to the Icelandic town of Akureyri and catch a flight to Nerlerit Inaat (Constable Point) in Greenland. In the winter, it's just another 25-mile helicopter or snowmobile jaunt to Ittoqqortoormiit, though in the summer, boats and expedition cruises are able to navigate the icy waters.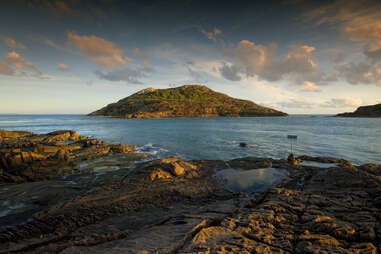 Cape York, Australia
Boating some of the most sparsely populated land in one of the world's most sparsely populated countries, Cape York is located at the very tip of that big pointy bit sticking out of far northeastern Australia. The Cape is home to just 16,929 people spread out over 77,000 square miles of rainforest, savanna, and more biomes than you can shake an Earth Science textbook at. Dubbed "Queensland's final frontier," the area has limited phone reception and expensive pay-per-use WiFi, so you can really focus on all those peaceful waterfalls and captivating shorelines.
The best (and most beautiful) way to reach Cape York is by taking a two- to three-day road trip from outdoorsy Cairns (Gimuy), home to the Great Barrier Reef. A sturdy four-wheel-drive vehicle is a must, as you'll be navigating mostly unpaved backroads. Along the way, you'll pass by Daintree (a.k.a. David Attenborough's favorite National Park), as well as some other must-sees like historic Cooktown and Rinyirru (Lakefield) National Park. And you simply can't leave without snapping a picture in front of the Cape's famous sign declaring, "You Are Standing at The Northernmost Point of the Australian Continent."
Pitcairn, Pitcairn Islands
A tiny spec of volcanic splendor in the South Pacific, this British Overseas Territory might be most famous for its very founding. On April 28, 1789, a band of unhappy crewman staged a mutiny on the HMS Bounty, forcing captain Lieutenant William Bligh along with 18 loyalists to flee on what amounted to a dinghy in the open ocean (they all somehow survived the subsequent 4000-mile trip back, but that's another story). Led by a British sailor named Fletcher Christian, the remaining nine mutineers plus 17 Tahitian crew hands and one baby girl eventually took refuge on the then-uninhabited island of Pitcairn in 1790. There, surrounded by azure blue waters and rich, fertile soil, they fished, farmed, and successfully evaded all of England's attempts to bring them to justice. And while social tensions—not to mention a nasty bout of alcoholism, murder, and disease—led to a quick demise for many settlers, a handful stayed on to create what's a vibrant and deeply rooted local community.
Fast-forward to 2023 and Pitcairn, population 47, is Oceania's most sparsely populated country. It's also damn hard to get to, its exterior dominated by craggy cliffs with just one place to dock a longboat (dubbed The Landing, the rough slip sits at the bottom of a road aptly called "The Hill of Difficulty"). There's no airport or air strip, and a small network of roads snakes around capital city Adamston, connecting scenic lookouts, historical markers, a school, a museum, a police station, a post office, a medical center, a couple of guesthouses, a cafe, and a church set up by Seventh Day Adventists, the only missionaries who successfully made it to shore.
That being said, if you can make it out there, the people of Pitcairn will assuredly welcome you with open arms. In recent years, they've leaned into the whole tourism thing, encouraging travelers to hitch a ride on a passenger-grade supply ship that makes regular trips to the island from French Polynesia throughout the year. That's not to say it's an easy journey, as making your way to the launch point in Mangareva involves either a 12-day freight sail from New Zealand or navigating a series of small planes and boat transfers from Tahiti. But one look at Pitcairn's majestic hillsides, blanketed in lush greenery and crashing into the ocean's lapping, white-capped waves below, and you'll be glad you made the effort.