You don't have to be a paparazzi-dodging celeb or on-the-lam introvert to appreciate a vacation that's totally off the grid. Remote resorts reachable by puddle jumper, or pontoon boat, or pack mule, offer private beaches, Chi-harnassing solitude, and gorgeous exotic locales, not to mention riveting travel tales about, well, taking puddle jumpers to pontoon boats to pack mules. And then still not being there! They may not be cheap, but here are nine of the world's most isolated luxe resorts.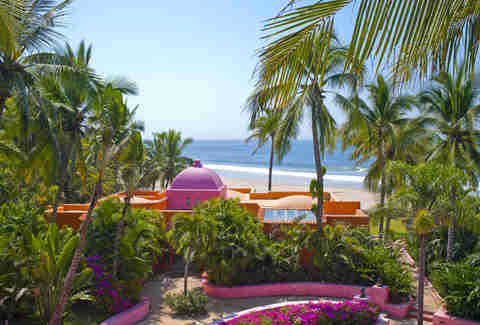 This 17-room boutique set on 1,500 acres of Mexican coast is a solid 2.5-hour drive from the airport at Puerto Vallarta, and 1.5 hours from Manzanillo. Popular as a beach playground for the Hollywood set, some book the entire property for the holidays. And with good reason: it boasts cliffside views, isolated beaches, and lagoons, but thankfully lacks cell phone reception.
8. Amanoi -- Vinh Hy Bay, Vietnam
While Aman Resorts is well-known for its remote properties, its resort in Vietnam is the one that catches everyone's attention. An hour from the airport, Amanoi is tucked away in a national park that's loaded with "ahhh"-worthy views and 31 luxury hillside pavilions -- complete with outdoor decks, king-sized beds, and floor-to-ceiling windows. If that's not enough, there're also private swimming pools and a 20,000sqft spa at the foot of a sprawling, lotus-filled lake.
Nestled at the end of a 3hr coastal drive considered by many to be the most scenic route in the world, the Hawaiian town of Hana is said to be "old school", as in authentic luaus and locals walking around barefoot. Travaasa Hana (formerly Hotel Hana Maui) is equally retro, providing no TVs, telephones, or other distracting electronics; every room simply gets one Commodore 64. JK! That'd be crazy, right?
Owned by director Francis Ford Coppola, this 20-villa tropical resort, accessed by puddle jumper or private jet (it has it's own landing strip!), is surrounded by rainforest, and boasts riverfront cabanas, organic gardens, jungle tours, and a waterfall spa. Basically, it'll make you an offer you can't refuse.
5. Islas Secas -- Chiriqui, Panama
If there's a spot to hide from the law, Islas Secas is it. To get here, you have to fly to Panama International Airport, transfer to a regional flight, jump in the car for a 1hr cruise down the coast, then board a boat for a 25mi ferry ride to the island itself. It's worth it, though, as this all-inclusive private resort sits on "16 pristine, jungle-clad volcanic islands", and offers only seven fancy casitas, which, if you do the math, means there're no more than 14 guests at any one time.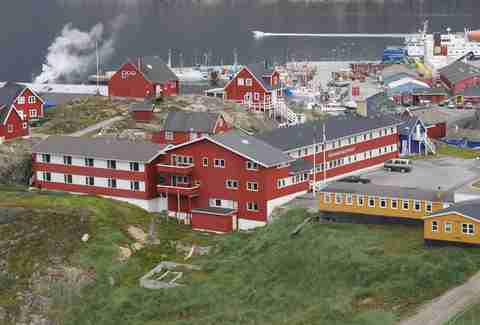 Located not far from the Arctic Circle, on the outskirts of the town of Sisimiut, this hotel is so remote it requires a three-hour snowmobile ride from the airport to reach. Also, high temps in Sisimiut in the summer reach a balmy 18 degrees Fahrenheit. Pack an extra fleece?
While there's no shortage of private islands in the Bahamas, there are definitely a few standouts -- and Kamalame is one of them. After arriving by ferry or sea plane, guests have access to 96 sparsely populated acres "of swaying palms and flowering tropical foliage", a tiki bar, and "3mi of deserted, white-sand beach, and colorful coral gardens". Oh yea, and there's an overwater spa, because underwater spas are so '80s.
2. Mombo Camp -- Moremi Game Reserve, Botswana
Safaris tend to be in the middle of nowhere, and Mambo Camp is no different. Located within the Moremi Game Reserve in Botswana, this nine-room, big-game camp is accessed by a small local airstrip. It's worth the trek though, as guests are often treated to rhinos -- not to mention elephants, hyenas, and leopards -- strolling right by their luxury tents. Totally fun, and not at all frightening.
Straddling the borders of Burma, Laos, and Thailand, check-in at this rustic glamping retreat in the jungle requires -- assuming you don't rock your own helicopter -- an hour-long drive and a brief long-tail boat ride down the Ruak River. The area's famous for its mahout elephant training camps, and guests -- after settling into luxury tents -- are provided traditional attire and mounted on elephants (sans saddle or basket, mind you) as they embark on a trek through the jungle wilderness.