The 20 Worst Stadiums to Watch a College Football Game
Nostalgic for that four-year vacation called 'college'? Us too, which is why we're bringing back College Week. Double-sink all of this week's college goodness, all week, right here.
At some point in your college football fan career, you've undoubtedly been sitting in a near-empty stadium on a rainy, possibly bone-chillingly cold Saturday afternoon watching a terrible team get destroyed by the likes of UMass and said to yourself "This is the worst." But is it?
There are actually a lot of terrible places to watch college football in this great nation of ours, which is why we set out to determine which stadiums/colleges are truly the kings of awful.
How'd we do it? Simple. Our crack data team used home win-loss records from 2009-2014, percentages of empty seats, stadium size, location, and stadium ranking from the good folks at stadiumjourney.com, then crunched the numbers to determine the 20 worst atmospheres in FBS college football.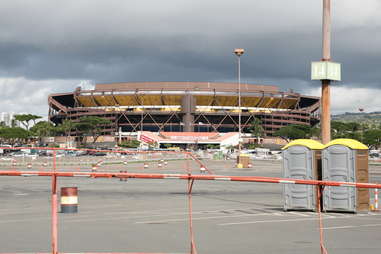 20. University of Hawaii
Aloha Stadium
Put this junk heap of a football stadium anywhere but Honolulu, and the Warriors are probably at the top of this list. To prove the point, the NFL has desperately been trying to move the Pro Bowl out of the dilapidated Aloha Stadium for years. Add in a fan base known for brutal assaults on visiting fans, an almost-dead football program, and five home wins in the last three years, and you can see how a place in paradise could actually make this list.
19. San Diego State
Qualcomm Stadium
The Aztecs haven't been relevant since Marshall Faulk was running the ball, and even though spending an afternoon outside in San Diego is never a bad time, there are probably 14 million better ways to spend it than watching the action at Qualcomm. Most San Diegans agree, as the 70,000-seat stadium is typically half-empty on game day -- only 33,224 fans/game (on average) showed up last year.
18. Miami
SunLife Stadium
Miami claims to have an average attendance of over 50,000, but university president Donna Shalala and company must be counting seagulls and cockroaches; if you've ever watched a UM game on TV, the orange seats outnumber the fans two to one. Add in an apathetic sports city, a small student body who'd rather be tanning, and a stadium 15 miles from campus with absolutely no shade, and you realize the irrevocable damage Donna did to the program when she sold out the team and moved them from the Orange Bowl.
17. Northwestern
Ryan Field
As the lone Big 10 school with a home crowd that isn't much up for embracing the Midwestern fall (or maybe they just prefer the library over the stadium), the octogenarian-and-seldom-renovated Ryan Field has become a favorite destination for visiting fans. Which makes it sorta like going to any sporting event in South Florida if a team from the northeast is playing -- except, you know, it's freezing cold.
16. Duke
Wallace Wade Stadium
Yeah, they've had a pretty good home record the last couple of years (which saves them from being higher on this list), but they still play in the smallest stadium in the ACC (which like your high school field, is surrounded by the track), and it's rarely occupied.
15. Louisiana-Lafayette
Cajun Field
While ULL's been playing better over the past couple years, the average attendance remains just under 30,000 (admittedly, a better mark than other similar schools), and they have a small stadium in a remote locale, which makes for a very uninspiring game day atmosphere.
14. Buffalo
UB Stadium
When your average attendance is just a smidge over 20,000, the most sensible thing to do is EXPAND the capacity of your stadium, right? Well, that's the logic in Buffalo anyway, where a stadium that's already set back by a running track added end zone bleachers in the late '90s to make those cold, empty November afternoons in Western New York feel just THAT much more desolate.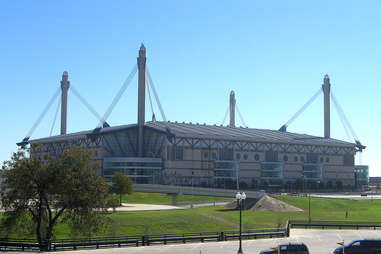 13. UT - San Antonio
The Alamodome
Saying your attendance is good by Conference USA standards is kinda like saying you got the best education in Arkansas. Yes, the fledgling Roadrunners have a watchable 5-6 record over their two-plus seasons in existence, and yes, they boast crowd numbers near the top on Conference USA. But they still draw under 30k in the cavernous Alamodome, a stadium built to court the NFL but rejected like an early-round contestant on The Bachelor.
12. Washington State
Martin Stadium
Imagine all the scenic beauty of Central Nevada. Now throw in bone-chilling winds from Chicago and a New England blizzard, and you've got the Palouse in eastern Washington State, perhaps the most underratedly awful region in America and the last place anyone wants to spend four hours outside in late November. While weather like that might be tolerable in the Big 10 (since they have stadiums with more than 32,000 seats), in Pullman it just makes watching a team that's won 11 home games in five years that much more miserable.
11. Rice
Rice Stadium
Say what you will about Rice Stadium, it's a great metaphor for the city it sits in: Unexpectedly large, ignored by anyone when discussing "major" places, and an altogether unpleasant place to be for more than an hour. Also, until last year, Rice football has been terrible. Watching the UT game at any random bar is a far more inviting experience than an afternoon spent in this 70,000 seat behemoth.
10. Louisiana - Monroe
Malone Stadium
Once you get outside New Orleans, Louisiana is basically Mississippi with cooler accents -- which pretty much means there's nothing to do, except watch football in the fall. And yet ULM STILL only draws just over 17,000 fans per game. The team isn't terrible at home, but sitting in a stadium that hasn't seen an improvement in 25 years, with thousands of people who couldn't find anything else to do, isn't exactly the stuff of tear-jerking football nostalgia.
9. Central Michigan
Kelly/Shorts Stadium
If you had to say with a straight face that you were going to watch football in a place that sounded like a piece of ladies active wear, you probably wouldn't go to many games either. Just speculating. Either way, the people of Mount Pleasant stay home in droves, as watching a barely .500 team on a cold Michigan Saturday (with fewer than the FBS minimum 15,000 fans per game) sounds far less appealing that catching the Spartans or Wolverines on TV.
8. North Texas
Apogee Stadium
Congratulations, North Texas, on having the first completely LEED certified stadium… in a state full of people who make money off of oil. This would be like the Denver police department bragging about their highly effective drug dogs. It's no wonder only 20,000 show up to watch the Mean Green, since "Mean" is probably a word used to describe anything "green" in North Texas. The .451 winning percentage since 2009 probably doesn't help either.
7. Colorado State
Sonny Lubick Field
There was a time when CSU was up there with rival Colorado for the best football program in the state. Of course, there was also a time when we weren't sure about VHS or Beta. And like those video platforms, neither has been relevant since the 90s; CSU, however, has barely even been heard from. That's why you'll only find about half of the 34,000 eats filled at this big cement block in the middle of the mountains. Presumably because fans would rather stay home and watch BluRay.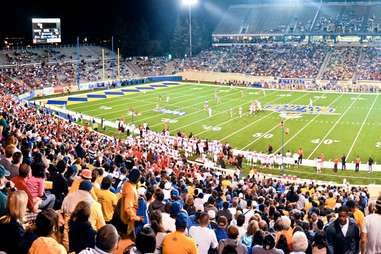 6. San Jose State
Spartan Stadium
San Jose is like the Houston of California: It's the third biggest city in the nation's largest state, and yet you still can't name a single good thing that's come out of there. College football included, where the perpetually mediocre Spartans play .500 ball in front of fewer people than you'll find on an employee shuttle bus to Google Headquarters.
5. Middle Tennessee State
Johnny "Red" Floyd Stadium
Someone in the mid-90s decided to take all that money the Blue Raiders received for going to SEC schools and getting beaten by 247 points and use it to expand this place to its current 30,788 capacity. We have to guess that person was Ray Kinsella, because a mysterious whispering voice would be the only thing saying a program known more for its away games than its home ones needed an upgrade. They might have built it, but NO ONE came.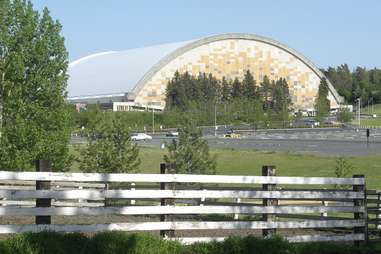 4. Idaho
Kibbie Dome
To the untrained eye, this half-cylinder in the middle of Idaho's section of the Palouse looks like a snow-blown barn or giant toppled-over grain silo. Both of which would probably be better uses than its current one, as a football stadium where the home team has won a whopping three games since 2010. At least the smallest stadium in FBS is indoors. Attendance is a mere 14,744 a game -- actually below league minimum standards -- so staying in the FBS might be as likely as someone being able to locate Moscow, ID, on a map.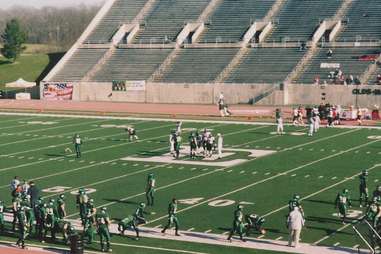 3. Eastern Michigan
Rynearson Stadium
Any stadium with a track that sits between the field and the stands is going to have two strikes against it right from the get-go. But when the home team can only manage nine wins in five years, the stands are made of concrete and don't exactly stay toasty, and you're in Michigan for the late fall, well, it's no wonder they're only filling two-thirds of their 30,000 seats.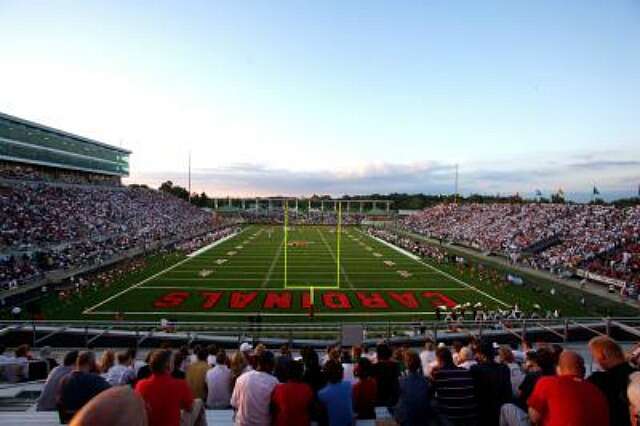 2. Ball State
Scheumann Stadium
David Letterman probably didn't know people would start making lists of terrible college football schools when he decided to start making lists funny, but now his alma mater sits right near the top of this one. After a dreadful 8,947 average attendance in 2010, last year's 6-0 home season got Ball State up to around 15k fans per game. Regardless, the school's still in Muncie, Indiana -- don't look for it to drop off this list anytime soon.
1. Akron
InfoCision Stadium
Even if they could somehow convince LeBron to play for his REAL hometown team, the Zips would have, hands down, the worst atmosphere in college football. First, they're in Northeastern Ohio; which should pretty much end the conversation right there. But add in a 10-21 record and a stadium ranked 6th from the bottom (despite its fancy corporate-sponsored name), and it's a pretty safe bet the Cavs will average more fans this year than Akron football.
Sign up here for our daily Thrillist email, and get your fix of the best in food/drink/fun.