The Flat-Out Ugliest State Capitols in the Country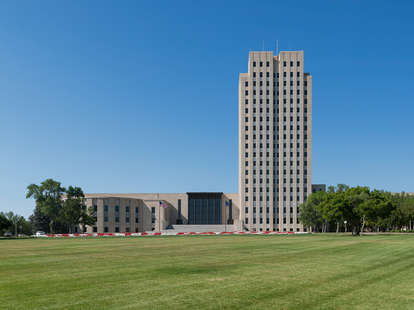 There's no doubt that America has some of the most beautiful capitol buildings in the world. For instance, Boston's delicately gilded dome, nestled in stark contrast to the red brick and Mansard roofs of Beacon Hill; Honolulu's pitch-perfect blend of the tropical and the official; the Thomas Jefferson-commissioned Roman revivalist statehouse in Richmond (it was Jefferson's classy way of thumbing his nose at the Georgian aesthetic dominant in England at the time).
But we're not here to talk about those, because this country is also home to some of the downright ugliest government buildings ever conceived. These are the state capitols you don't want to set eyes on, unless of course you're sitting in the governor's office.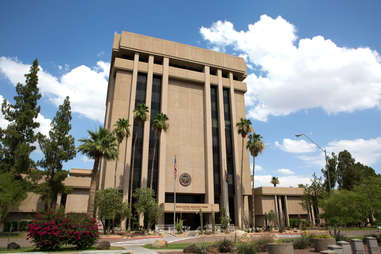 Arizona
I've worked in my fair share of sterile, brutalist government buildings, but Arizona's state capitol building in downtown Phoenix looks like it was lifted from Bratislava circa 1983. In one of the more embarrassing anecdotes of government malfeasance, Arizona actually sold off the state capitol and several other buildings in the complex to private interests back in 2009. That, uh, didn't turn out to be such a smart idea, and the state has been trying to buy them back for the better part of a decade.
Things could have been so much different for the government complex, as well. Back in the 1950s, state lawmakers turned down the chance to transform the government mall into a manicured oasis in the name of fiscal responsibility. The master plan's architect? None other than Frank Lloyd Wright, who was keen on adding gardens, reflecting pools, and fountains. They built the Soviet-style towers a few years after turning down the architectural icon.
New Mexico
The architects behind the Land of Enchantment's startlingly rotund statehouse in Santa Fe sure ran out of enchantment during the design process, am I right? Nicknamed the Roundhouse for obvious reasons, architect W.C. Kruger attempted to channel and honor the state's Native American heritage by drawing inspiration from the Zia Sun Symbol. Unfortunately for Kruger, the symbol works a hell of a lot better on the state's flag than it does in brick-and-mortar, where it has the unfortunate distinction of looking equal parts depressing high school and third tier rodeo arena. It's the only round capitol building in the country. Can't imagine why.
Alaska
"Unassuming" doesn't even begin to describe the Alaska State Capitol building. If someone told me it was selected by a blindfolded child randomly pointing at buildings, I would definitely believe it. Officials in Juneau held a design competition to replace the current capitol building but ran out of money before they could actually break ground. That's probably just as well, since the winning design from the Santa Monica-based firm Morphosis was met with a lot of groans from locals who thought the giant-alien-egg-wrapped-in-glass-and-steel aesthetic didn't really mesh with the rustic backdrop of Alaska. (A more traditional redesign by local architect Marianne Cusato garnered a lot of positive attention from the Alaskan press.)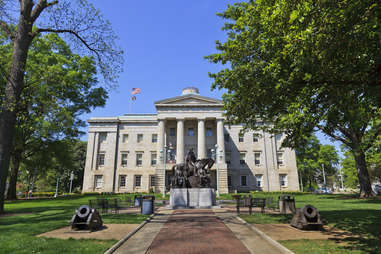 North Carolina
Maybe it's the Greek columns and generic statues of marginal historical figures on horseback, but the North Carolina State Capitol building in Raleigh really reminds me of a college admissions office. (Sources are telling me that the horsey statue is actually of the three North Carolina-born presidents: Andrew Jackson, James K. Polk, and Andrew Johnson -- a pretty bummy roster of presidents. The statue should obviously be replaced by one of Christian Laettner. People would come from miles around to deface it.) The building's main shortcoming is its anonymity: This could be the city hall of any small town anywhere in America but sits blandly in the middle of downtown Raleigh. Turn it into a library and move the governor to the Dean Dome!
North Dakota
I'm a sucker for art deco architecture, but there is something so baldly bureaucratic about the capitol building in Bismarck. Designed by Joseph Bell DeRemer and W. F. Kurke, it's the centerpiece of North Dakota's state government compound and nicknamed Skyscraper on the Prairie. But, given the state's stark landscape, the juxtaposition is almost dystopian. Don't just take my word for it; a real bonafide architect isn't a huge fan of the work either. Ashley Bigham who, along with her husband Erik Hermann, founded the Ann Arbor, Michigan-based design and architecture studio Outpost Office, said the Bismarck building "just really suffers from a confusion of scale."
Florida
The Florida State Capitol building looms over Tallahassee like a budget Barad-dûr -- that's a Lord of the Rings reference for all you non-nerds -- scanning the landscape for the rampaging Florida Man. Designed by Edward Durell Stone, this is another building that suffers from "confusion of scale," which is a real bummer because the former capitol building (located directly behind the new one) is actually a gorgeous hybrid of colonial and Spanish influences. It now sits like a squat artifact of a more tropical and tasteful Florida.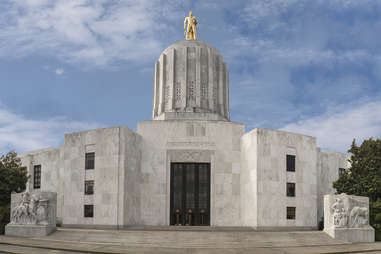 Oregon
If I'm being honest, we should probably be filing the Oregon capitol building in Salem under "bizarre" rather than downright ugly. The monumentalism is impressive, in a Soviet sort of way, and the contrasting gradients of the facade make it look like a hidden multiplayer map in Goldeneye. But when we talk about strange architectural flourishes we have to talk about Oregon Pioneer Man, the rugged golden gentleman that sits on top of the capitol's rotunda. He's 22 feet tall and looks like what I imagine Gaston would look like if he played linebacker at the University of Oregon and had a concerning obsession with Great Outdoor Games. Seems like a stand-up guy, though.
Sign up here for our daily Thrillist email and subscribe here for our YouTube channel to get your fix of the best in food/drink/fun.

T.M. Brown is a freelancer and recovering city planner based in New York City. He will talk to you about gas taxes and hip-hop with equal passion. Follow him on Twitter: @TM_Brown.