The worst tourists in the world
Being a tourist is a lot like being a guest in someone's home: Most people know to wipe their feet at the door and politely try what's served for dinner, but sometimes they forget it's not their own toilet seat they're pissing all over. And then there're those a-holes who don't even realize they aren't even supposed to piss on the toilet seat. At all. Meet the world-class idiots who, when venturing abroad, make us all look bad.
The Chinese kid who carved his name into an Egyptian temple
15yo Ding Jinhao was so pissed at his parents for dragging him all the way from China to see some boring 3,000yo temple that he decided to show them who was boss by scratching his name over the top of an ancient hieroglyphic carving. Yup, that piece of artwork survived 3,000 years of wars, floods, earthquakes, and looters, only to be tagged by a bratty teen.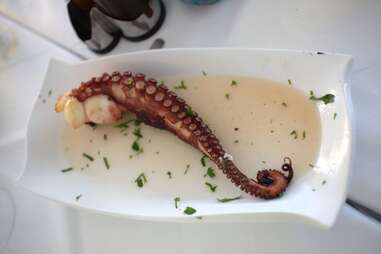 The American family who ate an extremely rare octopus
American tourist Labros Hydras knew he'd found something unusual when he caught a six-legged octopus while snorkeling in Greece. He was right -- the octopus was so rare that only one had ever been discovered before. What to do with such a precious find? Fry it up and serve it to your family for dinner, of course. "It tasted just like a normal octopus", Hydras later told reporters and horrified locals.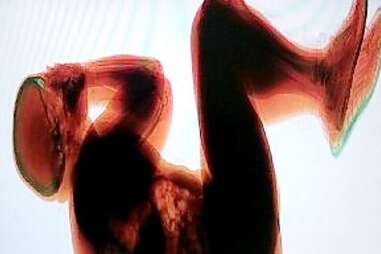 The Norwegian who passed out on an airport luggage belt
A Norwegian tourist showed up drunk at Rome's Fiumicino Airport ready to fly home to Oslo, but he never made it past the bag drop. After checking in, the 36yo curled up on the luggage belt for an afternoon nap, failing to even stir when the conveyor passed him through an X-ray scan. Which, of course, is when airport staff noticed he was not a suitcase, and called the police.
The Brits who stole a penguin
Three British tourists were arrested after they broke into Australia's Sea World and bird-napped a Fairy penguin (it's a type of penguin, really) named Dirk. The trashed trio also took the opportunity to swim with dolphins and attempt a recreation of the "shark swallows fire extinguisher" scene from Jaws. They might've gotten away with it if they hadn't posted photos of their escapades on Facebook. Luckily, Dirk was found unharmed at a nearby beach and reunited with his penguin friends the next day.
The American who dropped a hand grenade
Safety laws tend to be lax in some African countries, which makes them a wonderland for inane tourists wanting to try things they can't do back home. You know, like throwing live grenades. That's throwing grenades, Captain America, not dropping them.
The Columbian who pissed off a Queen's Guard
These stone-faced British soldiers are trained to keep their cool no matter what comes their way, be it an assassination attempt on the royal family or a group of giggling tourists trying to make them laugh. But this cocky 23yo Colombian dude apparently went too far by mimicking the way they walk. And that was the final straw for this angry guardsman.