WWOOF provides volunteers a chance to travel and eat locally-grown food.

| Wassiliy/iStock/Getty Images
WWOOF provides volunteers a chance to travel and eat locally-grown food.

| Wassiliy/iStock/Getty Images
Want to Travel the World and Eat Well for Free? Become a WWOOFer
This might be the coolest, cheapest, and most rewarding way to travel.
For the past three weeks, I've been living on a permaculture farm in Bali—for free. To say life is peaceful here is an understatement. I wake up surrounded by lush green plants, do a relaxing round of yoga, and go to work on the farm a few hours after breakfast, where I form crop beds, pull weeds, and cut compost according to regenerative principles. Then I meditate until dinner. Did I mention I am staying here for free?
I'm here in Bali through World Wide Opportunities on Organic Farms, also known as WWOOF, an organization that connects traveling volunteers with farmers for cultural and educational immersion. It's my second experience WWOOFing (my first was in Crete), and my time in Bali feels like a combination of living in a monastery and hanging out at summer camp. I can feel the tension and stress of three years in New York City finally start to dissipate. Needless to say, the experience is proving cheaper than therapy… (did I mention I am here for free?)
In exchange for six hours of work every weekday, I get three meals a day and a private room in return. The food is all vegetarian and organic—I eat bok choy, lettuce, spinach, and young papaya straight from the garden. Any mosquito bites or sun burns, I walk three feet from my room and cut a stalk from the abundance of aloe vera.
If this all sounds too good to be true, it's not. WWOOF has been operating since 1971 and is now available in more than 130 countries. Basically, it's the best way to travel for those who want to spend very little money and try something a little out-of-the-box. It's arguably one of the best, and most affordable, ways to see the world.
How does WWOOFING work, anyway?
Similar to Workaway, which facilitates a broader range of homestays and cultural exchange, WWOOF focuses specifically on farm work. Organic farms looking for volunteers list themselves on WWOOF, and each one will lodge and feed you in exchange for 20-30 hours of work, weekly. If you wanted to (and planned it right), you could farm-hop and travel for months at a time, for just the cost of a plane ticket. And through WWOOF, you are cutting out the cost of food and shelter, which can stretch your funds quite a bit further.
Most countries have their own WWOOF organization, and you often have to pay a membership fee to access and view farm listings. They usually run around $25. This map will show you every country where WWOOF organizations are located. Almost every country is there. Seriously. Like, there are 24 farms on the Canary Islands alone, just begging you to leave your job for a year.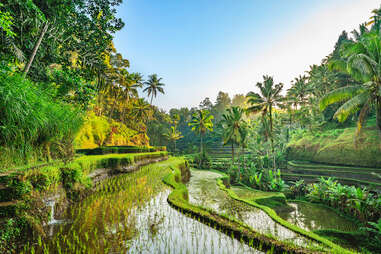 You'll live and travel like a local—on a way deeper level than your typical Airbnb
Working on an organic farm is an awesome way to travel for a number of reasons beyond just being super affordable. You get to learn about organic farming. You get to live more simply. You get to take a break from Twitter. Above all, you get a truly local experience that the average tourist can only dream of. You're actually living with locals, usually in a more remote area of the country, so you're fully immersed in the culture. My host has taken me to village gatherings, festivals, funerals, and inaugurations—events that I never would have been invited to if I'd been staying in a hostel or an Airbnb.
It's the best way to travel for those who want to spend very little money and try something a little out-of-the-box.
It's not unusual for hosts and volunteers to develop a friendship; in many cases, hosts are excited to exchange ideas and cultures with volunteers, which is often what motivates them to list their farm in the first place. Both hosts I've had were women who taught me a lot about farming, natural medicine, and healthy living. When you share a house, three meals a day, and a passion for the natural world with somebody, you tend to get close.
What's the food and housing situation like?
While I was WWOOFing in Crete, I stayed in an RV with a single burner camping stove. In Bali, the farm doubles as a paid "eco-retreat," so my room is a little more luxe. Basically, lodging will vary from country to country and farm to farm. You won't ever be out in the rain with nothing but a hammock if you WWOOF, but don't expect the Waldorf Astoria either. Or even hot water.
In terms of food, you can expect fresh meals daily from your host. Most of the farms are organic, so you'll be eating pretty healthily. Dietary restrictions are rarely an issue—you won't be the first gluten-free vegan they've accommodated, I promise. Plus, you get to experience what the average farming family of that country cooks for themselves on a daily basis. I've made friends with the kitchen staff and learned to make homemade tempeh satay, mie goreng (spicy fried noodles), and fried pineapple. In turn, I taught them my family's hummus recipe.
Oh the people you'll meet!
In Crete, I played cards and talked with a 50-year-old French woman every evening. WWOOFers tend to be the kind of people you'd expect to do something like buy a one-way ticket to Bali to work on a farm: They're thrifty, well-traveled, want to get off the grid, environmentally conscious, and physically active. Best of all, WWOOFing is an all ages affair.
THERE ARE THREE FARMS ON THE CANARY ISLANDS ALONE, JUST BEGGING YOU TO LEAVE YOUR JOB FOR A YEAR.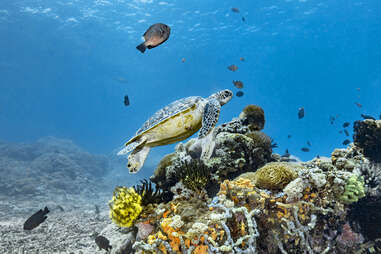 With your weekends and free time, you can visit cultural sites, eat out, go dancing, or just relax on the farm. I leave the farm every weekend. I went snorkeling with turtles in Amed, sat with local fishermen in Sanur, and climbed a mountain to see a temple. My weekly expenses are literally zero, so I can afford to treat myself to a good meal, or a nice glass of wine when I venture beyond the farm.
It's not a totally free ride—you do have to work hard
Here is the biggest caveat with WWOOFing: Due to how demanding farm labor can be, the biggest barrier is physical ability. WWOOFing is unfortunately not possible for people with serious health issues or disabilities.
Don't expect to get paid in cash, either. Your host can't pay you because it would violate labor laws. The flip side of that is that you don't need a work permit to be there, since you're not technically "working"—you are "volunteering." The farm I'm on still employs a number of local farmers, so you also don't need to worry whether you'll disrupt the wages of the local farmer.
I have read about some, usually commercial, farms that will overwork WWOOFers. Do your research beforehand, know you can always leave, and make sure you talk with your host before you arrive to determine whether or not they seem legit. It's also always a good idea to get travel insurance and know where the nearest hospital is located.
You can still make money on the road
Just because you aren't being paid by your WWOOF host doesn't mean you can't make money while you're away. We're living in the age of the digital nomad, so if you can edit a video, do data analysis on Excel, or anything that doesn't require you to be in an office, why not do it somewhere beautiful that nourishes your soul, instead of the same old coffee shop?
That being said, different farms will have different Wi-Fi/connectivity options. I'm writing this article with an ethernet connection, for example. I get in touch with my friends and family the old fashioned way: a long email every week or two.
How long can I WWOOF?
Many farms have minimum stay lengths, so you'll be hard pressed to find a WWOOF opportunity for less than a week—it is not for the casual traveler. Many stays can be weeks long, while others can run years. In fact, many WWOOFers can hack it for years straight, hopping from WWOOF to WWOOF with no plans to settle down anytime soon. You can be out on the road for as long as you like: I'm planning two months total, but who knows, I might stay away for longer.
So why not sign up for a WWOOF, buy a flight, and clear your calendar. Throw a pair of boots, some mosquito repellent, and a camera in your backpack. It's a vast and unexplored world, you may as well see it—for next to nothing.
Ismail Ibrahim is a connoisseur of bodega egg and cheese, ambient music, and short story collections. He writes about climate change, travel, and politics.