One Of Yosemite's Waterfalls Will Look Just Like Flowing Lava This Month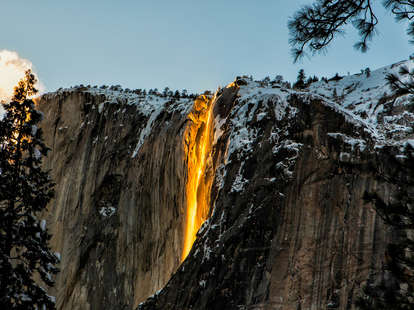 The Firefall appears for just two weeks each year.

| Yajnesh Bhat/500Px Plus/Getty Images
The Firefall appears for just two weeks each year.

| Yajnesh Bhat/500Px Plus/Getty Images
Yosemite National Park is practically overflowing with otherworldly beauty. But during a very small window this winter, a section of its famed El Capitan rock wall will transform from a sight you'd expect to see in an Ansel Adams picture book into a scene straight out of The Lord of the Rings.
Each February, Horsetail Fall -- a 2,000-foot waterfall on El Capitan -- sits at just the right angle to the sun to look like it's flowing lava instead of water. It's called the Firefall, and it appears just before and after sunset, just for two weeks. This year, it's predicted to last from February 12-28.
MORE:We have ranked the national parks
Thousands of people visit Yosemite specifically to see the Firefall each year, and it only appears if the conditions are just so. For starters, water needs to be flowing so the light has something to glow off of, and Horsetail Falls doesn't flow year-round -- only in winter through the beginning of spring, and only then if there's been sufficient snowmelt. Next, it has to be warm enough out that the water doesn't just freeze. This is why late February is the sweet spot, but even then the sky has to be clear at sunset, and even then the firefall is only visible from the right angles.
MORE: How to hike to the New York waterfall lit by an 'eternal flame'
"If everything comes together and conditions are just right, the Yosemite Firefall will light up for about ten minutes," reads the Yosemite Firefall website. "To see Horsetail Fall glowing blood red is an almost supernatural experience."
The phenomenon has become so popular with visitors that Firefall season, as it were, now has some traffic restrictions in place between Yosemite Valley Lodge and El Capitan Crossover. Get there early if you can -- crowds will be forming by midafternoon -- because the picnic area in that region is where you're likely to find the best view. Park at Yosemite Falls and walk over; disabled visitors are still permitted to park at the picnic area. If you really want the full experience, you can sign up for a guided Firefall tour, too. The very best time to see the Firefall in 2020 is expected to be February 22nd, between 5:28pm and 5:40pm Pacific Standard Time.