There's no better time to travel down under than during Vivid Sydney, a 23-day festival that turns Sydney, the capital of New South Wales into an enormous light show packed with live music and top-tier speakers. From May 25 until June 16, venues across the city big and small will host what's poised to be the festival's largest attendance yet, surpassing last year's staggering 2.33 million people -- fitting for the festival's 10th anniversary.
But more than a great festival experience, a trip to Vivid Sydney is the perfect time to explore Sydney itself. So here's what you need to know about getting to the festival, the must-see acts, where to stay, and everything you need to eat, drink, and explore in Australia's biggest city.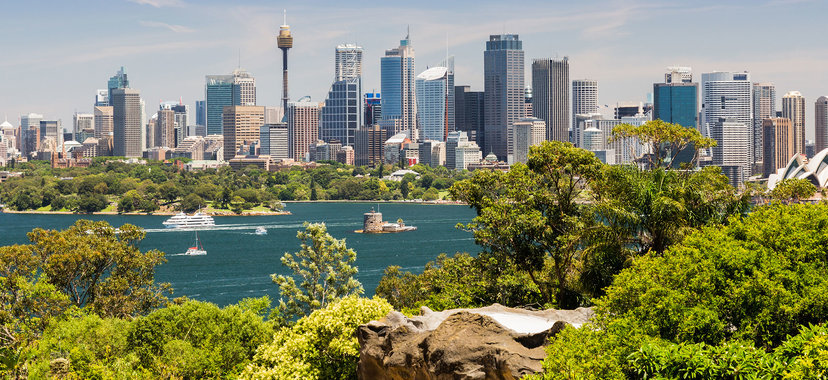 If a long flight is what's keeping you from traveling to Australia, Qantas Airways has the solution: Make everything extremely comfortable. You'll feel that warm Aussie hospitality from the second you board. And seriously, Qantas doesn't skimp on anything: After experiencing cuisine curated by renowned Australian chef and restaurateur Neil Perry, you get to curl up with Qantas' in-flight entertainment system and its catalog of over 1,500 entertainment options.
Since Qantas is also the only carrier to operate the Airbus A380 between the US and Sydney, that means you're basically going to be flying in a work of art: Designed by industrial designer Marc Newson (Apple, Louis Vuitton), the A380 has two decks connected by staircases, a walkup snack bar, and a ton more, making sure all cabins are serene for your journey.
WHERE TO STAY
There's no shortage of comfy accommodations in Sydney, but you'll have to book soon to beat the Vivid Syndey rush.
If you're looking to be in the middle of all the action, your best bet is QT Sydney, located right in the city center. This cityscape hotel is down the block from Hyde Park, a 20-minute walk from the Opera House, and close to transit options. To be away from the chaos, head to The Old Clare, a boutique hotel slightly outside Sydney's business- and retail-centric city center (also called Sydney CBD) but right near Central Station. The rooms are hip and gorgeous, plus there's a gym, a heated pool, and bike rentals. North of that you'll find The Darling, a luxury boutique hotel just five minutes from the Casino Wharf ferry station. Lastly, if you're really looking to splurge, it doesn't get more luxe than the Park Hyatt Sydney which is literally on the harbor. Book yourself a waterfront room so you can catch that epic Opera House light show from your bed.
GETTING AROUND
Like anywhere else that hosts a huge festival, Sydney will be bustling, and trains, buses (and sometimes ferries) will be your keys to getting around the city. This map can keep you up-to-date on Vivid Syndey road closures, and it'll be your best friend if you absolutely must take a car or taxi.
For buses and trains, some stations are just worth remembering, especially if you have limited cell service. If you're going to a concert at the Sydney Opera House, for example, Circular Quay Station is just a six-minute walk away. It has several buses, ferries, and trains, including the T2, which can bring you right back to the airport at the end of your trip. The best stations to access other Vivid Sydney venues are Wynyard, Central, Town Hall, Kings Cross, Redfern, and Chatswood. Memorize them, write them down, tattoo them on your arm -- whatever works.
Pro Tip: Sydney has a bike sharing program, Ofo, that you can join before you travel. Here's how it works: Individual Ofo bikes are scattered around the city. If you see one, you can unlock it, ride it to your destination, and lock it up again when you get there. Every Ofo bike comes with a helmet, and you're charged by the hour (your payment method is entered into the app). If you decide to go sans cell service during Vivid Sydney, download one of these navigation apps so you don't end up on the other side of town.
This massive city festival is divided into three sections: Vivid Light (free of charge), Vivid Music, and Vivid Ideas. Last year the festival included 109 light projections, hosted 396 music events, and featured 606 Ideas speakers across the city -- and this year's set to be even bigger.
VIVID LIGHT
Picture NYC's Times Square on its brightest night and you still won't come close to the lights of Vivid Sydney. This year's most notable installations (think glowing sculptures of lollipops & flowers and buildings engulfed in neon) include "Parrot Party" at the Royal Botanic Garden; "Lighting of the Sails," wherein the Sydney Opera House will shine with different colors and patterns so bright you'll practically need sunglasses to look; and the newly added "The Spirit of Fun" at Luna Park. The iconic amusement park, built in 1935, will radiate large-scale projections and additional lights on its ferris wheel.
VIVID MUSIC
If you thought this year's Vivid Light program was lit (get it?), wait until you hear the Vivid Music lineup. On June 17, rock goddess Annie freakin' Clark, aka St. Vincent, will play Carriageworks; it's sure to be one of the festival's most talked about events, so grab your tickets ASAP. (Seriously, Solange is already sold out, so be proactive about this.) Other shows include Mazzy Star's first performance in five years (Sydney Opera House), Cat Power (City and Surrounds), Ice Cube (Sydney Opera House), and tons more.
VIVID IDEAS
Sometimes you need a break from rocking out, but that doesn't mean you have to stop being inspired. That's where Vivid Ideas comes in. Kind of like TED Talks, this program puts you in rooms with scientists, astronauts, filmmakers, modern moguls -- literally the innovators who are shaping our world -- and you just get to listen to how smart they are.
Oscar-winning director James Cameron hits Vivid Sydney on May 27 to discuss bridging art and science, engineering ways to get cameras on NASA missions, and his passion for understanding the deep sea. Other speakers include Australian business mogul Dare Jennings (known for starting companies Mambo and Deus ex Machina), and futurist and game developer Jane McGonigal with artificial intelligence expert Kriti Sharma.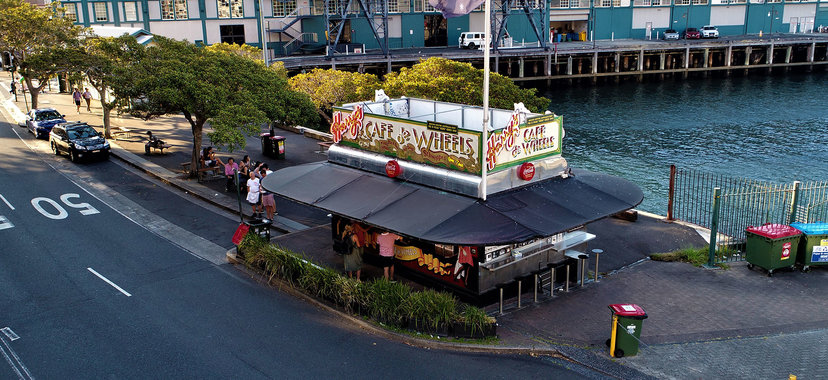 Any time you aren't taking in Vivid Sydney, you need to partake in Sydney's food culture. Everywhere you look there's gonna be something to eat or drink, so our best advice? Bring your appetite.
Excelsior Jones in Ashfield, located about 25 minutes from the festival hullabaloo, is ideal if you're looking for a quiet morning and want to explore a different part of town. The breakfast menu is offered all day, so you can get some beauty sleep. Of course, if you're looking to have a quiet morning and just can't wait to explore the city, grab a Danish and a latte from Black Star Pastry (located right in Sydney CBD) and hit up Hyde Park just a few blocks away.
This trip is the perfect time to experience high tea. It's like afternoon tea, but instead of finger-sized cakes and cucumber sandwiches, you eat a legitimate meal with your tea. Burnt Orange is known for its pre fixe high tea menu, while The Vaucluse Tea Rooms is in a 19th-century mansion, worth a visit just for the experience of feeling fancy. Not your scene? Grab a quick afternoon bite at Harry's Cafe de Wheels, because you can't really leave Australia without having an iconic meat pie -- the creation of which the National Museum considers a defining moment in Australian history. If you're gonna do it, go for the classic: spiced minced meat in pastry dough topped with sauce or gravy.
For dinner, take yourself somewhere with options, like Balmain. This hip foodie suburb of Sydney is about 30 minutes west of the city and well worth the escape. If you make it, definitely stroll down Darling Street to find anything from modern Aussie fare at Our Place on Darling to small bites and Flamenco at Alegrias Spanish Tapas, where you're obviously getting the paella and sangria.
When the sun goes down, continue the fun at some of Sydney's best bars. Smoke and Blu Bar on 36 come with handcrafted cocktails and breathtaking views, and when it's time to grab a nightcap, you'll want to check out basement dive Ramblin Rascal Tavern near Sydney CBD, or Surly's, a low-key joint 25 minutes from the Opera House.
When you're not eating Australian delicacies (What's your take on Vegemite?) or taking selfies with light sculptures, take a beat to reset. That might mean resting your eyes and ears, or checking out some of Sydney's mind-boggling nature.
WHAT TO DO
Finally, when you're ready for some of that sweet, sweet Sydney nature, we've got you covered. To start, get up close and personal with the ocean at the Bondi to Coogee Coastal Walk, located just 30 minutes from Sydney CBD by bus. The whole thing is six kilometers (a little less than four miles), but it's divided into sections, like Tamarama Beach to Bronte Beach, a paved route that only takes a few minutes (but isn't short on killer views). Throughout your walk, you'll take in the ocean, beaches, parks, and rock pools, plus there are places to eat, rest, and even swim along the way. Our advice: Wear sunscreen and comfy shoes, bring a camera, and go just before sunset if you're looking for a little romance.
You can also escape from Sydney with a day trip to Blue Mountains National Park about two hours (by train or car) outside of the city. These mountains get their name, and their color, from the dense population of Eucalyptus trees that disperse oil into the air. When mixed with water vapor and earth, the combination creates a rich blue haze you have to see to believe. Several walkways around the area provide astonishing views, like the Federal Pass, a rugged five-mile hike with a huge payoff: great views of the Three Sisters rock formation and the Jamison Lookout.
If you need just a quick moment of peace, take a cup of coffee to Wendy's Secret Garden. Tucked away in Lavender Bay, this oasis is just a 10-minute walk from Luna Park, but feels like a different world. Free to the public, the garden overlooks the harbor and features exotic plants, bronze busts, wooden carvings, and more -- a perfect way to wrap up a whirlwind trip to Sydney.
So with Vivid Sydney quickly approaching, you have some important decisions to make. Like, who are you bringing with you, and how many pairs of sunnies should you pack?