Face it: yurts are rad (they're round, they're fun to talk about, they're mad affordable, and they can be found in super cool places). You'll be rad too, if you take the time to scope the nine coolest American ones listed on Airbnb!
Recommended Video
The Most Overlooked Mediterranean Paradise in Europe
Where: Malibu, CA
What: Characteristically fancy yurt
How much: $135/night
9. When you think of Malibu, the last thing to spring to mind is probably roughing it yurt-style on an organic citrus farm (unless you've already spent way too long in California). This 24ft-diameter space has a sleeping loft, but the mega-bonus? This puppy was designed by the "award-winning interior design author of Safari Chic and Swahili Chic".
Where: Arroyo Grande, CA
What: Art farm yurt
How much: $79/night
8. At only 200sqft, what this lil yurt lacks in size it makes up for in the fact that it's got a skylight in the middle, includes daily breakfast delivered yurt-side, and is on something called an "art farm" that apparently has real (not painted) horses and chickens running around.
Where: Ojai, CA
What: Crazy gypsy yurt
How much: $95/night
7. This wood-framed beaut is just steps from downtown Ojai and boasts decor determined to convince you you're traveling with the circus. And, since it's got a full kitchen (hotplate, not stove), the fact that it's right next to the Farmer's Market is extra fine.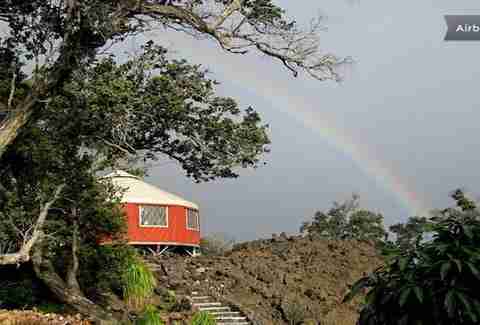 Where: Big Island, HI
What: Yurt at the end of the rainbow
How much: $60/night
6. Stay on the Southern-most point of Hawaii's Big Island in 420sqft of pure yurting bliss that's adjacent to Volcanoes National Park, has an ocean-view, and splits the difference between the towns of Kilo and Kona.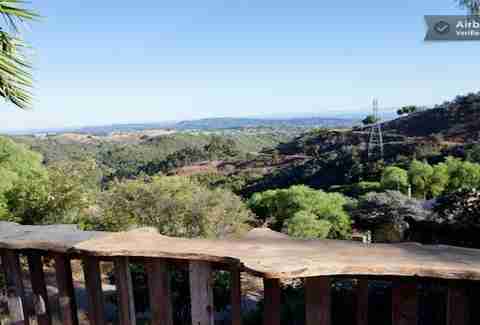 Where: Santa Barbara, CA
What: Yurt with a view
How much: $155/night
5. With two queen beds, a wood-burning stove, a shared jacuzzi, and "a full kitchen (for a yurt)", the real yurt-gold here is the panoramic overlook of Santa Barbara.
Where: Joshua Tree National Park, CA
What: U2's best album yurt
How much: $200/night
4. A 31ft-diameter "Om Dome" (a yurt by any other name...), this guy's perched in the heart of rugged Joshua Tree, at the outskirts of a resort called Soncco Wasi. It's billed as the place "where Loves gather to Connect, Heal, Love, Pray, and Play" (their caps, not ours)... so, uh, maybe bring your own sheets?
Where: Maui, HI
What: Oceanfront yurt
How much: $155/night
3. Located in Kipahula (about 30min from Hana) in East Maui, this yurtliness is part of a seven acre oceanfront cliff property, and has a balcony with a, uh, slightly above average view.
Where: Blue Ridge Mountain, VA
What: Hiking, arty, backwoods yurt
How much: $150/night
2. This high-altitude, 30ft-diameter mega yurt sleeps six and has a baller kitchen that's purely an extravagance, as you'll have breakfast delivered to you each morning by former executive chef Whitt, who runs a nearby B&B.
Where: Denver, CO
What: Some dude's backyard yurt
How much: $699/month
1. Because what good is yurting if you're not willing to experience 300sqft on a month-to-month basis in Todd's backyard? He describes himself as "a granola-eating urban homesteader with a really bad yurt addiction". We like him already.