Presented By
How to Take an Ethical, Eco-Minded Safari Trip in Zambia
Sustainable safari operations for those who dream of big game.
Presented By
Safariing made sustainable in Zambia's Lower Zambezi National Park

| Chiawa Safaris
Safariing made sustainable in Zambia

| Chiawa Safaris
Note: The US State Department has issued a Level 3 travel advisory to reconsider travel to Zambia, and the Government of Zambia has suspended all tourist visas until further notice. For now, use this guide as inspiration to satisfy your wanderlust safely from home.
The birthplace of the humble walking safari, Zambia has maintained a low profile compared to safari destinations in many other African nations. Unscathed by mass tourism, many of the safari lodges in Zambia are either family or independently owned and pride themselves on providing ethical safari experiences, which means training and working with local guides and staff from nearby villages and offering responsible game drives that don't stress or endanger animals (or guests, for that matter).
Equally important, many of the operators here are extremely involved in supporting local communities through various education initiatives, and are active in anti-poaching and wildlife protection efforts in Lower Zambezi National Park as a means of ensuring the future of eco-conscious tourism in the region.
With fragile ecosystems across the continent being threatened by tourism and climate change (nearby Victoria Falls, one of the most iconic landmarks on the continent, slowed to a trickle during dry season droughts this year), it's never been more important to put sustainability front of mind if you are going on a safari trip. That's why we picked Lower Zambezi -- the world's first carbon-neutral national park -- for our list of the 20 Places We're Dreaming About in 2020. There's a real commitment among local tour and bush camp operators to give you everything you want in a safari experience while minimizing ecological impact.
Know before you go
There are two main seasons in Zambia, a winter/dry season and summer/rainy season. But here's the tricky thing: The best time to see Victoria Falls is the rainy season when water levels are high (November through April) -- yet this is the worst time to go on safari, since many camps shut down for the season. If safari is your top priority, aim for the dry season (May through early November), with the end of that window being the hottest time -- over 100 degrees of dry unrelenting heat.
If you really want to try to do both in the same trip, there is an ideal window of time from June to August where roads will be dry and the falls will be in action -- not at peak levels, but better than the parched dry season.
Here's a look at how to build the perfect safari trip in Zambia's Lower Zambezi National Park.
Traveling may be on pause, but that doesn't mean your dreaming and planning has to be. With The Marriott Bonvoy Boundless™ Card, earn 6X Points at 7,000+ hotels participating in Marriott Bonvoy™ and 2X Points on all other purchases, including future flights. For the journey ahead, carry a card that's here for you now.
Day 1: R&R in Lusaka
After landing at Lusaka International Airport, catch your breath before connecting on a domestic flight to more remote regions. For a respite between journeys in the capital city, try Latitude 15, a boutique hotel 30 minutes from the airport that's filled with local artwork, two pools, a full spa, and multiple restaurants on property. Casual poolside dining brings live music on the weekends as well as a delicious trio of Zambian braai that typically includes a mix of chicken, beef, and pork that's chargrilled and served with a side of veggies. A nightcap cocktail or two on the patio outside of the hotel's main salon is the best way to end the night.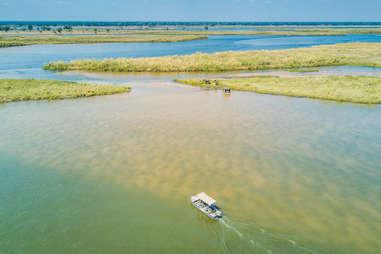 Days 2-8: Hippos and leopards and crocs at Lower Zambezi National Park
Head back to the airport for your hour-long Proflight (Zambia's only domestic airline) to Lower Zambezi National Park via nine-seat Cessna Caravan. Upon arrival at Jeki Airstrip, you'll be greeted by your tour operator and your adventure in the bush will begin.
There are more than a dozen safari operators in Lower Zambezi depending on your budget, with many of the camps located directly along the Zambezi River. You can choose to divide your time between two camps, or stay at one if you don't feel like schlepping.
We stayed at two camps: Old Mondoro gets you up close with wildlife and is a leader in minimal-impact lodging. It's one of the last throwback bush camps in the region, due to its intimate low-frills vibe, knowledgeable local guides, and secluded location along a lagoon. Roving elephants love to nibble and nap beneath the shade of the acacia grove surrounding the tents and lodge.
We followed that with slightly more luxurious (and spacious) lodgings at Chiawa Camp, a family-run spot just a few miles upriver with spectacular views and great food. It's typical to move between camps to get a change of scenery, and the juxtaposition of these two camps with a quick boat transfer in between is a seamless transition. Time + Tide Chongwe Camp and Sausage Tree Camp are other great places to stay with a similar ethos.
Wherever you stay, do your homework: Investigate the camp and the operators. See what their sustainability policies are, how they interact with the community, who they hire as guides, and how they pay and care for their staff.
Camps offer a variety of activities, from jeep safaris to walking safaris and canoe trips along the Zambezi River and canals. Do not miss the chance to take a canoe ride -- it's one of the most unique ways to experience the majesty of the landscape and really gets to the heart of what a safari here is all about. You'll paddle down the Zambezi, teeming with hundreds of wild elephants and massive groups of hippos. Oh, and crocodiles. Scary and exhilarating, all at the same time.
Keep it going: Victoria Falls, South Luangwa National Park, or Cape Town
If the timing is right and you're in Zambia from June to August, it should be dry enough to go on safari, but not so dry that Victoria Falls has become sort of... sad-looking. In which case, Victoria Falls is the perfect add on. The awe and power of the falls is unforgettable, as is the white water rafting, bungee jumping, and other heart-pounding activities offered there.
Catch a short (but not cheap, sadly) flight down to Livingstone Airport, which accesses the falls. Proflights are sometimes available from Jeki Airstrip in Lower Zambezi NP, but other times of year, you may have to catch a flight back to Lusaka and then down to Livingstone.
If that timing doesn't work, spend a few extra days in South Luangwa National Park, or if you head back to Lusaka, where multiple daily flights can get you to Cape Town, South Africa in fewer than four hours.
MEET THE WRITER
Michelle Gross is a San Diego-born, New York City-based travel, food, and lifestyle reporter. When she's not on the road she's happiest on a paddleboard, with her pugs or slurping up soba noodles wherever she can find them. In addition to Thrillist, her words and photographs have appeared in Forbes Travel Guide, Travel + Leisure, Robb Report, The San Francisco Chronicle and Playboy. You can follow her travels on Instagram @Pinktravelproject.
When was the last time you were in Zambia?
My husband and I traveled to Zambia this past October, one of the hottest months of the year there. The camps we stayed in were eco-friendly -- meaning no air-conditioning. So when we weren't out on game drives, we took advantage of the open-air bathtub on our patio, which we shared with a family of elephants and inquisitive baboons who loved to sneak sips of water when we weren't looking.
What was the most surprising thing about the place that you didn't expect?
It's hard to explain without sounding cliché, but there's something really powerful about being pushed so completely outside of your comfort zone. For me it was everything from getting around the country in teeny-tiny planes to coming face to face with big wild animals, bugs... and bush snakes.
What's a favorite memory from your visit?
One memory stands out, inspired out of fear and sheer terror. The first was on our first domestic flight on a tiny plane from the Zambian capital of Lusaka, to Jeki Airstrip in Lower Zambezi NP. As much as I travel for work, I still get nervous at the slightest turbulence. I was a wreck, but as we started our descent, I saw the Zambezi River come into view and hundreds of elephants and buffalo and zebras. It was unlike anything I'd ever seen and my flight anxiety quickly turned to exhilaration.
Number one can't-miss recommendation for a visitor?
Don't miss the chance to take that canoe ride down the Zambezi. Also, absolutely try the Zambian cuisine including a traditional braai barbecue, which pairs best with Zambian beer, Mosi -- a "thunderous refreshment," especially after a day in the bush.
How easy is it to get around the city/country for English speakers?
Tourism is big business in Zambia and most people you'll meet speak English with ease. People are also very friendly and open to talking to foreigners. It was easy to get around, though we really leaned on our tour company who arranged transport and transfers in advance. Make sure you have cash on hand for incidentals. There is a visa on arrival which was $50 USD at the time we were there in October 2019. USD is widely accepted, however it's advisable to also carry Zambian Kwacha, which can only be exchanged in the country. It's always best to tip in local currency.
What's your top piece of advice for someone going for the first time?
Working with a reputable tour operator is so important, not only for the logistics of your trip, but even more vitally for the sustainability of the local ecosystem. Really read through the safari camp's website -- see what their sustainability policy is and what they've done, or are actively doing, to achieve those goals. When in doubt, reach out to them by phone or via email ask them how they're involved in the local community. Other than that, I would say don't forget to live in the moment when you're out on game drives. Put the iPhone down and appreciate where you are. It's incredible.