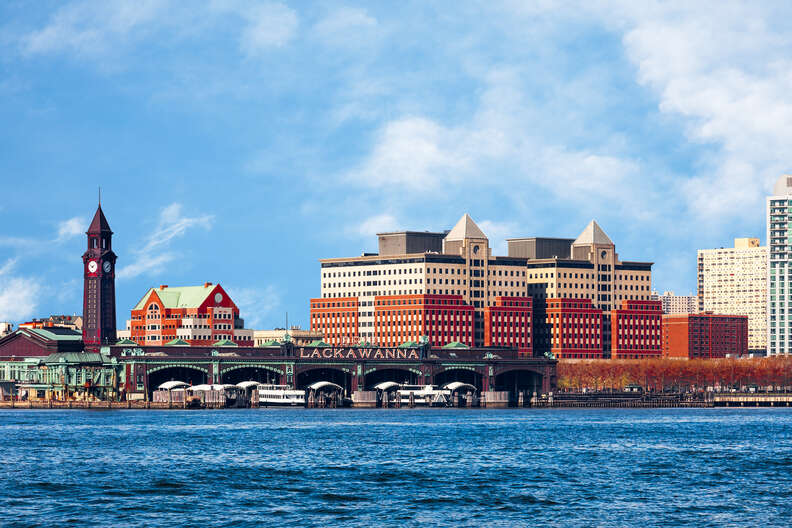 We've got news for any New Yorkers still harboring outdated, noxious notions about New Jersey. The city's unfairly maligned neighbor is a great escape for apartment dwellers craving a little space, not to mention a respite from NYC's aggressive pace. There's enough fun to be had, in fact, that you'll need a full weekend to enjoy every bit of it.

These eight getaway itineraries offer a respite for nature lovers, history buffs, and culture vultures who are looking to leave the weekend subway schedule behind. Springsteen soundtrack optional.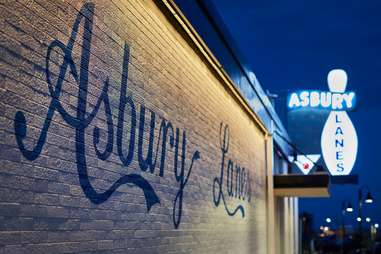 Best Pop-Cultural Getaway: Asbury Park
The town that the Boss built sure isn't what it used to be -- it's even better. Beloved old haunts like The Stone Pony and Asbury Lanes have been spruced up just enough to turn them into hipster havens, but they haven't lost their old charm. Sure, Asbury's got the beach, but it's become a year-round destination for anyone seeking that perfect mix of high and lowbrow. Play classic pinball games at the Silverball Museum before checking out an indie film at The ShowRoom. Head to Frank's Deli for a bacon, egg, and cheese with enough bacon to give you a heart attack, or grab and go at MOGO, a Korean taco joint in a shipping container on the boardwalk. Get the bulgogi, and don't forget the Asian pear hot sauce.

For a bit of a bougie brunch or dinner, chow down on gastropub bites at Cross & Orange. Then, sip a pint of Born To Run at Dark City Brewery and slake your sweet tooth with a scoop of honey lavender at Cookman Creamery. Whether you have a pet or just wish you did, The Wonder Bar's legendary yappy hour lets you grab a beer with a bunch of dogs and their humans. Once you're nice and overstimulated, Soundbooth, the lobby bar at The Asbury Hotel, is a good place to chill after a long day. There are plenty of terrific accommodations neatby, but the pool at the Asbury Ocean Club is a unique treat -- it looks straight out to the horizon.
By public transit: Take the bus from Port Authority, two hours
By car: One hour, 25 minutes
Most Historic Getaway: Trenton
History buffs will have a grand old time in New Jersey's capital, which was briefly the US capital at the end of 1784. Learn the history of the Garden State at the New Jersey State Museum, where you can spend a whole day checking out fossils, fine art, and Native American artifacts. You can also get lost in space at the planetarium before you stroll over to the golden-domed New Jersey State House, the state's most historic public building, or the Old Barracks Museum, a French and Indian War military barracks that celebrates colonial and revolutionary history. The 300-year-old William Trenton House, now a museum, also offers a look at life during the revolution. Or, for something off the beaten path, head to The Trenton City Museum at Ellarslie, a mansion in Cadwalader Park filled with rotating art exhibits focused on the city's local history.
For some additional art history, head to the Grounds For Sculpture gardens where art and nature collide for one of a kind selfies. There are more than 270 sculptures from contemporary artists on display across 42 acres filled with exotic flora and fauna that make this a magical art experience. Grab a bite at the French-inspired Van Gogh Café where the ceiling is fashioned after The Starry Night, or order a picnic basket for two (must be placed 24 hours ahead) from the Peacock Café, a soup, salad, and sandwich joint.

For something even simpler, try a slice at Papa's Tomato Pies, established in Trenton in 1912. Now located in nearby Robbinsville Township, the best way to get to the self-described oldest continuously-run pizza restaurant in the USA is by car.
Trenton's most historic and only downtown hotel (the first hotel in the capital's center in 16 years) is now permanently closed, so for a good night's stay, take the 15-minute drive to the very modern Element Ewing in Princeton. Drive five minutes further, and you'll reach Princeton's more stately Peacock Inn. Originally built in the 1700s, the inn briefly housed Albert Einstein and, according to lore, its basement, known as "Peacock Alley," was a Prohibition-era speakeasy.
By public transit: Take the NJ Transit from Penn Station to Trenton Transit Center, a 90-minute ride.
By car: One hour, 15 minutes
Best Getaway Close to NYC: Hoboken
When you're tethered to the city but still need to catch your breath across state lines, Hoboken's just a stone's throw away. For $5.50 round trip on the PATH, this diverse neighborhood full of cheap international eats and watering holes is a major steal for anyone who's over NYC nightlife. Start by bar hopping along Washington Street. The dog-friendly Louise & Jerry's serves up classic cocktails, while the divey 8th Street Tavern has a wide selection of beers and bar games. Splurge a little at The Madison and try a N.Y. State Of Mind, a rye-based cocktail with a Malbec float, before you grab a classic Italian sandwich at Fiore's Deli, which has been serving up fresh mozzarella since 1903. Still hungry? Grab Greek Town's $10 signature yeero stuffed with beef and lamb and a helping of french fries.

From May through October, Hoboken's Pier 13 is the place to be. During the day, the cash-only pier along the Hudson offers one-hour of paddleboarding or kayaking for $40 per person. Later, a DJ spins tunes while you fill up on food truck goodies and sip homemade punch, all while taking in the New York City skyline.

With your food and transportation costs under control, put yourself in the middle of the action, and book a room at the swanky W Hoboken. Located on River Street, it's close to all the action, and rooms on the Spectacular level or higher have stunning city views. Go ahead and grab a pre-game drink at Lulu's Outdoor Patio before you hit the town. And once you check out, sneak another peak of Manhattan from Castle Point Lookout, the highest point in Hoboken. Free of charge.

By public transit: The PATH train from 33rd Street, 20 minutes. Take the 15-minute ferry ride from Wall Street to Hoboken for $16 round trip.
By car: 30 minutes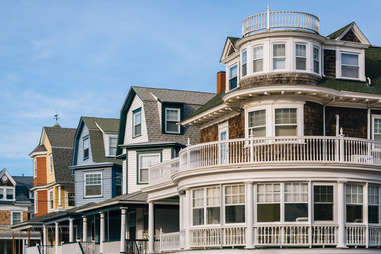 Most Romantic Getaway: Cape May
Spend some quality time with someone you love or just really like in the "nation's oldest seaside resort." You should definitely check out the beaches, specifically the Cove where you're likely to spot a dolphin. But the "crown jewel" of the Jersey Shore offers so much more for couples looking for a little R&R in a town that is a total blast from the past. Spend a day walking around the Cape May County Park & Zoo (it's free!) or hike the trails of Cape May Point State Park. For the best view of this cozy Victorian town head to the top of the Cape May Lighthouse, built back in 1859.
A horse-drawn ride with the Cape May Carriage Company is practically required, as is a drink at The Brown Room, Cape May's first legal, post-Prohibition cocktail bar. For beachside vibes, get a room at the Sandpiper Beach Club. Looking to be pampered? Stay at The Queen Victoria. Voted the best B&B in Cape May since 2007, its afternoon tea served in the British style offers up some Downton Abbey realness.
Connect with nature and spend quality time with some very soft Jersey Shore Alpacas on a cozy farm, or go whale watching with your boo on the Yankee, an 80-foot-tall schooner. A glass or two of wine at The Willow Creek Winery will imbue you with the courage to brave a haunted trolley ride. Take a stroll through the pedestrian-only Washington Street Mall and peruse the shops before you share a float at the '50s-style soda shop Stewart's Root Beer. Enjoy a seven-course tasting menu for $65 per person at The Red Store, named one of the 30 best NJ restaurants in 2019. And while hot dogs aren't necessarily synonymous with romance, you wouldn't want to miss local favorite Hot Dog Tommy's, where they top their franks with mashed potatoes, mac and cheese, or crunchy Asian noodles.
By public transit: Take a bus from Port Authority to Atlantic City where you'll take another bus to Cape May, five hours
By car: Two hours, 35 minutes
Most Iconic Getaway: Atlantic City
Once a glitzy destination for New Yorkers of yore, modern day Atlantic City still rings a lot of bells. Go ahead and snap a selfie in a windowless casino for posterity, but get out before you lose any money at the blackjack table. Instead, lounge on the beach with a sandwich, don't forget the hot peppers, from local institution Dino's Subs and Pizza Spot, which delivers right to the shore. Buy salt water taffy at James' or Fralinger's along the four mile long boardwalk, where they've both been since 1880 and 1885, respectively. For one of the best views of Atlantic City head to Steel Pier, A.C.'s oldest theme park, for a ride on the 227-foot-tall Wheel, then treat yourself to the ice cream-topped waffles at Two Cents Plain, celebrating its 46th anniversary this year.
The waterfront views at the historic Gardner's Basin are as lovely today as they were in its heyday, and if you climb the 228 steps to the top of the Absecon Lighthouse, the tallest lighthouse in the state, you'll be rewarded with an aerial view of A.C.

A boardwalk staple since 1897, the upscale still family-owned Dock's Oyster House is where you go for oysters (duh), and the steak and potatoes at the the over hundred-year-old Knife & Fork Inn comes with a side of history. Enoch Johnson, the inspiration for Steve Buscemi's Boardwalk Empire character, Nucky Thompson, was a regular.

Visit the Borgata's 54,000-square-foot immersion spa that sits 32 stories high and offers a 360-degree view of the ocean. But don't stay at the casino, opt for the historic Chelsea Pub & Inn, instead. It's an 1880s Victorian-style home with crooked stairs located just a block away from the boardwalk and the Tropicana. And make sure to visit Lucy, the Elephant, a six-story elephant built in 1881 that is now a National Historic Landmark. Looking is free, but to go inside this icon, you'll have to pay $8.50.
By public transit: Take the Greyhound from Port Authority to Atlantic City; two hours, 30 minutes.
By car: Two hours
Best Outdoor Getaway: Atlantic Highlands
This Victorian borough, which was once a popular resort town for wealthy New Yorkers, is now a serene hideaway for nature lovers. Head to Mount Mitchill, the highest natural elevation on the Atlantic seaboard south of Maine, for a panoramic view of the New York City skyline. Or, pop 1.8 miles over to nearby Highlands and explore nearly 20 miles of trails by foot or by bike (be warned, it's hilly) at Hartshorne Woods Park. Overlooking the Navesink River, the 794-acre forest offers fishing, horseback riding, and group cabin camping by reservation. Highlands also boasts Mobys Lobster Deck, a waterfront eatery offering ocean views, and the Twin Lights Lighthouse, which has been guiding sailors since 1828 with what was once the brightest light in North America.

Back in Atlantic Highlands, treat yourself to a pecan sticky bun at the French bakery The Flaky Tart. Looking for a hearty sit-down breakfast? The charming '60s-style Zoe's Vintage Kitchen is where the locals go for omelets and pancakes.
After your snack, take a guided tour of the Strauss Mansion, built by New York merchant Adolph Strauss in 1893. The Queen Anne-style cottage has 21 rooms, including one dedicated to the history of the local Lenni Lenape people. Later, grab a beer at Carton Brewing Company. When you're ready to hit the hay, the Blue Bay Inn is an affordable boutique hotel a hop, skip, and a jump from the shore, the ferry, and The Copper Canyon, a Southwestern-style eatery with 150 tequila choices.

By public transit: Take NJ Transit from Penn Station to Red Bank Station where you'll switch trains. Get off at Rt-36 at Grand Avenue and walk five minutes into town for a trip that totals two hours. The ferry from East 35th Street will get you there in an hour -- 40 minutes if you catch it from Wall Street.
By car: One hour, 30 minutes
Best Quiet Getaway: Red Bank
This hip little town along the Jersey Shore is a low-key Jersey excursion if you think Asbury Park is too crowded. The arts are a main draw here, so catch a show at the Two River Theater, which is known for developing and supporting up and coming artists. For live music, head to The Count Basie Center For The Arts. And for Jay and Silent Bob fans, Red Bank is the home of the comic shop owned by Kevin Smith and named in honor of his characters.

Should you feel so inspired to make a little art of your own, head to Toad Hollow, a whimsical craft store owned by two sisters who really love knitting. Further scratch that crafting itch at A Time To Kiln where you can paint your own ceramic dishes or do a little glass fusing. A fitting souvenir to remember your trip by.
Stay at The Molly Pitcher Inn, an elegant waterfront hotel built back in 1928 that looks like its right out of a storybook. Or, book a room at its sister hotel, The Oyster Point, where you can dine on their riverside dock watching the sailboats float on by. Lean into those good vibes over breakfast, lunch or dinner at Toast City Diner, where the motto is "peace, love, and pancakes." Teak's rooftop is also the perfect spot to zen out and grab some out of the ordinary sushi rolls like the Black Mamba, filled with shrimp tempura, spicy lobster salad, and banana.
By public transit: Take NJ Transit from Port Authority to Red Bank, an hour and 20 minutes.
By car: One hour
Best Food Getaway: West Cape May
The cool cousin to neighboring Cape May, this funky and offbeat Jersey town is a smorgasbord of deliciousness that is easiest to tackle by car. Start your food tour early at The Bread Lady, a popular roadside stand (read: long lines that are well worth it) run by Elizabeth Degener at the foot of her family's Enfin Farms. While you may not have a choice of flavors if you don't go early -- the stand opens at 10am, people start lining up at 9 -- try for a loaf of raisin spice or beet and dill. Next, stop by Beach Plum Farm for homemade lavender doughnuts before you sit down for a real farm-to-table breakfast or lunch in the Amish barn. Your meal's ingredients come right from the 60-acre farm, which was named a 2019 Local Hero by Edible Jersey. Take home some of those fresh herbs and produce at the on-site market, or take a self-guided tour of the land to make room for your next meal.

The beachside joint Key West Tacos serves Caribbean spiced tacos filled with fresh seafood, and Gecko's next door offers up Sante Fe-inspired dishes like stewed pork in green chile sauce. For all day breakfast, head to Bella Vida Cafe for vegetarian and vegan options with Costa Rican flair. (Think tons of fruit, veggies, and fresh seafood.) End your day at Sapore Italiano, a farm-fresh BYOB Italian restaurant in a restored Victorian-style home. Spend the night at the West Cape Motel near the Cape May bird sanctuary and nab a few more loaves from the Bread Lady for the ride home.
By public transit: Take a bus from Port Authority to Atlantic City where you'll switch to another bus headed for Broadway and Mechanic Street, five hours.
By car: Two hours, 40 minutes
Sign up here for our daily NYC email and be the first to get all the food/drink/fun New York has to offer.
Shannon Carlin is a pop culture writer whose work has appeared on Bustle, Refinery29, and BUST.