Don't Leave the Big Easy Without Getting Down at These New Orleans Music Venues
It is the birthplace of jazz, after all.
Joy Clark

| Photo courtesy of d.b.a. New Orleans
Joy Clark

| Photo courtesy of d.b.a. New Orleans
Music is everywhere in the Big Easy. It is the birthplace of jazz after all. You'll hear it in the streets from world-renowned marching bands and second lines weaving through the neighborhood with brass bands in tow. It's also on the corners where rag-tag groups set up shop to entertain, not to mention filling the airspace at festivals, parks, breweries, porches, and even blaring from the back of a truck.
Music fans are spoiled for choice when it comes to jazz clubs in New Orleans, with a range of local icons and national touring acts jockeying for attention at any given time. Frenchmen Street is lined with notable clubs, while other cool venues are tucked away in neighborhoods around the city. So whether you're looking for local favorites playing funk, jazz, zydeco, and blues or up-and-comers getting more experimental, there's a unique venue for you to see live music in New Orleans. So get ready to get down—and don't forget to tip the band.
Mid-City
Truly a venue for music lovers, Chickie Wah Wah has developed a well-earned reputation as one of the local music scene's hidden gems. Located just off the streetcar line along a quiet stretch of Mid-City neighborhood, the small club—named for a 1956 tune by local icon Huey "Piano" Smith—is filled with vintage signs and other reminders that you're in the Crescent City. Live music is offered most nights; crowds vary depending on the performers, which range from local up-and-comers to specially-curated touring acts playing jazz, funk, roots, and folk. Friendly bartenders know how to keep the good times going while making sure patrons are able to enjoy top-notch sound, and a selection of food trucks and pop-ups keep fans fed.
Marigny
Fans of fine beer and even better music are in heaven at this longtime local favorite on Frenchmen, where a range of local and regional bands perform nightly. Just as notable is the beer selection, which features hundreds of options including several from local craft breweries, as well as the extensive assortment of whiskeys and bourbons. Several early shows have no cover charge, and many clock in around $10-15. See regulars like Tin Men or Palmetto Bug Stompers, or local favorites like Soul Rebels, The Original Pinettes, Treme Brass Band, or Cha Wa. The intimate space gets you up close to the music, and window seats grant an excellent view of Frenchmen.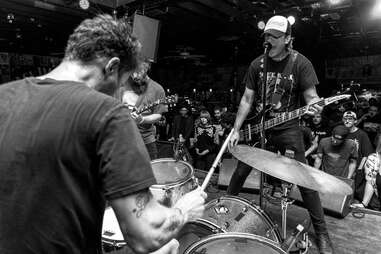 Uptown
If you want to avoid the tried-and-true classics, check out this indie fave in the heart of the youthful Freret Street corridor. Packed with local art and creative DIY touches, the diminutive, eclectic space is dedicated to supporting New Orleans talent. The nightly entertainment calendar is one of the city's most wide-ranging, with everything from hardcore metal and lo-fi indie juxtaposed with album release parties and lively tribute acts. The striking exterior, covered in street art that wouldn't be out of place in Berlin or NYC, reminds patrons that they're a long way from Bourbon Street. If the tiny dance floor is too packed, patrons can escape to the breezy little outdoor space for a break. There's no kitchen, but food vendors usually set up shop out front, and nearby student-friendly eateries offer cheap eats late into the night.
Marigny
Follow the cool kids to the Hi-Ho Lounge, a mainstay of the city's alternative arts scene. Located along a lively stretch of St. Claude, a short stroll from the heart of the Marigny, the Hi-Ho hosts a range of local and national acts spanning most genres imaginable. That means you might stumble upon a Bluegrass jam session one night and one of DJ Soul Sister's legendary dance parties the next. Live entertainment is offered nightly, as are cheap drinks and tasty daily food specials from the kitchen. Most cover charges hover in the $10-15 range, making the Hi-Ho one of the more affordable places in town for a night out built around live entertainment.
French Quarter
Jazz aficionados searching for a classy venue to enjoy the smooth sounds of local stalwarts flock to the Royal Sonesta's Jazz Playhouse, which sits in the heart of the Quarter along Bourbon Street. Forget sticky floors and watered down drinks; the Playhouse offers up elegant environs and well-made cocktails. Only apps and light bites are served—for a more substantial and special-occasion-worthy meal, the hotel's Restaurant R'evolution is only steps away. Due to limited seating, tickets (usually starting around $25) are required for admission. Most performances begin at 7:30 pm, and while icons of the NOLA music scene like the Brass-A-Holics, Big Sam, and Glen David Andrews take up most of the calendar, keep an eye out for special events like Trixie Minx's always-fun burlesque shows.
Tremé
For an education in NOLA music history, pay your respects at this vibrantly colored, no-frills venue hidden away in the heart of the historic Tremé neighborhood. The humorous name came from its original owner, the dearly departed musician Ernie K-Doe, best known for his hit song "Mother-in-Law." In 2014, Kermit Ruffins—one of the city's most beloved local musicians—took over ownership and put his spin on the Lounge. A lively, only-in-New Orleans time can be had any night of the week, as live music and food and drink specials are offered daily. If you're extra lucky, you'll visit at a time when Kermit himself is dishing out tasty eats to eager patrons. To see local crowds cutting loose, stop by after a downtown second line or big Saints victory.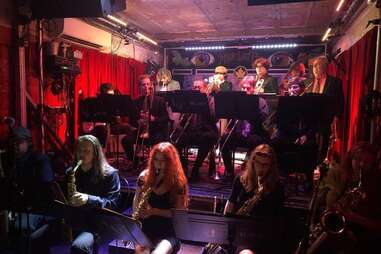 Riverbend
The Maple Leaf is one of a handful of music clubs that has its own aura; it's impossible not to bump into a local regular, and most shows end up feeling like a fun house party. It's also a good reminder that there are awesome nightlife venues far from the crowds and craziness of the Quarter and Marigny. A mix of local legends and promising newcomers take the small stage most nights of the week. While the low-key space is pretty rough-around-the-edges, the majority of the time you'll be focused solely on the music. Grab some drinks from the bar and see NOLA legends like Jon Cleary, George Porter Jr., and Johnny Vidacovich up close. You'll be dancing and sweating all night no doubt, so the smart move is to grab a pre-show meal at the always popular Jacques-Imo's or one of the other restaurants along Oak Street for energy.
French Quarter
Music fans and historians from around the world continue to make the pilgrimage to Preservation Hall, where the weathered wooden walls and narrow performance space looks the same as it did more than 60 years ago. Most nights, lines start forming just after sunset for the Preservation Hall Jazz Band or one of its associated acts, which usually play nightly sets at 6:15, 7:30, and 8:45 pm, with occasional early sets. A lucky few nab limited bench seats, while everyone else has to make do with standing room or floor seating. During Jazz Fest, star seekers take their chances with tickets to Midnight Preserves to see what special guests take the stage; Dave Grohl, Robert Plant, and countless others have come to pay their respects. No food or drink is available, but you've got plenty of options nearby before and after a show.
Mid-City
That's right, one of NOLA's most distinctive and memorable places to catch live music is a bowling alley where a range of local stars take to the stage right next to the lanes. The calendar is usually filled with rockabilly, swing, and zydeco performers, which explains why the dance floor gets packed on most nights. The well-stocked bar keeps the party going, and the kitchen churns out a bevy of shareable plates perfect for groups, including chicken wings, boudin balls, and sheets of pizza. Celebrate a well-played tune (or a perfect strike) with an order of next-door neighbor Ye Olde College Inn's iconic fried bread pudding po'boy. Expect to pay a cover charge at the door, plus more if you want to bowl.
Downtown
Some of the most esteemed national touring acts play the Saenger when they're in town, unless a touring stage musical has taken up the calendar. The iconic venue began its life in 1927 as a grand movie palace decorated in the mode of a 15th-century Florentine garden; the gilded Rococo environs continue to set the stage for some of NOLA's most memorable performances, especially around Jazz Fest when a number of all-star collaborations take place. Whether you're checking out a living legend like Jackson Browne or Morrissey, or an in-their-prime band like The Avett Brothers, the 2,500-capacity, lovingly restored theater is a surefire option for a classy date night. Drinks and standard theater-style concessions are available, but finer libations and provisions can be enjoyed pre- or post-show at any number of nearby spots in the Quarter.
Uptown
Known more casually as Tip's, this iconic venue was founded by music enthusiasts in 1977 in honor of—and to showcase—the influential blues singer Professor Longhair. From its home at the intersection of Napoleon and Tchoupitoulas, the beloved Uptown joint offers one of the city's most well-curated music calendars thanks to its current owners, the local band Galactic, who continue to focus on local funk and rock favorites as well as mid-sized national acts. Galactic is known for their epic Mardi Gras and Halloween house shows, and Jazz Fest brings mind-blowing after-hours collabs to the venue. The stars are local favorites like Anders Osborne, Big Sam, Dumpstaphunk, Tab Benoit, and Bruce Daigrepont's Cajun Fais Do Dos. The venue has a well-stocked, unpretentious bar, and while no food is served, there's usually a solid food truck option parked out front during shows. Be sure to check out the sidewalk, where the venue's Walk of Fame honors the likes of Dr. John, James Booker, Cyril Neville, Trombone Shorty, and Mardi Gras Indian Big Chief Bo Dollis.
Marigny
Situated in the heart of the city's most music-packed street, Three Muses stands apart from the competition by ramping up the romance factor and offering one of the coolest spots for enjoying live music on Frenchmen. A mix of locals and out-of-towners squeeze into the cozy environs to swoon over live jazz and folk, craft cocktails, and Asian comfort fare like pork belly bao, Vietnamese noodle salad, and bulgogi rice bowls that are as revered as the music. Reservations are recommended, otherwise you might end up outside on the street waiting a while. Two or three acts typically perform nightly and there's never a cover, but a $3 per person live music fee is added to all dine-in checks to support the bands.