How to Celebrate St. Patrick's Day in New Orleans This Year
From parades and block parties to museum exhibits to explore.
While it may feel like Mardi Gras season just wrapped up, it's time for some hair of the dog when it comes to watching over-the-top floats and catching all kinds of throws. That's because St. Patrick's Day brings another opportunity to party in New Orleans.
There will be plenty of parade processions and block parties to attend (this is the Big Easy, after all), but you can also honor the holiday in a low-key way by hanging out at a local Irish pub or exploring New Orleans' Irish heritage at a museum. However you choose to partake, put on some green and keep your eyes peeled for a pot of gold. Here are the best ways to celebrate St. Patrick's Day in New Orleans this year.
Ongoing
French Quarter
Check out historic items and learn how Irish immigrants helped build the city we know today at the Irish Cultural Museum in New Orleans. The year-round venue is home to photographs, letters, and other historic archives, plus the museum boasts a gorgeous courtyard and its own coffee and alcohol bar for Irish- and NOLA-themed refreshments.
Cost: Free
Friday, March 10
Metairie
Gennaro's Bar will kick off its Irish Fest with food, drinks, and plenty of tunes to get you in the holiday spirit a full week before the big day. The event will have Fat Boy's Pizza and Bear's Po Boys on hand, plus beers starting at $2.50 to keep the party going. Several bands will provide the soundtrack for the party, with The Dead End Band rocking from 5 to 8 pm before making way for Contraflow to take the stage until 11:30 pm.
Cost: Free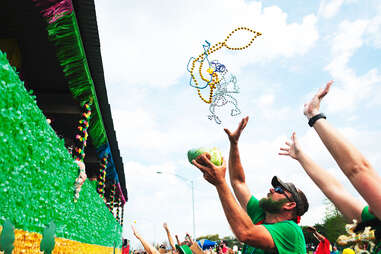 Saturday, March 11
Irish Channel
You can't celebrate St. Patrick's Day in New Orleans without catching the Irish Channel Parade. For more than 75 years, folks have gathered to watch the procession. The group starts at Magazine and Felicity streets at 1 pm, led by grand marshall Jeff Hand. Floats include Finn McCool's and a Streetcar float (though no cabbages will be coming from this one this year), plus handsome marchers donning tuxedos will hand out flowers. Reconnect with the group on St. Patrick's Day for its annual block party in Annunciation Square Recreation Center complete with Irish food, drinks and entertainment.
Cost: Free
Go block party hopping
Saturday, March 11
Irish Channel
The weekend before St. Patrick's Day as the Irish Channel Parade rolls through town, you can spend every hour at different block parties around the city. Parasol's will be dishing out crawfish and green beer since the neighborhood joint is close to the parade route. Or you can park it at Tracey's, a neighborhood favorite that will hold two consecutive block parties starting at 11 am the next two Saturdays.
Cost: Varies
Sunday, March 12
Mid-City
Deutsches Haus of New Orleans will open its doors starting at 11 am in recognition of Irish-German households of New Orleans to fellow fans of Irish culture. Expect performances from dance groups like The Ryan School of Irish Dance, Muggavin School of Irish Dance, and Beth Patterson, plus traditional dishes like cabbage, cottage pie, and soda bread.
Cost: Free
Monday, March 13 – Sunday, March 19
Arts District
The Higgins Hotel is going all in with holiday-themed activities for the entire week leading up to St. Patrick's Day. The hotel's lobby bar, Kilroy's Bar and Lounge, and Rosie's on the Roof will both have menu specials to help you celebrate. Executive chef Virgile Brandel is offering up Irish delicacies like Shepherd's Pie and a Corned Beef Sandwich all week long. And the bar will have St. Patrick's Day specials like five for $20 bottled beer and $6 pours of Tullamore Dew and Jameson. Head to the hotel on the actual holiday, and your festivities can play out to the tune of music by The Four Leaf Clovers.
Cost: Varies
Friday, March 17
Marigny
While the Irish Channel Parade may be the main draw leading up to St. Paddy's Day, the Downtown Irish Club will host its own march the following weekend. Musicians, dancers, and other marchers will head from Washington Park to the Ugly Dog Saloon starting at 6:30 pm, so you can spend the holiday parading and catching cool throws.
Cost: Free
Friday, March 17
Garden District
New Orleans' grand dame of restaurants, Commander's Palace, was founded by the Brennans, an Irish immigrant family helmed by Ella Brennan. The famed restaurant is hosting a Leprechaun Lunch in honor of the holiday, with specialty menu items by chef Meg Bickford and her team. Green martinis for just 25 cents are the event's biggest draw, but expect other holiday-themed dishes as well.
Cost: Varies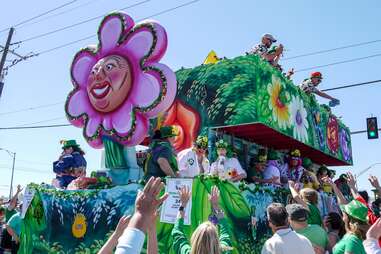 Sunday, March 19
Metairie
This is a cross-cultural event you won't want to miss. The Louisiana Irish-Italian Parade kicks off at noon, with two Grand Marshals—John Blancher, the Irish leader, and Deano Bonano, representing the Italians. The procession kicks off in front of the Clearview City Center before heading down Veterans Memorial Boulevard, so grab a spot along the route and get ready to party. If you want to start celebrating a few days early, the group is hosting a Toasting Party on March 15 with Irish food staples and muffaletta sandwiches.
Cost: Free