10 Must-See Museums in New Orleans
Explore world-class art, unique history, musical wonders, and more at the best museums in New Orleans.
New Orleans is practically a museum in itself, with neighborhoods, buildings, and sites all chock full of history. Fortunately there are museums dedicated to exploring the unique history of the city and the state, as well as a range of other amazing cultural institutions.
From world-class art to some of the quirkiest and most unique collections you'll find anywhere, New Orleans museums cover all the bases. Not to mention that many offer essential background info for exploring the city—insight that will surely enhance any visitor's experience. These are the best museums in New Orleans, including scenic spots perfect for a local's date night or must-see spots for tourists. And because this is New Orleans, most of these museums feature great food and/or fun events to round out the experience.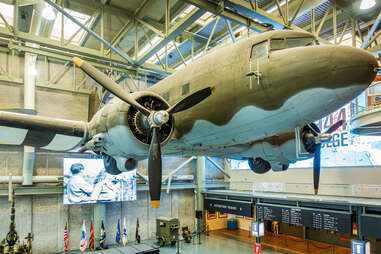 Warehouse District
This world-class complex attracts thousands of visitors each day. Through interactive exhibits, films, and a stunning collection of objects, all ages have the opportunity to learn about—and learn from—those who served in WWII and on the homefront at the National World War II Museum. The sprawling campus consists of a series of pavilions and theaters exploring the different facets of the war. Get up close with restored jeeps, planes, and Higgins boats. The Solomon Victory Theater shows Beyond all Boundaries, an exclusive 4D experience, and the Stage Door Canteen hosts a variety of theatrical performances. The museum's newest attraction, Expressions of America, is an immersive nighttime sound and light show offering an inspiring glimpse into the lives of the people who served.
What to know: Given the size of the museum, you'll want to spend a whole day here. The museum is open daily from 9 am to 5 pm, though times vary for certain special exhibits and experiences. Tickets are timed, available in 15 minute increments. A slew of packages are available, from general campus admission ($32.50) to guided tours and behind-the-scenes experiences. Grab a bite to eat at American Sector or the Soda Shop, and be sure to check out the gift shop featuring 1940s-inspired gifts and clothing.
Mid-City
Located in City Park at the edge of the Big Lake, the New Orleans Museum of Art houses more than 40,000 works of art spanning the 15th to 20th centuries. Stroll the neoclassical, Beaux Arts-style building and take in works from Impressionist masters, plus Surrealist works, glass, ceramics, pre-Columbian art, and an extensive photography collection. The museum hosts film screenings and lectures in conjunction with special exhibits as well as a variety of cultural events throughout the year. The adjacent Sydney and Walda Bestoff Sculpture Garden is a beautifully landscaped showcase of the museum's sculpture collection.
What to know: The museum is open 10 am to 5 pm from Tuesday through Sunday. Admission is $15. Wednesdays are free for Louisiana residents. The sculpture garden is open from 10 am to 6 pm daily, admission is free. Cafe NOMA by Ralph Brennan is a lovely spot for lunch and park views. Check the calendar for events like Music in the Garden and NOMA at Night. After a visit to the museum, stick around to explore City Park or rent a boat to paddle around the lake.
Warehouse District
Based on the founding donation of more than 1,200 works from the collection of Roger H. Ogden, a New Orleans businessman and philanthropist, the Ogden Museum has become the most comprehensive collection of Southern art in the world. Showcasing works from 15 Southern states and the District of Columbia, the museum celebrates the art, history, and culture of the region through displays of paintings, watercolors, drawings, prints, photographs, sculptures, woodworks, and crafts. Artists represented include Walter Anderson, Benny Andrews, Clementine Hunter, George Dureau, William Dunlap, Ida Kohlmeyer, Will Henry Stevens, Kendall Shaw, and George Ohr. The building features a stunning atrium and a rooftop terrace with views of the city.
What to know: The museum is open 10 am to 5 pm daily. Admission is $13.50. Thursdays are free for locals. Check out Ogden After Hours on the third Thursday of each month. This evening program features a diverse lineup of music and programming. The gift shop is packed with unique gifts, books, home goods, jewelry, and more from local and regional artists and makers.
French Quarter
The Historic New Orleans Collection is a museum, research center, and publisher dedicated to the study and preservation of the history and culture of New Orleans and the Gulf South region. Its public galleries are situated in the heart of the French Quarter, making it easy for you to stop in and learn a bit of history while enjoying the Quarter of today. Explore artifacts and cultural traditions from pre-colonial to modern times, get the stories behind buildings and sites in the Quarter, learn about architecture, the city's preservation movement, and much more. HNOC is a perfect complement to a Vieux Carre outing.
What to know: The museum is open Tuesday through Saturday from 9:30 am to 4:30 pm, and Sunday from 10:30 am to 4:30 pm. All HNOC galleries are free, guided tours are available for $5. The museum shop is a great spot for high-quality souvenirs. Download the HNOC's app French Quarter Tours to continue your journey into French Quarter history—it can serve as your personal tour guide, highlighting important sites and stories, as you walk around.
Central City
The Southern Food and Beverage Museum celebrates the food, drink, and related culture of the South. Collections, exhibits, lectures, and demos explore the history and influences that have contributed to New Orleans cuisine, the city's dining scene, and the related cuisines of the region. From recipes and restaurant menus to product histories and kitchen collections, SOFAB takes you through the stories behind the foods of the South. Learn about everything from the evolution of jambalaya and the life of famed Popeyes chicken king Al Copeland to the cultural traditions surrounding red beans and rice. There's always something tasty going on at the museum—keep an eye out for cooking demos and tastings, cookbook signings, cocktail events, and maker markets.
What to know: The museum is open Thursday through Monday from 11 am to 5 pm. Admission is $10.50. SOFAB also offers cooking classes and a culinary entrepreneur program, so budding chefs can expand their knowledge in this city that's oh-so rich in culinary culture.
Tremé
While second lines and Mardi Gras Indian processions are best experienced live on the street, the Backstreet Cultural Museum lets you dive into the colorful history of these and other cultural experiences of African Amecans in New Orleans. Displays of elaborate, hand-beaded Mardi Gras Indian suits and regalia dazzle, while memorabilia from neighborhood Social Aid and Pleasure Clubs plus photos of jazz funerals and second lines illuminate the collective spirit and triumphs as celebrated through community-based processions and masking traditions. The museum hosts programming ranging from guided tours to sewing classes and an oral history project.
What to know: The museum is open daily from 10 am to 4 pm. Tickets are $20, $15 for locals. Mardi Gras Day at the museum brings the exhibits to life as you can catch Indians, the North Side Skull and Bone Gang, Baby Dolls, music, and more.
French Quarter
This elegant Spanish colonial building sits next to St. Louis Cathedral in Jackson Square. Formerly a government building built by the Spanish in the 1790s, the Cabildo showcases the rich and colorful history of New Orleans and Louisiana through rare artifacts and original works of art from the Louisiana State Museum. From one of Napoleon's death masks and Sidney Bechet's saxophone to memorabilia from Pontchartrain Beach, the collection explores the region's historical influences and Louisiana's place in American history. Learn about the Battle of New Orleans, the Louisiana Purchase, and all the famous and infamous characters that made the city and the state what they are today.
What to know: The museum is open every day except Monday from 9 am to 4 pm. Admission is $10. The Cabildo is one of four Louisiana State Museum properties in the French Quarter—the Presbytere, 1850 House, Old U.S. Mint, and Madame John's Legacy also explore the diverse history and culture of Louisiana.
CBD
Learn about a different side of the South at The Museum of the Southern Jewish Experience. MSJE traces the history of Jews in the American South from Colonial times to the present and explores the ways Jews in 13 Southern states influenced and were influenced by the culture of these communities. Exhibits, collections, and public programming uncover this unique history, from immigration stories and the foundations of Jewish life in the South to modern Southern Jewish life. Learn about Southern Jews in popular culture, how Southern and Jewish culinary traditions merged out of necessity, and much more. With these stories, the museum aims to encourage a new understanding and appreciation of identity, diversity, and acceptance.
What to know: The museum is open every day except Tuesday from 10 am to 5 pm. Admission is $15. The shop carries a range of items from quirky Southern Judaica and gifts to apparel, jewelry, and books. If you're looking for a mezuzah made from a Kentucky Bourbon barrel or a Mardi Gras kippot, you're in the right place.
French Quarter
The historic Arnaud's restaurant is a top destination for classic Creole cuisine, but some may not know it comes with a bonus attraction. Head upstairs to the Germaine Cazenave Wells Mardi Gras Museum for a look into the lavish world of Mardi Gras balls. The museum is named for the daughter of Count Arnaud, the restaurant's founder. Germaine reportedly reigned as queen over 22 Carnival balls, and the collection includes 13 of her gowns. In addition to these elaborate outfits, king's costumes, children's costumes, Carnival masks and faux jewels, and dozens of vintage photographs are also on display.
What to know: The museum is free and open to the public during restaurant operating hours. You don't need to dine at Arnaud's to visit, but it does make for an excellent New Orleans culture combo. You can also stop in the French 75 Bar before or after a visit.
Abita Springs
Worth a drive to the Northshore, the Abita Mystery House (formerly known as the UCM Museum) is a weird and wonderful roadside attraction filled with vintage arcade machines, odd folk art, crypto-taxidermy, and thousands of found objects and home-made inventions. Highlights include Darrell the Dogigator (half dog, half alligator), Edmond the Allisapien (half alligator, half homosapien), several mini towns with push-button animations, a comb collection, and a trailer purportedly hit by a UFO. It's a labyrinthian structure consisting of an old gas station, a Creole cottage, and a house covered in mosaic tiles—each building packed with treasures.
What to know: The museum is open daily from 10 am to 5 pm. Admission is $5. While it does require about an hour's drive from New Orleans, it's well worth it, and you can make a day trip of it with a visit to Abita Brewery, the Tammany Trace, and a stroll through downtown Covington.